Mini-Advance Scout: Yankees, April 25-26
Wednesday, April 25 2007 @ 11:30 AM EDT
Contributed by: Alex Obal
A familiar Yankee ace and a Scranton/Wilkes-Barre Yankee ace who'll be all too familiar all too soon await the Jays in their first visit to the Bronx Zoo.

On to the Advance Scout!

I apologize for the exam-inflicted brevity of this scout - I'll just go over the two starters and the chart. There will be one more quickie on Friday. Regular advance scout service will resume next Tuesday.

Andy Pettitte: Back in pinstripes after a three-year vacation in the NL. He may not enjoy the transition back to facing AL batters. However, he will enjoy leaving the Juice Box, a park that haunts lefty pitchers' dreams, behind for the comfort of Death Valley in Yankee Stadium. This is especially true because Pettitte doesn't throw terribly hard - high 80s, usually, and often in the low 80s with his ace cutter - and relies on his ability to move pitches around. He's played as a groundball pitcher throughout his career. He's also been used out of the bullpen twice on his throw days, pitching an inning each time. Frank Thomas has a .500 OBP with 11 walks and 3 homers to 4 K's off Pettitte. Vernon Wells is 10-20 with 2 walks.

Phil Hughes: The Yanks didn't mean for the tall righty to get the call this early, but given the choice between rushing Hughes a bit and dealing with a rotation of Pettitte, Igawa, Rasner, Karstens and Wright (and I don't mean Jaret)... there's only one right answer there. Hughes has been very effective in AAA, racking up 17 strikeouts in 16 innings against 4 walks with a very good groundball rate. In his last start, against Syracuse of all teams, he went 6 innings allowing only 2 hits, 10 strikeouts and 0 walks. He hasn't thrown 90 pitches in a game yet this year, and he's run relatively deep counts in all three of his starts. Look for him to be on a reasonably short leash. The Jays would be well advised to be patient.

Hughes is touted as having a low-to-mid-90s fastball, an excellent curveball, a change, and a slider. All the established Yankees were stunned by his stuff... last spring. Jorge Posada called his stuff the best in camp, gesturing toward lockers marked 'Rivera' and 'Johnson.' Amazingly, the slider, now an afterthought, was Hughes' signature pitch in high school - good enough to get him drafted in the first round by the pinstripers. But when he was taught to throw a curveball after signing with the Yanks, he mastered it immediately. Yanks pitching coordinator Nardi Contreras was so impressed he made Hughes trash the slider. Now, he'll break it out as a wrinkle pitch from time to time - "two, three, four times a game, if at all," according to SWB pitching coach Dave Eiland.

Don't call him Philip.

Derek Jeter: Was plunked on the thigh by Scott Kazmir yesterday. He left yesterday's game in the first inning and is day-to-day with a bruised thigh. Miguel Cairo will replace him in the lineup if he misses any starts.

The Credit Section: Batted-ball, Leverage Index and balk data are available at Fangraphs. K% and BB% are strikeouts and walks respectively as a percentage of plate appearances. Everything else, most notably the AL average statistics, is available at The Hardball Times. The "Rest" column for relievers is basically self explanatory: the number on the left of the forward slash is the number of days off the pitcher has had, while the number on the right is the number of pitches the pitcher threw in his last outing.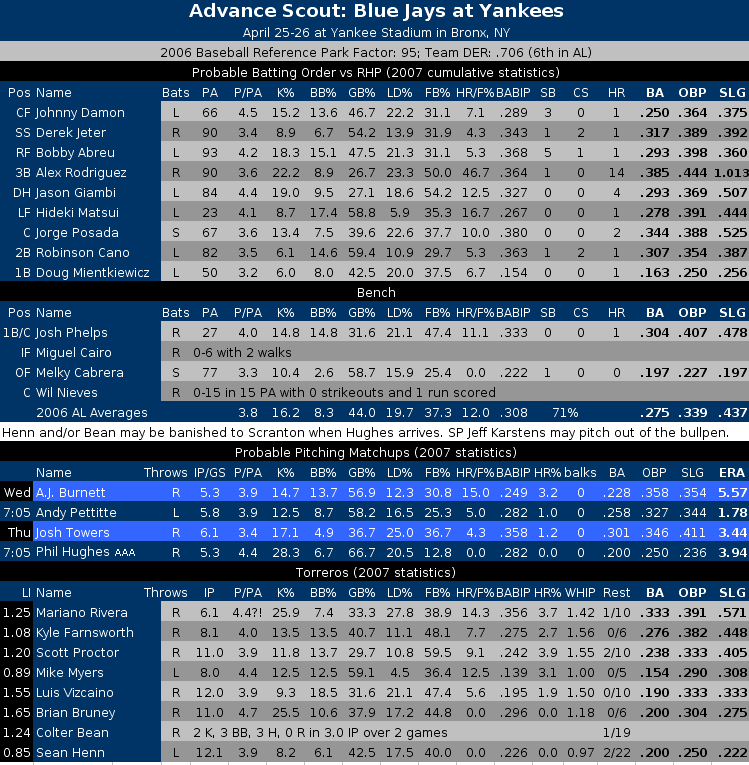 ---

https://www.battersbox.ca/article.php?story=20070425031338884