Advance Scout: Indians, May 1-3
Tuesday, May 01 2007 @ 04:05 PM EDT
Contributed by: Alex Obal
This might be the longest series of the year, so let's make this short and sweet. On to the Advance Scout!

Team: The preposterously patient Indians started the season on the right foot for once. They lead the AL Central at 14-8 and have won 7 of 8. They are protesting the one game they didn't win and might actually be successful.

The Indians have a clearly defined MO: they just walk and walk and walk and walk until it's past the other team's bedtime and they give up. The Tribe see 4.07 pitches per PA, easily #1 in the AL. As of last night, #2 Oakland was at 3.94; league average is 3.82. Is this true, Master of Understatement Eric Wedge? "Our guys do a pretty good job of making pitchers work." He's telling me. The Indians don't really hit for average - as a patient team they naturally strike out way too much to ever threaten to lead the league in BA - but they're #2 in the AL in runs per game at 5.23 anyway.

In addition to being the most patient offensive unit in the AL, Cleveland's lineup leans way, way left. And the Jays are going to challenge them with three straight righty starters notorious for running deep counts. It could be the busiest series the Jays' bullpen sees all year. If Burnett, Zambrano and McGowan are throwing strikes with their offspeed stuff, they will be fine. If not? It'll be a long three days and someone might want to look up Frank Menechino's number now before it's too late.

C.C. Sabathia: The big guy is off to a great start, 3-0 with a 3.18 ERA and excellent peripherals. He throws in the mid-90s and has two killer offspeed pitches: a nasty slider that accounts for many of his strikeouts and an effective change that's helped him keep righties off balance and sustain backwards splits over the last three years. With the Indians' lineup backing him up, he figures to be in the Cy Young discussion until October.

Jake Westbrook: With the security of his shiny new three-year contract, Westbrook has been uncharacteristically bad to open the year. He's run deep counts, had walk issues, given up way more longballs than you'd expect for a pitch-to-contact sinkerballer of his eminence, and had great difficulty getting out of jams. Ordinarily I'd reach for my stock line that the leadfooted, righty-heavy Jays are the ideal opponent for any struggling righty groundballer to snap out of his funk, but Adam Lind's emergence tempers that a bit.

Cliff Lee: The lefty is slated to make his first start of the year on Thursday. He's been on the DL since March with an abdominal strain. He throws a low-90s fastball, a biting curve and a cutter. During the offseason, he worked on adding a slider to his repertoire to keep hitters off the curve. Lee actually threw a slider once upon a time, so the idea isn't totally foreign to him. He just threw it harder and harder as his career went on and it evolved into a cutter. In the article, he suggests that he intends to use the slider as a strikeout pitch. Sounds interesting. If I know John Gibbons, Royce Clayton, 2-2 with a homer off Lee, is starting Thursday.

Ryan Garko: An absolute beastmaster at Stanford, Garko has earned a growing portion of the Indians' PT pie in Andy Marte's absence by building a reputation for clutchness. He's basically the everyday first baseman for now, and he's hitting 5th in the lineup a fair bit.

Josh Barfield: Is off to an awful start, mostly due to hit luck. He'll bounce back. He's already on a four-game hit streak. To compensate for the slump, he and roommate Garko are putting together a mosaic of giveaways from Cleveland sporting events. Barfield's favorite is a Victor Martinez and Travis Hafner piggy bank. Why? "Because I can use it. I always put my coins in there." But he's still showing off his defensive skills regularly, and his slump isn't getting him down. He learned how to leave it at the ballpark from Jesse: "When my dad came home, you couldn't tell if he had just gone 4-for-4 or was 0-for-24. He never took the game home with him."

Grady Sizemore: A walking freak with pop, excellent baserunning skills and great defense. Apparently he isn't the best leadoff man in the game. Coulda fooled me. He's right where he should be in the Tribe's order given the depth of power hitters they have. He hit his second career inside-the-park homer last week.

Casey Blake: Speaking of depth of power hitters, Blake has averaged 22 homers the last four years as the Tribe's third baseman. Did Ed Sprague ever do that? Speaking of former Blue Jays third basemen - here is Blake's #1 Baseball Reference comp...

Travis Hafner: A very, very, very powerful lefty hitter who has sustained comically high homers-per-fly rates and BABIPs throughout his career. He's only .244/.355/.615 against the Jays. He has made exactly one start at first base this year. On a related note, Einar Diaz is below the Mendoza line in the minors...

Joe Borowski's Mad Intangibles: Cleveland's new closer has uncloserly numbers across the board with one notable exception: he's 9 for 10 in save opportunities.

Fernando Cabrera: Power righty with nasty slider and splitter and well-documented command issues. In April, Cabrera won round 1 of his battle with walks. 5 more to go.

Tom Mastny: The Nasty one values his experience as a closer from last year. So says pitching coach Carl Willis: "He saved five in a row at one point, so mentally he knows he can do it in the sixth, seventh or eighth if he's done it in the ninth."

Bullpen Holdovers: As Dennis Manoloff points out, Mastny, Cabrera, Jason Davis and Hat-Tuggin' Rafael Betancourt (with his new-and-improved change and curveball) have combined for more strikeouts than hits and walks combined to this point.

The Credit Section: Batted-ball, Leverage Index and balk data are available at Fangraphs. K% and BB% are strikeouts and walks as a percentage of plate appearances. Everything else, most notably the AL average statistics, is available at The Hardball Times.

The Clarification Section: LOB% is percentage of baserunners stranded. League average is 70%; there's no elegant place to put that in the chart without sacrificing some of its beauty. Dustin McGowan's innings per start does not include the rain-delayed game wherein he only pitched one inning; he's thrown 21 innings in his other 4 starts.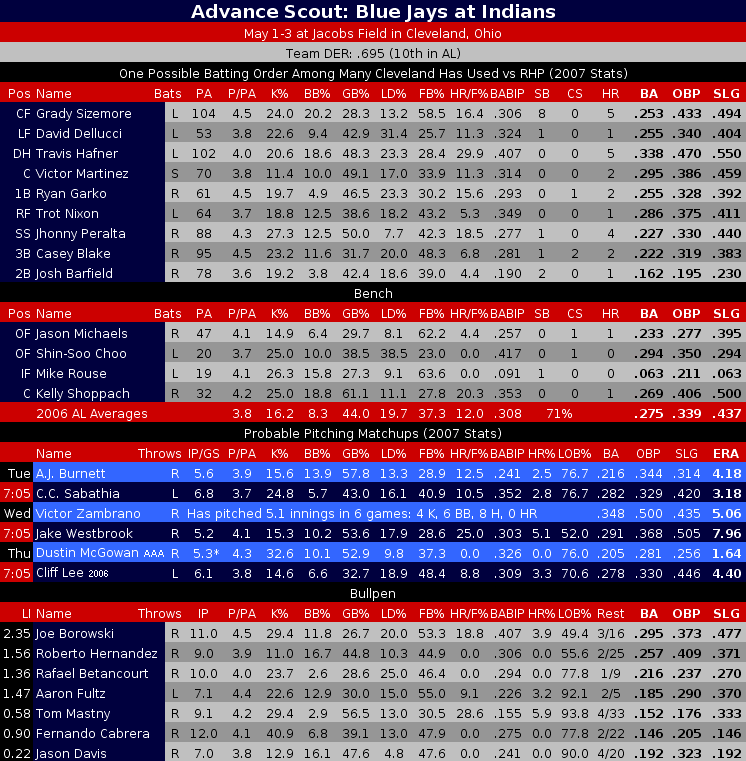 ---

https://www.battersbox.ca/article.php?story=20070429140919403