Advance Scout: Yankees, May 28-30
Monday, May 28 2007 @ 02:29 PM EDT
Contributed by: Alex Obal
The Jays look to create some separation from the Yanks in the ongoing battle for second place. This series features two matchups of young, unproven righties bookending a Pettitte-Marcum showdown on Tuesday night.

Matt DeSalvo, tonight's starter, is a 26-year-old career minor leaguer who earned his spot in the Yanks' rotation by putting up a 1.05 ERA in five AAA starts despite only having a 23:13 K/BB ratio. His ERA is inflated by a relief appearance Friday against the Angels in which he gave up two hits and two walks in 0.0 innings. Joe Torre: "[Friday] he came in and he tried to act like a reliever. He went down there and started from the stretch, and that was a surprise to everybody." He's actually sitting on a 3.71 ERA as a starter in three starts with a 1-1 record. (However, his numbers do contain every single red flag imaginable. Seriously, make one up, look for it in the chart, it's in there. Really!) DeSalvo is acutely aware that he's getting plenty more chances: "As long as they have the tiniest bit of confidence to throw me out there again, then that's all that matters. That gives me an opportunity to show my stuff. Just the idea that I'm going to throw again is a pick-me-up."

Old reliable Andy Pettitte (who's actually only 34) has been easily the Yankees' best starter this year. Given his performance it's a bit of a surprise that he is only 3-3. He still throws around 90 mph with a great cutter and a curve, and he's reaching for his changeup more than in years past.

When Darrell Rasner went down to a finger injury, Thursday starter 22-year-old Tyler (Yankee) Clippard barged into the vacant 5-hole in New York's rotation on merit. Clippard has very good minor-league numbers, especially considering his age. He throws in the low 90s. His best pitch is supposed to be a change; he also throws a curveball. The Hartford Courant has a detailed analysis of Clippard's Myspace.

Johnny Damon is battling calf cramps. His weapons in this struggle are massage therapy and long soaks in the whirlpool bath. The Yankees expect him back in the lineup no later than Thursday. Melky Cabrera is starting in his place and providing a big defensive boost.

The Yankee bullpen has been afflicted by some sort of backwards Yankee mystique. Of the six non-closers, only Brian Bruney (and Ron Villone, in 7.2 innings) are really overachieving. Mainstays Scott Proctor and Kyle Farnsworth aren't overpowering hitters yet, and Proctor in particular is living dangerously given his higher-than-usual walks and flyball rate.

Then there's the closer. Mariano Rivera is off to an awful start...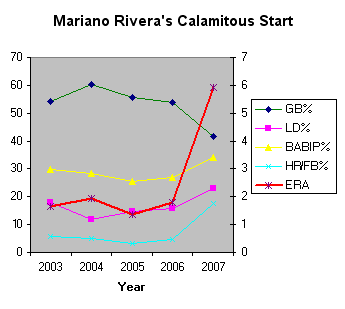 That big red line is his ERA.

... I mean we're talking about pretty clearly the most unhittable pitcher of all time, and quite arguably the greatest too, and he hasn't had an ERA above 2 in the last 5 years and now he's sitting on a 5.94. Rivera's unique style of pitching (cutter, cutter, cutter, cutter, cutter...) makes him systematically beat the traditional line drive rate and HR/fly benchmarks year in and year out. Except this year he's not doing that, and he's not getting his groundballs either. But his K/BB numbers are right where they always are. Is this a slump, or is Mo actually losing it? I'm very disinclined to stick a fork anywhere near him, but the early returns can't be totally disregarded. Can they?

The Credit Section: Batted-ball and Leverage Index are available at Fangraphs. K% and BB% are strikeouts and walks as a percentage of plate appearances; GB% is groundballs as a percentage of balls in play. Minor-league stats are from Minor League Splits. Everything else, most notably the AL average statistics, is available at The Hardball Times.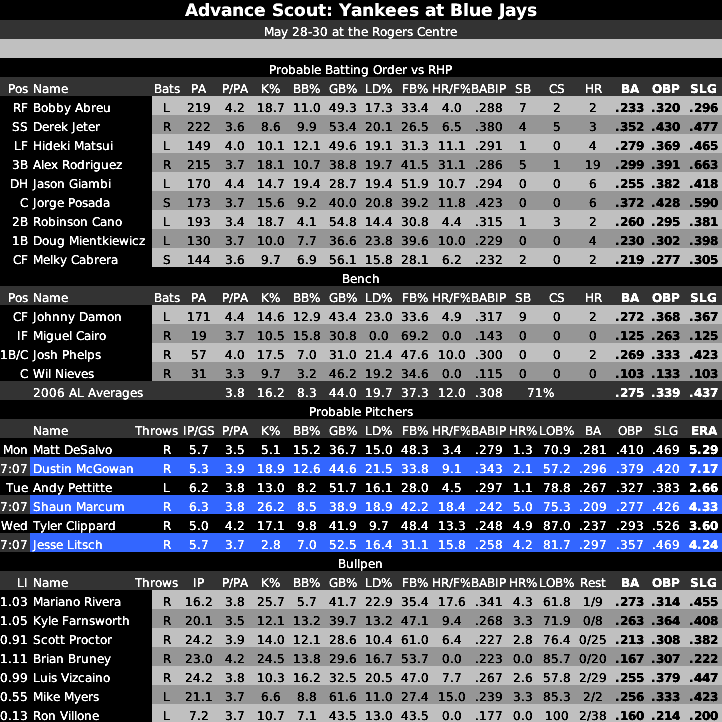 ---

https://www.battersbox.ca/article.php?story=20070528040212235