Advance Scout: White Sox, May 31-June 3
Thursday, May 31 2007 @ 05:00 PM EDT
Contributed by: Alex Obal
The .500 White Sox come to town. There will be aces tonight, strikeouts tomorrow, McGowan-Contreras Saturday and kids Sunday. Should be a fun series.

Ozzie Guillen thinks his team is underachieving. His quintessentially Ozzie standard solution is to improve the team's grit and focus. To reach this end, he will rotate his hitters not named Thome, Dye, Konerko and Pierzynski in and out of the lineup more aggressively than ever, and reward whatever hot hands emerge with more playing time. I like this idea. It should logically work well with a team like the White Sox, with a versatile group of position players, most of whom are struggling but also reasonably established and clearly capable of escaping the doldrums given playing time. And in general, I wouldn't be surprised to find out hitters see more pitches per PA, walk more and hit more line drives immediately after they've had a day off. That might be a worthwhile study, if it hasn't been done already.

Mark Buehrle, who pitches with machine-gun efficiency and has 99 career wins, takes the mound for the Sox tonight. He faces Roy Halladay, who pitches with machine-gun efficiency and has 99 career wins. This game should end quickly and feature a well-deserved milestone win. Buehrle is Halladay's #2 comp on Baseball Reference. He's a lefty who doesn't shy away from contact, locks down the running game and is particularly troublesome when he's getting a big inside corner for his cutter, because pounding righties and lefties alike inside his bread and butter. Vernon Wells is 11-20 with three walks and a homer off Buehrle. If Troy Glaus feels up to playing tonight, he's 6-15 with 3 homers and a walk.

Strikeout artist Javier Vazquez, who whiffed 13 Jays at the Dome last August, goes Friday against the Jays' K specialist. His money strikeout pitch is a changeup that makes lefties in particular look really bad. He usually starts hitters off with fastballs and pounds them down and away late in the count - righties mostly get breaking balls, while lefties get changeups.

The ageless Jose Contreras goes Saturday. (Wait, hang on... he actually does have an age. 35. Are we buying 35?) Contreras boasts a baffling out pitch in his slow splitter. His problem is getting ahead in the count with his unoverpowering fastball and slider. Current Jays are a combined .219/.312/.375 off Contreras... but Sal Fasano is 3-6 with a homer.

Flyballing lefty John Danks was the centerpiece of Chicago's return in the Brandon McCarthy trade this offseason. Danks has remained in the Sox rotation all year. He pitches almost as quickly as Buehrle. Danks also throws around 90 with a fastball which he cuts sometimes. Buehrle taught him the cutter early on this year. How helpful is Buehrle? "Mark's funny, because he's one of those guys where he's so good, he doesn't know how he does it." The cutter is still a work in progress. Danks has a nasty curveball in the mid-70s which he throws often, as well as a change. He had won three straight with a 1.89 ERA in those starts heading into his last outing, wherein the Twins roughed him up and forced his exit in the fourth inning. What was the MLB.com headline? "Danks looks like rookie."

Bullpen changes: Andrew Sisco, out. Dewon Day, in. Day is a 26-year-old rook. He was originally drafted by the Jays in the 26th round in 2002. He struggled to climb the organizational ladder and went through TJ surgery in 2004. The Sox snapped him up in the 2005 minor-league Rule 5 draft and slowly let him work his way up to AA this year, where he's been lights out. Day has phenomenal strikeout numbers in AA. He's a straight two-pitch pitcher, with a fastball around 93 and a mid-80s slider. In his two appearances this year he's been erratic, but that's natural for a rookie.

Utilityman Pablo Ozuna is out with a fractured fibula. Ozzie misses him already. Andy Gonzalez, a 25-year-old infielder with pretty good career minor-league K/BB numbers but little power, takes his place. Gonzalez can play second and third. He's already been with the big club a couple of times, and is 0-5 with a walk. With Gonzalez in the majors, hot-hitting prospect Josh Fields has played a bit of shortstop in Charlotte.

Craig Wilson signed a minor-league deal with the Sox earlier this week.

With this year's game taking place in an NL park, Joe Crede is incredibly the only Sox player among the top five All-Star vote getters at any position.

And A.J. Pierzynski is frustrated by his teammates' having to constantly answer questions about him. "I've always said if people are worried about me -- especially on this team -- they're worried about the wrong guy with Jermaine [Dye], [Jim] Thome, Paulie [Konerko], Joe [Crede] and all these guys we have. It just makes me laugh because, Toby [Hall] and I had this conversation -- 'Even when you don't do anything, you do something.' Jim and I had a long talk about it yesterday and I just feel bad for the guys on this team because I don't want them to have to answer questions about me. That's one of the things about the whole [Mark] Buehrle thing that made me so angry, the fact that [the Chicago Tribune writer] that wrote the article ... come to me and talk to me about it."

The Credit Section: Batted-ball and Leverage Index are available at Fangraphs. K% and BB% are strikeouts and walks as a percentage of plate appearances; GB% is groundballs as a percentage of balls in play. Minor-league stats are from Minor League Splits. Everything else is available at The Hardball Times.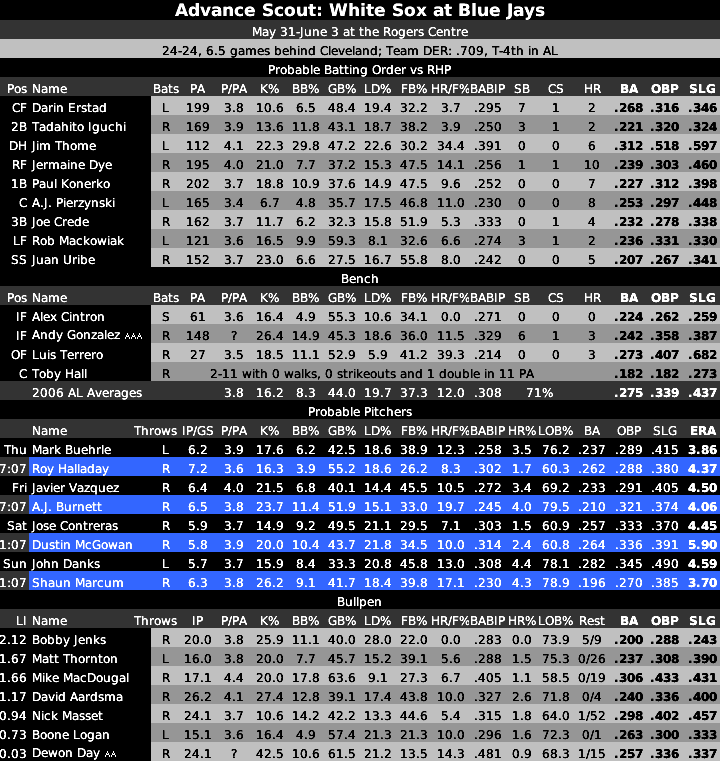 ---

https://www.battersbox.ca/article.php?story=20070531162216199