Advance Scout: Giants, June 11-13
Monday, June 11 2007 @ 05:12 PM EDT
Contributed by: Alex Obal
The Jays take their two-game win streak to the China Basin Retirement Castle. They'll see two soft tossers and then Tim Lincecum. They also get to deal with the Barry Bonds circus, stuck on 746 homers for two weeks and eager to break out against any righty foolish enough to stake a claim to the outside corner. And Bengie Molina.

First person to crack a joke about how Bengie is a giant gets blackballed from all Advance Scout afterparties until Bengie's next triple.

?!!!??!: The Giants have 19 triples, tied for the NL lead.

Matt Morris: A bona fide contender for whatever trophy honors the best performance with the worst peripheral stats. Morris actually seems to have reinvented himself as a finesse righty this year. His fastball velocity is gone - he only throws in the high 80s - but he's leaning much more heavily on his slow curveball (which gets lots of waves) and tight slider, with great results. His ERA is 2.51. Despite Michalaktacular K and BB numbers, Morris has arguably been the Giants' ace this year, no small feat on a staff that also includes names like Zito, Cain and Lincecum. He took a complete-game 1-0 loss against Brandon Webb in his last start.

Noah Lowry: Dan Haren's roommate at Pepperdine. He's a finesse lefty who benefits a lot from his surroundings - San Francisco is a good place to be lefthanded. He's kept his homer rates and BABIPs consistently below average. Lowry throws a mid-high-80s fastball, sweeping curves and sliders, and a whole ton of changeups. Lowry's change breaks more than most changes and sits at around 80 mph. Every single hitter in the lineup is liable to see a change on the first pitch. Last time out, against the D-backs, Conor Jackson cranked Lowry's first change of the game for a solo homer. That prompted Lowry to mothball his best pitch for a few hitters. Lowry is most effective when he gets the inside corner and runs his fastball in on righties.

Tim Lincecum: For the benefit of those who live under rocks, Lincecum was taken 10th overall by the Giants last year. That's 12 months ago, in the 2006 draft. He won the Golden Spikes Award at Washington with a 1.94 ERA over 125.1 innings. It took him all of 62.2 professional innings and one Russ Ortiz injury to convince the Giants to call him up. It wasn't a tough decision or anything - he struck out 41% of AAA hitters in 44.1 innings. He also allowed a grand total of 1 run in those 44.1 innings and a batting average of .121. I'm not exactly sure which of those stats is most impressive.

The undefeated Lincecum is mostly a two-pitch pitcher. He throws a two-seam fastball, which hovers around 95 and can reach 98 sometimes, and a viciously hard curveball in the mid-80s that can show up in any count. But, as Bruce Jenkins of the SF Gate reports, Lincecum also has a secret weapon: "Tim Lincecum's pitch selection leaves a very subtle warning to the National League. It's not the fastball or the curve, although he certainly could thrive on those two alone. It's the next step in his evolution. Catcher Bengie Molina and the Giants' brain trust seem to be creating an air of mystery over Lincecum's changeup, allowing him to unveil it only as an occasional tease. It's brilliant strategy, because if Lincecum perfects that pitch -- a darting, down-and-away nightmare to left-handed hitters, reminiscent of the cartoonish stuff thrown by Daisuke Matsuzaka and the vintage Eric Gagne -- then it's all over."

The really scary part? Lincecum turns 23 on Friday.

Barry Bonds: His mom helped him regain his focus, and he's on a modest hot streak. "With my dad [Bobby] gone, she's about the only one who can kick me in the butt. And she did. And she's right." He's still the undisputed Zen master of the base on balls, though he's lost a little bit of his absurd power - you can get him out by pounding him inside. A.J. Burnett and Dustin McGowan are both reasonably well qualified to actually go after Bonds. Just... don't miss over the plate, and don't expect him to chase slow breaking balls. Josh Towers might want to scribble that wiseass quote about discretion and valor on his glove tonight. Bonds' eye is in great shape. However, he hasn't homered since May 27...

Closer situation: Armando Benitez was this team's closer, but the Giants weren't crazy about his 4.67 ERA in 17.1 innings, so they traded him to the Marlins for big Randy Messenger. In the meantime, converted starter Brad Hennessey is the nominal closer, and the Giants have tried their hardest to make him pitch in save situations. The problem is that since he was officially named as the closer on June 1, they've trailed heading into every ninth inning except for an 8-1 win on Monday. So Hennessey, though he has two saves, hasn't earned one as the official closer yet.

Vinnie Chulk: Still thinks righties taste like strawberries but lefties taste like snozzberries.

The Credit Section: All offensive stats, pitches per PA for pitchers and league average stats are from the Hardball Times. Pitchers' stats and leverage indices are from Fangraphs. K% and BB% are strikeouts and walks as a percentage of plate appearances; GB% + LD% + FB% = 100.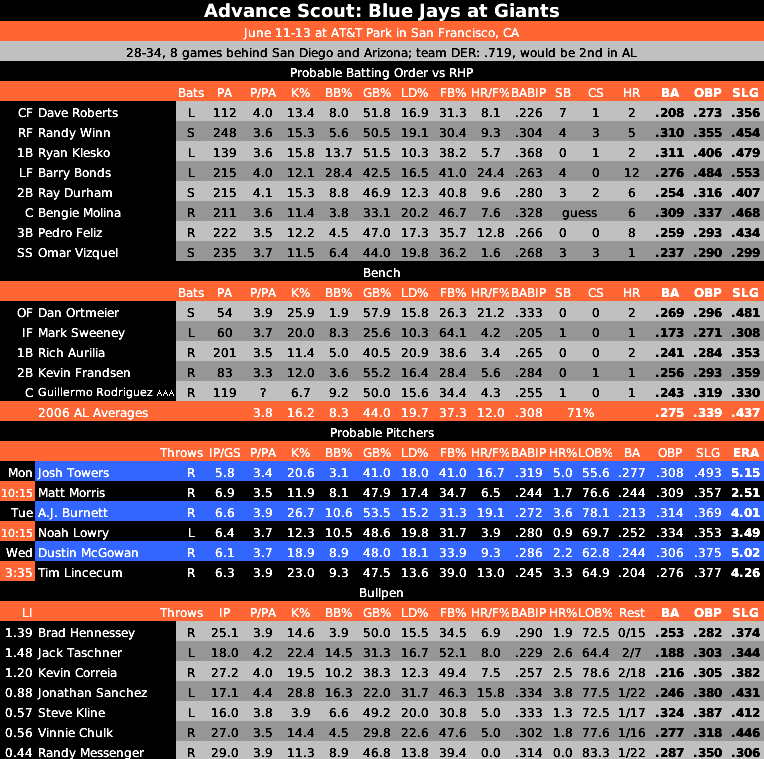 ---

https://www.battersbox.ca/article.php?story=20070611165151652