Advance Scout: Nationals, June 15-17
Friday, June 15 2007 @ 04:30 PM EDT
Contributed by: Alex Obal
The Jays return home to face the rampaging Nationals, who are closer to their division leader than the Jays are. Led by its no-name rotation, Washington is slicing through middling AL teams like a sand wedge through sand. Can the Nats keep it up at the Dome?

Seriously, this isn't a guaranteed series win. The Nationals have won 5 of 6 in AL ballparks to claw within 8.5 games of the NL East lead. They just swept their rivals in Baltimore behind Micah Bowie, Matt Chico and ace Jason Simontacchi. The Nationals clearly are committed to building pitching cheaply, which is not a terrible strategy at all for a team that plays in a pitchers' park. Why not? Build pitchers who become overrated because they benefit from the RFK factor and trade 'em for hitters. Sounds like a winning plan, especially when long-shot veteran acquisitions like Cristian Guzman and Dmitri Young come up aces.

Who the heck are these pitchers? Good question. Let's all hold hands and find out together.

Friday - Mike Bacsik: It's pronounced Bass (the fish)-ick. He is the 29-year-old son of Mike Bacsik, who used to pitch for the Minnesota Twins. Bacsik failed to show up his father's former employer in his last start - he gave up 4 runs in 5 innings in a loss to the Twins. Last year, Bacsik went 11-0 with a 2.79 ERA at AAA Tucson. The Nats snapped him up through free agency in November and promoted him about a month ago. He's your typical finesse lefty who doesn't throw hard and needs to establish a presence on the inside corner to succeed.

Saturday - Levale Speigner: It's pronounced Spy-gner. The only Levale in major-league history is a 26-year-old rookie who has pitched as a reliever ever since 2002, his junior year at Auburn. In that season, he was pounded as a starter and demoted to the Tigers' pen. But in 2003, he pulled an Aaron Small-like resurrection and got 10 wins out of the bullpen. So he got drafted by Minnesota. The Nationals Rule 5'd him from Minnesota this winter. In his last start, he showed off his vengeful streak with six strong innings at the Metrodome to beat Johan Santana and the Twins, 3-1. Speigner had good groundball rates throughout his minor-league career. Baseball America says Speigner came into the year as a two-pitch pitcher, using a fastball in the low 90s and a hard curveball, but he appears to have worked in a changeup during his stint as a starter as well.

Sunday - Micah Bowie: The one Washington starter I'd heard of before this series, and that's only because I picked him up for an emergency fantasy start on a Sunday because he plays in a pitchers' park. He is 32 years old, and has 1.1 innings of playoff experience, in which he has a 0.00 WHIP, 0.00 ERA and 75% strikeout rate. He throws fastballs and sliders. His K/BB ratio splits are pronounced this year: he's murder on lefties (12:1 in 60 PA) but less so against righties (15:14 in 105).

Bullpen situation: The Nationals are in a bind. The root of the problem is that they're actually winning! Problem is, they've won three straight games that built up to save situations in the ninth, so Chad Cordero and "Very Tall" Jon Rauch have both pitched on three straight days with no rest. That's a bit of a crippling blow to a team that's sending out three starters who all began the year as relief pitchers. However, the bullpen is pretty clearly a strength on this team, and the other guys in the pen are a barrel of fun. Baseball vagabond "Slender" Winston Abreu has great stuff, though he's hit-prone; "Slender" Saul Rivera, who nailed down the save in extra innings on Wednesday after the bullpen's big guns blew a lead in the late innings, looks kind of like Casey Janssen in that he's got some kind of slider/cutter type thing in the high 80s which breaks sharply and looks like a royal pain to have to try to hit hard. Veteran Ray King was brought in to add a lefty presence; the enlightening if unreliable tubes of the Interweb indicate that King wears the Burger King King's suit on his free time and is a fan of Paris Hilton. Then there's...

"Personal" Jesus Colome: He's ba-ack! After pitching all of 0.1 innings with the Devil Rays last year, the hard-throwing righty has resurfaced with the Nationals. Unlike in the good old days in St. Pete where he'd just go out there throwing fastball after fastball, however, Colome now reaches for his slider pretty often. Although it hasn't translated into great strikeout totals yet, Colome's increased reliance on offspeed stuff has bamboozled NL hitters. Colome has pitched in 35 games with a 2.63 ERA. He is 4-0.

The Credit Section: All offensive stats, pitches per PA for pitchers and league average stats are from the Hardball Times. Pitchers' stats and leverage indices are from Fangraphs. K% and BB% are strikeouts and walks as a percentage of plate appearances; GB% + LD% + FB% = 100.

The Nationals are 29-37, 8 games behind first-place New York. Their team DER is .705, which would put them fifth in the AL.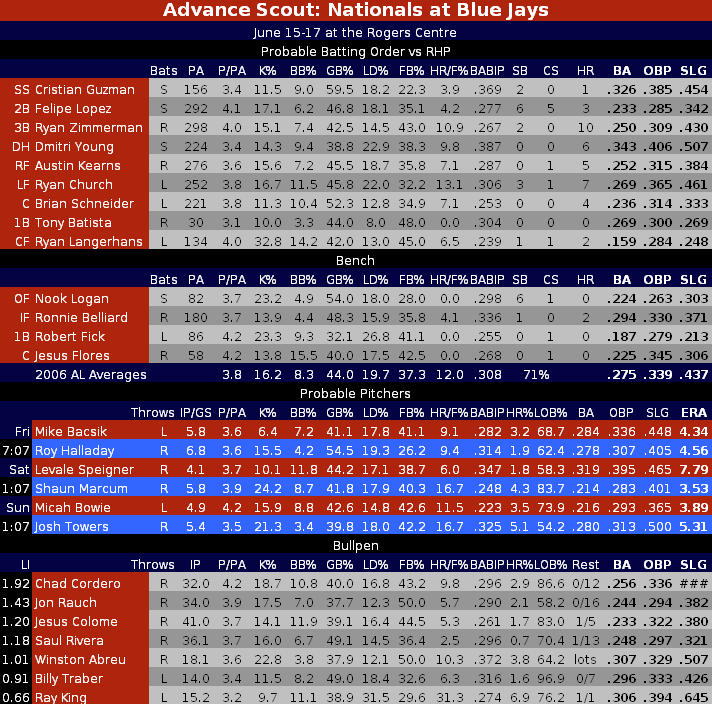 ---

https://www.battersbox.ca/article.php?story=20070615033911336