Advance Scout: Rockies, June 22-24
Friday, June 22 2007 @ 04:23 PM EDT
Contributed by: Alex Obal
Right here.

Seriously, y'all want more? Y'all people are vultures.

I'll do my best. The Rockies are steamrolling anything in their path. This series should be a three-day slugathon. Halladay, Marcum, Jeff Francis and Rodrigo Lopez are going to sit this one out. The guys who do pitch will have their hands full.

Colorado is destroying AL teams left, right and center. Led by their still-potent power hitters and resurgent table setters, the Rockies just swept the theretofore untouchable Yankees, after beating every single other AL East team in a series. The Rockies are a very ALish team themselves; this is not going to be easy.

There are a lot of high OBPs in the chart this week. Some of those are inflated by Coors Field BABIPs, but some are more than legitimate. Todd Helton's K and BB numbers are not a misprint. That man is a hitting machine.

Here are the pitchers:

Jason Hirsh: 6'8" trashballing righty. I hate these guys every bit as much as the Jays' bats appear to. Get ready for popups on high-80s fastballs, weak grounders off foot-outside changeups, waves at bouncing curveballs... the works. Hirsh is a massive flyball pitcher, so if it's any consolation, Frank Thomas is a pretty good bet to hit #498 tonight.

Aaron Cook: Sinkers. This guy was built for Coors Field. He hasn't posted an ERA above 5 since 2003 despite pitching in hitters' heaven. Strangely, he's been much better on the road than at home this year - 2.90 ERA vs 6.43 - even though he's still putting up his standard high-50s groundball rate. Thomas Harding says Cook wants to step up and solidify himself as a good #1 starter. With those K numbers? Ha. Cook's sinker hangs around 90 mph, and the slurvish breaking ball that gets him what strikeouts he does get is around 80. That story mentions that the Rockies require players to wear suits on travel days. Radical.

Josh Fogg: What most baseball annuals swore Shaun Marcum would turn into before this year. I guess it could still happen. Fogg, who's in his second year in Colorado, doesn't throw hard at all. He probably throws a little harder than Tomo Ohka when you take him away from altitude. He has a curve, slider and change. He has easily outperformed all expectations - Roxhead, for one example, would've been satisfied with 160 innings of 6ish ERA - despite unimpressive K/BB and below-average groundball numbers.

Brian Fuentes: Still the same guy - the Rockies' answer to B.J. Ryan, essentially - except he's put more balls in play than usual this year. So why are his numbers so great? Probably because a Vernon Wellsian 26.2% of his flyballs stay in the infield. That's absolutely nuts.

Manny Corpas: If Fuentes is moved anytime, the Panamanian Corpas is next in line to close for the Rockies. He's got a vile slider that causes trouble for righties and lefties alike.

The Credit Section: All offensive stats, pitches per PA for pitchers and league average stats are from the Hardball Times. Pitchers' stats and leverage indices are from Fangraphs. Minor-league stats are from Minor League Splits. K% and BB% are strikeouts and walks as a percentage of plate appearances; GB% + LD% + FB% = 100.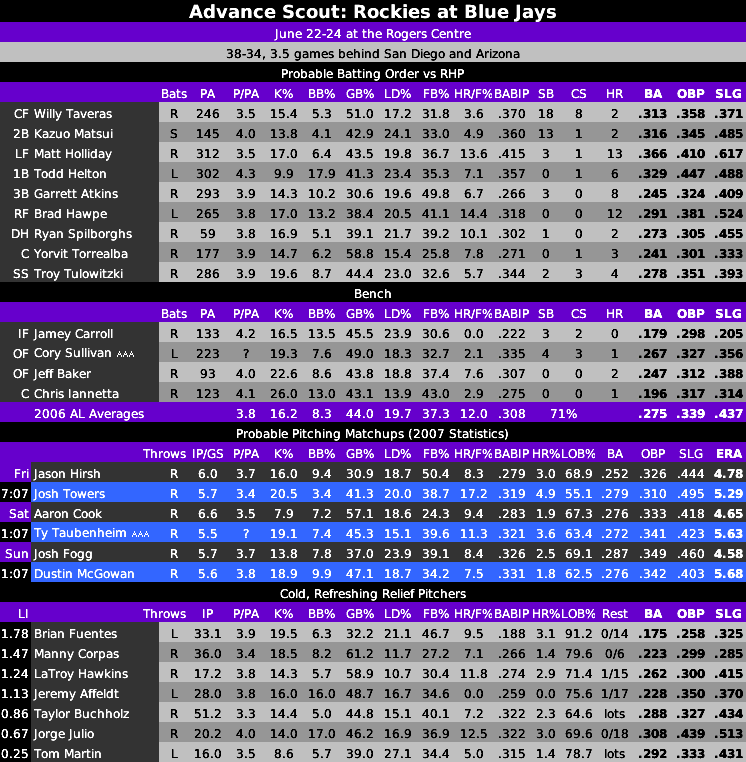 ---

https://www.battersbox.ca/article.php?story=20070622143014813