Advance Scout: Indians, July 6-8
Friday, July 06 2007 @ 03:37 PM EDT
Contributed by: Alex Obal
The Jays get one last chance to head into the all-star break above .500. But to do so, they'll have to sweep the powerhouse Indians, who will likely be in a foul mood after absorbing two straight beatings at the hands of the Tigers.

This series features one favorable pitching matchup (tonight's) followed by two very intriguing ones on the weekend.

Tonight's starter is Cliff Lee. Lee is the kind of pitcher these Jays were built to punish, a lefty flyballer without great peripheral stats. But Lee does have momentum on his side. Over his last four starts, he's gone 3-0 and lowered his ERA from 6.22 to 4.90. Lee's last start was his best of the year. He threw eight four-hit innings at the Devil Rays and struck out nine. He doesn't fancy himself a strikeout artist - "Honestly, I'd rather get them to swing at the first pitch and get them out that way," he told Indians beat reporter David Briggs after the Rays game.

Lee is not a hard thrower. His fastball gets up around 88; he also throws lots of cutters in the mid-80s, plus the occasional slider in the low 80s. His best strikeout pitch is a gorgeous curveball around 76 which plummets through the zone but also has a bit of sweeping action toward the end. It's almost like a 12-to-5 break from the pitcher's point of view. He also throws a change. David Briggs credits Lee's recent run of success to improved location of his "precision fastball."

If you only watch one game this series, make it Saturday's spectacular clash of pitching styles. Two young pitchers enjoying breakout seasons will do battle. Fighting out of the blue corner will be Shaun Marcum and his arsenal of soft-touch trash, including the amazing disappearing changeup. In the red corner, it'll be 23-year-old Fausto Carmona and his deadly sinker. Very quietly, Carmona has built a 9-4 record with a 3.78 ERA.

Wait... that can't be right. Fausto Carmona? You mean this Fausto Carmona? Seriously? The guy who, over one string of four consecutive appearances last year, amassed a stupefying -2.89 WPA over only 2.2 innings and almost single-handedly won David Ortiz the MVP award?

No kidding. And he's also put up a 1.49 WPA, so he's getting reasonably close to complete atonement for last year.

Carmona is this year's Chien-Ming Wang, a 6'4" righty who relentlessly challenges hitters with a nasty power two-seamer. It fluctuates between 92 and 95 on the gun and drops like an anvil. It's startling how many swinging strikes Carmona can get with that sinker. He also pitches off the sinker with two credible offspeed pitches, a slider and a changeup, both of which run around 84. They're not amazing, but they both have some downward movement and put Wang's offspeed stuff to shame. (Not that Wang really has any reason to care.)

Although there are few things more depressing than watching your team flounder against a sinkerballer when they're down by one run, Carmona can easily be run on, especially if Victor Martinez catches him. Baserunners are 20-23 off Carmona in his career, including 10-11 this year. I would not hesitate to greenlight anyone on the team who's capable of stealing. I admit that I'm not a big proponent of aggressive baserunning, particularly with the Jays as currently constructed. However, when you're in the unenviable position of facing a pitch-to-contact groundball machine with a patient, predominantly righthanded lineup that contains pockets of Unfathomably Great Slowness, and the odds of basestealing success are especially good, you kind of have to bend the rules a bit.

I especially want to see the #3 hitter, Rios or Wells, go nuts on the basepaths: Glaus and Thomas aren't ordinarily double play threats because they don't put the ball in play much and they're both massive flyball hitters, but Carmona's pitching style effectively neutralizes both of those slowness-mitigating factors. Glaus' injury will likely move Thomas up to the 4-hole and make this concern even more pressing. I'd also like to see a few straight steals from the bottom of the order, because the odds of a three-run homer coming from the likes of Hill and Zaun are particularly low with Carmona on the mound, and the Jays' offense can't afford to let up for a second. Shaun Marcum is due for a three-run homer himself, and the Indians possess a lineup that is very qualified to scratch that particular itch.

There will be no such dichotomy of pitching approaches on Sunday. Josh Towers faces one of his kind in Paul Byrd, a veteran righty who tops out in the high 80s. Byrd is notable for using a totally awesome old-school full windup. He walks no one and surrenders large quantities of flyballs. This pitching style leaves him at the mercy of the homer and hit gods every time he takes the mound. However, he's done a good job of keeping the ball in the park in the park despite his limitations.

In a comprehensive interview with Prodigal Son, a Christian men's magazine, Byrd recounts his struggle to truly find faith during his minor-league days: "... I was pretty hard on myself. I even baptized myself in Double A thinking maybe it was baptism. Eventually, God just put on my heart, "Hey, relax. You're a Christian and it bothers you when you do something wrong and you're going to need Jesus from here through eternity because you're not Him. You're not perfect." It was a transition for me just to realize that…it took me a couple of years just to get it."

The Jays have hit Byrd pretty hard in the past, though no one player has thoroughly owned him. Of the Jays' 28 hits off Byrd, 12 have been for extra bases. Reed Johnson is 3-3 with a double. Scott Downs is 0-1 with a walk.

Joe Borowski is this team's hair-raising closer. Amazingly, he has only blown two saves all year in 27 opportunities, and has a very respectable 1.11 WPA total. This is amazing because he's been very hit-unlucky and ineffective at stranding runners. He has a 5.51 ERA and the chart line speaks for itself. Borowski doesn't throw particularly hard - maybe around 90 on a good day. His trademark pitch is a slider which he throws often, even when he's behind in the count. He also uses a changeup, particularly against lefties who are familiar with him. He made Sean Casey swing right through a change for a key strikeout in his last save.

Rafael Betancourt has been Cleveland's best reliever by far. He's all about the fastball - he throws the most overpowering 93-mph heater this side of B.J. Ryan, and commands it better than nearly every reliever in the game. He occasionally breaks out a slider or a changeup, but those are basically show pitches. Betancourt's real strikeout weapon is the fastball in a perfect spot. On Tuesday in Detroit, Jim Leyland's Tigers spent the bulk of the game complaining about several Indians' violations of technicalities, according to Paul Hoynes. Betancourt's tendency to take a long time between pitches was one of their targets. The umpires were sympathetic to the Tigers' point: Dana DeMuth actually slapped Betancourt with two balls for taking more than 12 seconds. It will be interesting to see whether this weekend's crew is as petty as DeMuth's, and whether the Blue Jays follow the Tigers' lead in asking umpires to time Betancourt. (Pudge Rodriguez also got in on the whining act Tuesday, although his complaint was much more understandable. He responded to a catcher's interference call going Travis Hafner's way in the third inning by pointing out how Pronk's back foot is never in the batter's box the rest of the game.)

In that game, SportsTime Ohio's feed cut out in the top of the 11th, just in time for Casey Blake's game-winning homer. It returned just in time for an uncharacteristically easy Borowski save in the bottom. The network's president called it a "miniature Heidi moment."

Strikeout artist Fernando Cabrera is struggling and has been displaced from the third rung of the Leverage Ladder by Tom Mastny.

With David Dellucci injured and Shin-Soo Choo struggling, the Indians promoted outfielders Franklin Gutierrez and Ben Francisco from AAA. Francisco is a 25-year-old rookie out of UCLA; Gutierrez, a 24-year-old from Venezuela. Both figured out AAA pitching in their second full season at Buffalo this year and are off to hot starts in the majors as well. Francisco was a teammate of noted clutch machine Ryan Garko at Servite High School in California; after they played out their college careers as Pac-10 rivals and rose through the Indians' farm system, something dawned on them. "We were stretching one day this spring training, talking about the odds of two high-school teammates being on the same major-league team at the same time," Garko recalled to Dennis Manoloff. "We talked about how cool it would be to be up in Cleveland together." The emphasis is mine. Francisco received a cream pie from Trot Nixon after his first career homer led to a Cleveland win. He kept things in perspective, earnestly dishing out stock answers to stock questions while never taking off his cream-covered hat. "Getting the first hit and first homer were great, but the best part is, we won. There's nothing better than getting back to the clubhouse and being able to celebrate a victory with the guys." Sounds like a 10-year pro.

The Indians are looking into signing the 30-year-old Hafner longterm, says Hoynes, who insinuates that this may have something to do with how Hafner hit .228 in May and .219 in June. This is a great idea. When an established hitter goes into a slump, there are worse things to do than try to sign him up longterm at a discount. Hafner, like C.C. Sabathia, is eligible for free agency after 2008; both players are represented by the same agent...

And in Paul Hoynes' weekly mailbag, some Indians fans are blasting their shortsighted front office for throwing away one Brian Tallet. It's a cruel world.

The Credit Section: All offensive stats, pitches per PA for pitchers and league average stats are from the Hardball Times. Pitchers' stats and leverage indices are from Fangraphs. Minor-league stats are from Minor League Splits. K% and BB% are strikeouts and walks as a percentage of plate appearances; GB% + LD% + FB% = 100.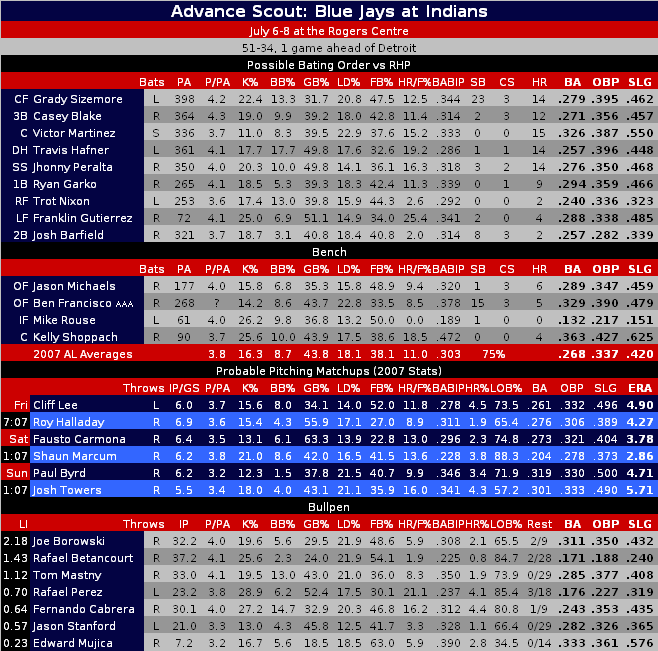 ---

https://www.battersbox.ca/article.php?story=20070706022253575