Advance Scout: Red Sox, July 12-15
Thursday, July 12 2007 @ 06:40 PM EDT
Contributed by: Alex Obal
Ordinarily, I'd beat myself into a frenzy in this introduction and bellow vaguely inspirational platitudes like "IT'S ON!" which, really, shouldn't be necessary given the name of the opponent and range of dates in the header immediately above this sentence. But I won't, because the reality is that it isn't on. Not yet, anyway. Ten games out of first place, the Jays have to serve Boston back to some degree in the second half before anyone in Blue Jay land can make any truly credible claims that it's on.

But the Jays are 2-0 at Fenway this year, and the two Sox who started those games also pitch the first two of this series, and it's only the middle of July, so there is hope.

Tim Wakefield starts tonight. Last time he and his knuckleball faced the Jays, he picked up an 8-0 victory and lowered his ERA to an AL-best 1.79. He's cooled off considerably since then, but his efforts to carry the Sox rotation through April didn't go unnoticed.

Wakefield starts virtually everyone off with a knuckler. Makes sense - opening an at-bat against a big-league hitter with a mid-70s fastball is a bit risky. He tends to throw more fastballs and curveballs as the count gets deeper and hitters' bats get acclimated to waiting so long for the ball to arrive, though the knuckleball is by far the most likely pitch no matter what the count is. Wakefield will throw knucklers in 3-0 counts. His knuckleballing style makes him an inviting target for basestealers, who are (surprisingly) only 343-449 all-time against him.

No current Jays have good career numbers against Wake. Frank Thomas is 9-43 with 6 walks, 4 homers and 14 strikeouts; he's the best bet. Royce Clayton is 12-39 with a homer and only 3 strikeouts.

Wakefield's personal catcher Doug Mirabelli will catch tonight. He's 2-12 in 12 PA against Roy Halladay, but the hits are a homer and a double.

Sinker-slider swingman Julian Tavarez opposes Shaun Marcum on Friday. In April, Tavarez appeared to be keeping a seat warm for a month or so while Jon Lester rehabbed in AAA. But Lester hasn't dominated in the minors, and Tavarez is still here. Fenway Park is a very good place to be Julian Tavarez, a groundballing righty who keeps the ball down and away to everyone and compensates for his style's vulnerability to lefties by working in a change against them once in a while. Alex Rios is 8-12 against Tavarez with a walk.

Saturday's starter is either Daisuke Matsuzaka or Kason Gabbard. I think it's Daisuke - there is no news of any injury. If the Red Sox want to maintain the exact order of pitchers they had before the break, Gabbard will go; if they want to pitch Daisuke as often as possible, they'll start Daisuke.

Daisuke is Daisuke, and he feels right at home in Boston, thank you very much. That's a fascinating article by Gordon Edes that touches on the golfer Daisuke, the family man Daisuke, and much more.

Gabbard is a 25-year-old lefty who was chosen in the 29th round of the 2000 draft. He hit a wall at AA in 2004 and struggled against that level until last year, when he went 9-2 with a 2.57 ERA and earned a promotion to the show. Sox Prospects compares him to Pete Schourek. He has a sinker in the high 80s, and keeps hitters off balance with a four-seamer, changeup and biting mid-70s curveball. The change is supposed to be his best pitch. In an interview with Royal Rooters, Gabbard says he became consistent at the AA level by "maturing a bit... growing up as a man." I like the honesty. How many players tacitly admit that their success is probably due to their age relative to their competition?

Even if Gabbard doesn't start Saturday he may pop up out of the bullpen early in the week, since Boston is only carrying six relievers with hustling fan favorite Jeff Bailey called up to cover for Kevin Youkilis' day-to-day injury. Gabbard is 2-0 with a 4.87 ERA averaging just over 5 innings in his 4 big-league starts this year.

Josh Beckett, in the middle of an age-27 career year, will be Jesse Litsch's opponent Sunday. The outrageous (even when he's injured) Curt Schilling is convinced Beckett is the best pitcher in baseball: "You can make any argument you want. Haren has been phenomenal, and you don't want to take away from anybody, but to me, [Beckett is] the best pitcher in the game right now," he told Jeff Goldberg of the Hartford Courant. There is no indication that the next thing out of Schill's mouth is, "But that's only because I'm on the DL." However, there is no indication that it's anything else.

Beckett is still a hard-throwing righty with a fastball that can get up in the high 90s, a curveball and a change, but his 4.38 K/BB is by far the best of his career, and his 50% groundball rate is also by far the best of his career. He credits his improvement to being less reliant on just throwing the fastball past hitters for strikeouts, and bringing his offspeed stuff to the table more. Especially the changeup. As an AL scout tells the Boston Globe's John Powers, "It's a hard changeup. He'll throw his fastball 95-96 and his change 87-88. Some guys don't throw their fastballs 87-88. The location and sink of the changeup is very good."

Although Beckett has clearly pitched much better this year than last, he's also received a bit of an assist from the homer gods who mercilessly hung 36 gopherballs on him in his first year at Fenway. Beckett's HR-per-fly rate is down from a vicious 15.4 to a too-kind 5.7. When that improved luck is combined with Beckett's newfound groundball tendencies, the result is a 12-homer pace.

Vernon Wells is 8-18 with 4 homers against Beckett. Russ Adams and Alex Rios have also taken him deep; Frank Thomas is 2-14 with 0 walks and 5 strikeouts.

Jonathan Papelbon has only blown one save all year. He has the intimidating closer's pre-pitch routine down ice cold. Before every pitch, he stares blankly at the mound for a couple of seconds. He then proceeds to lean in a bit to wait for the sign, while bestowing upon the hitter the most menacing cold shoulder in major-league baseball. Then he sets and fires. It's really impressive.

In the past month, Papelbon has added a cutter to his arsenal. It's still a work in progress - he left one up to Pudge Rodriguez in extra innings Saturday, and Pudge found enough of it to drop it in right center for a game-winning hit. Live and learn, says Amalie Benjamin. "The cutter's doing what I want it to do. It's just I can't be leaving balls up, especially when guys are in scoring position. It's just a matter of it being up. I keep the pitch down, he's either swinging through it or easy ground ball to the right side. But I left it up, so he was able to find a hole in the outfield."

To the surprise of no one, Hideki Okajima won the final all-star vote over Pat Neshek. Okajima actually has a higher WPA than Papelbon. He credits his success to his forkball-like changeup, which he tried to keep somewhat secret until appearing in the bigs. He says to Dan Shaughnessy: "My biggest weapon was always my curve. Last winter in training I struggled with the curve, so I tried the changeup and it was pretty good. I thought I could use it in major league baseball. I tried to hide the changeup until after the season started and that is the main reason I am getting such good results."

The Boston Globe's editorial staff love Oki's 'civilizing influence' and wish more people could be like him.

25-year-old hometown hero Manny Delcarmen has been summoned from AAA to help out the Red Sox bullpen. He replaces the DL'd Brendan Donnelly. Delcarmen put up a 28.5% strikeout rate in the minors to force Boston's hand. He throws in the mid-90s; his out pitch is a (relatively) very slow curveball in the mid-high-70s.

Coco Crisp has been on a bit of a hot streak since returning from his sprained thumb and might bat near the top of Boston's order. He has also earned plaudits for his defensive contributions this year, according to Gordon Edes. Some Sox folks are pushing his Gold Glove case - ones you wouldn't expect, like Kyle Snyder.

Julio Lugo has been the only hole in this lineup, and I get the feeling Julio Lugo is going to heat up very, very soon.

Kevin Youkilis has been battling a sore quad and hasn't played in almost two weeks. He should return this weekend; where he hits in the lineup is anyone's guess, since Crisp and Dustin Pedroia are streaking.

Buster Olney exalts Youkilis' unerring intensity. In that article, Youkilis preaches on the value of patience and suggests that, despite his excellent batting eye, he's not particularly good at reading pitchers' minds: "Some guys are good at guessing what's coming," he says. "Kevin Millar, he could say, 'Hey, with a 1-0 count, this guy is going to try to throw me a backdoor slider.' I can't do that."

Boston fans are worried about David Ortiz's sagging power numbers. He's hitting fewer flyballs than usual, and with less power than usual. A large portion of his balls in play are going for hits, which is keeping his OBP up and offsetting the lost power. Ortiz has been battling knee, hamstring and quad issues at various points this year, but hasn't attributed his struggles to nagging injuries. Still, he's pondering knee surgery in the offseason.

And on Saturday, Ortiz was intentionally walked three times by Jim Leyland, who was happier facing one of the greatest righthanded hitters ever, Manny Ramirez. How times have changed.

The Credit Section: All offensive stats, pitches per PA for pitchers and league average stats are from the Hardball Times. Pitchers' stats and leverage indices are from Fangraphs. Minor-league stats are from Minor League Splits. K% and BB% are strikeouts and walks as a percentage of plate appearances; GB% + LD% + FB% = 100.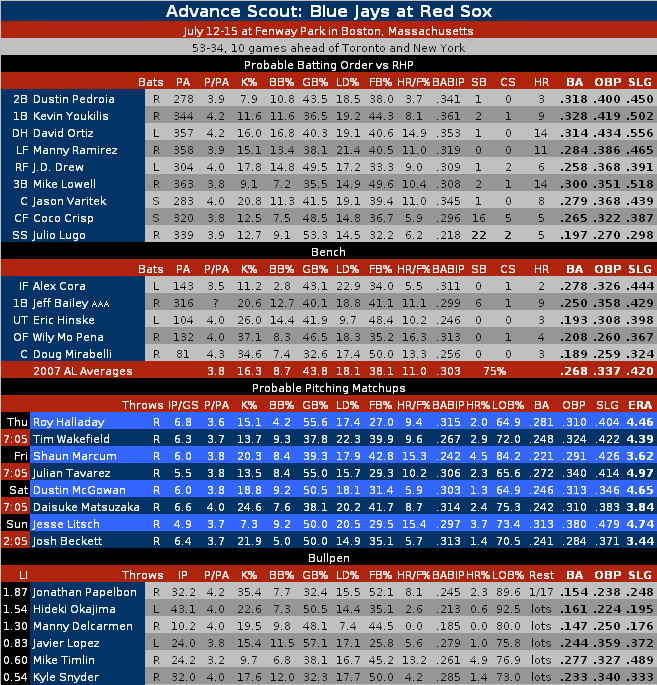 ---

https://www.battersbox.ca/article.php?story=2007071203165167