Advance Scout: Rays, April 22-24
Tuesday, April 22 2008 @ 06:10 PM EDT
Contributed by: Alex Obal
We're going to Disney World!

Yep. It's a three game set with the 8-11 Rays on the outskirts of Orlando.

The Rays are 3-0 in the land of the mouse ears. They seem to enjoy this proud annual tradition, which is now in its second year. Last year, they hung a three-game sweep on the Rangers, including two extra-inning victories. They are looking to market themselves in central Florida to expand the ol' fan base. "It's a three-day infomercial. That's what it really is."

The stadium there is called Champion Stadium, formerly Cracker Jack Stadium and The Ballpark at Disney's Wide World of Sports. This one time 10 years ago, I saw a Braves spring training game there. It's very Disney. Unfortunately, the concession stand ran out of hot dogs in the fourth inning, which wasn't very Disney. Or maybe it was. I'm bad at those distinctions. My guess is it'll play as a very neutral park. It's symmetrical. Here are its dimensions:

Left 335
Left center 385
Center 400
Right center 385
Right 335

The capacity is 9500, including the vast swaths of lawn in left field where people bring towels to sit on and watch the game. Last year, the attendance figures for the three games were 8443, 8839 and 9635.

Tonight's starter is James Shields, who signed the Aaron Hill contract this offseason before it was called that. Shields throws in the low 90s and has a unique, powerful changeup that he throws 32.2% of the time according to Fangraphs. He is Aaron Rowand's cousin. As a cutter/changeup guy, he has a 22-point career OPS split.

Tomorrow, it's righty Jason Hammel, who's keeping the 5th starter's spot warm. He's put up AAAA pitcher numbers the last two years. He's your typical four pitch pitcher. He has a big curveball, but according to Fangraphs, he has been throwing his slider more and more over the past two years. Hammel shares his name with the drummer from Mates of State. Not quite Andre Ethier, but you take what you can get. Joe Inglett is 3-4 off Hammel with a double, a triple and a walk.

Thursday, it's the one-of-a-kind Andy Sonnanstine, fresh off a complete-game three-hit shutout of the White Sox. Sonnanstine is one of my favorite players in the league. He's a pretty generic speed-changing strike thrower, with one big exception: he throws out of a bunch of different arm slots, and it's completely intentional. Here's a plot of Shields' release points; here's Hammel; and here's Sonnanstine. One thing I'd like to do at some point is try to figure out if there are any patterns to his choice of arm slot. We'll see him again soon enough. Here's the full Josh Kalk pitch-fx card for Sonnanstine.

Evan Longoria is in the house. For good. For some reason he's 0-10 against lefties, with three walks.

The A's put Dan Johnson on waivers, so the Rays claimed him, and here he is. Johnson has historically been a favorite whipping boy of the BABIP gods. He went down with a "bone infection near the sinus area" which was supposed to sideline him for six to nine months. However, using home remedies, he managed to overcome the illness in a mere two weeks.

Lefty-hitting outfield defense specialist Nathan Haynes, formerly of the Angels, is in the house. He's actually starting tonight. He has four stolen bases in five tries. Haynes is 28; he was drafted in the first round in 1997. Here are his recent minor-league stats.

New shortstop Jason Bartlett is off to a rough start. He's been fighting a shoulder injury, which has contributed to his making four errors in his last seven starts.

Eric Hinske and Jonny Gomes are off to pretty good starts as the DH team. Like Magpie said.

Switch-hitting catcher Dioner Navarro, who had been on the 15-day DL with finger trouble, is back in the house. Shawn Riggans, who hit competently as the starter in his absence, returns to the bench, and Mike DiFelice has been designated.

Poor Troy Percival can't find any save situations. He's off to a very good start, though.

Al Reyes is on the 15-day DL with mild shoulder problems.

And Jeff Niemann was sent down, as the Rays expect Matt Garza to make his triumphant return to their rotation on Friday.

The Credit Section: All offensive stats, pitches per PA for pitchers and league average stats are from the Hardball Times. Pitchers' stats and leverage indices are from Fangraphs. Minor-league stats are from Minor League Splits and First Inning. K% and BB% are strikeouts and walks as a percentage of plate appearances; GB% + LD% + FB% = 100. These are 2008 stats, except where noted.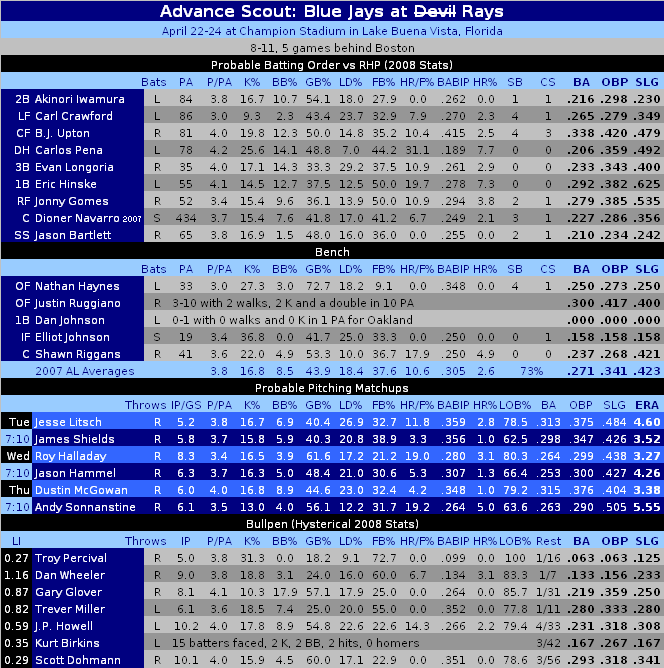 ---

https://www.battersbox.ca/article.php?story=2008042203300686