Advance Scout: Royals, April 25-27
Friday, April 25 2008 @ 07:15 PM EDT
Contributed by: Alex Obal
Four game losing streak? Last place? Adam Lind trapped in purgatory? Oh yeah? You think that's bad? Remember when I auditioned to be David Hasselhoff's car?

'Cause for the Royals, it's even worse than that. They're on a seven-game slide that has rocketed them past Detroit into the AL Central cellar. They're allowing 4.68 runs a game, which is OK, but they're averaging 3.18 on offense, which is - I mean it's better than the Giants, but the Royals are doing it with the benefit of a DH who just happens to be one of their few non-struggling hitters, Billy Butler. They have six regulars OPSing below .660, five if David DeJesus starts over Joey Gathright, which he seems to be doing exactly half the time.

(Joey Gathright can jump over a car.)

Then again, for all the Royals' struggles, there are certainly tougher teams to turn it around against than this incarnation of the Jays. Something's gotta give.

The series starts with its best pitching matchup, as A.J. Burnett takes on Donald Zackary Greinke, 3-0 with a 1.24 ERA. He seems to have overcome the well-documented social anxiety problems that derailed his career in 2006. Hooray! (Also, caution. Article linked in preceding sentence is a bit saccharine.) Greinke isn't exactly overpowering hitters with strikeouts or groundballs - it's going to take a few more of those before anyone officially declares him the AL's phenom starting pitcher for 2008 - but he's averaging 7 1/3 innings a start and has been KC's best pitcher thus far this year. According to pitch-fx, the slowest pitch Greinke has thrown this year is around 68 mph. I miss the eephus.

Tomorrow, it's top pitching prospect Luke Hochevar, making his second start of the season against local hero Shaun Marcum. Hochevar throws in the low 90s and has hard breaking stuff. He had a very high groundball rate in three strong starts at AAA. In his first big-league game of 2008 he got mauled by the dreaded A's, only lasting 4.2 innings and giving up 6 earned runs.

Sunday, it's inspired free-agent signing and ace Gil Meche. When looking at his line in the chart, bear in mind that he's faced the Twins twice. Alex Rios is 7-9 against Meche with 2 doubles, a triple and a walk. Sure hope he doesn't need a breather Sunday. The Jays' current roster is a combined .310/.391/.507 against Meche in 142 at-bats. Meche has a 17-point reverse OPS split over his career, and righties hit have him better in 2007 and 2008 as well. Maybe this is because his best pitches are a change and a knucklecurve. Noted knucklecurve practitioner Mike Mussina has a 73-point reverse OPS split over his career.

Finally, Joakim Soria is a machine. He could be well on his way to joining the ranks of the elite AL closers. Check out the natural cut to Soria's fastball, and then compare it to This Guy's heater. OK, Soria's doesn't cut quite as much, but still, the velocity combined with the cut... Take that guy and give him a huge freakin' curveball, and you've basically got Joakim Soria. And Soria turns 24 in May.

The Credit Section: All offensive stats, pitches per PA for pitchers and league average stats are from the Hardball Times. Pitchers' stats and leverage indices are from Fangraphs. Minor-league stats are from Minor League Splits and First Inning. K% and BB% are strikeouts and walks as a percentage of plate appearances; GB% + LD% + FB% = 100. These are 2008 stats, except where noted.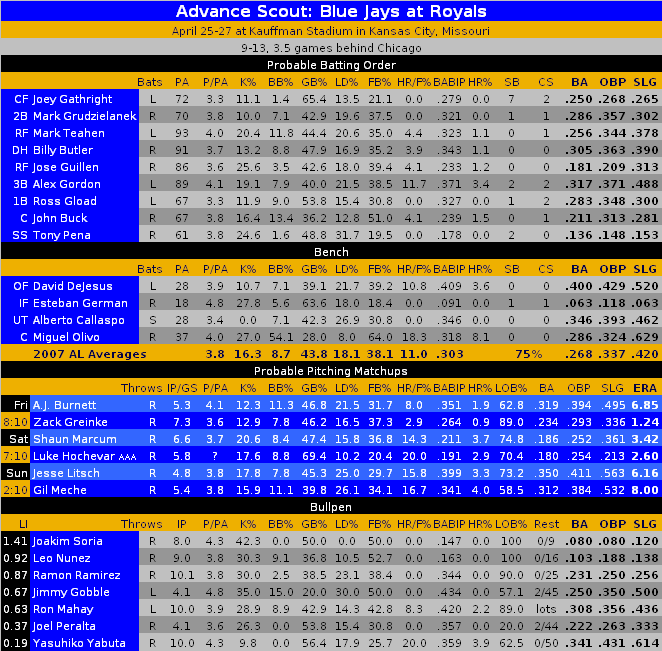 Finally, a hand-full of Public Service Announcements:

1. FREE ADAM LIND.

2. A fledgling baseball sim league, the TRBL, is looking for owners. It runs on the most recent edition of Out of the Park Baseball. The guy who operates it is dedicated and battle-hardened, and he has run an OOTP league in the past which was barrels of fun. The league's site is here and you can shoot the commissioner an email at (tykingmp at gmail) if you're interested. The league can accept at most 30 teams and the inaugural draft will happen within the next week, so don't walk, run!

3. FREE ADAM LIND.

---

https://www.battersbox.ca/article.php?story=20080425185347945