Advance Scout: White Sox, May 2-5
Friday, May 02 2008 @ 06:00 PM EDT
Contributed by: Alex Obal
No more excuses. If the Jays want to get back in this, they have to make a statement on this seven-game homestand against two division leaders. First on the chopping block are Ozzie's boys, led by their surprisingly competent starting rotation - and a surprising choice of leadoff hitter.

The White Sox are 14-12, tops in the AL Central.

Tonight's matchup pits two mainstays of the all-advance scout team against one another: Shaun Marcum and Mark Buehrle. Watch this game. What is there to say about Buehrle that isn't common knowledge? He works very quickly. (In case you blinked during either of those games last year). There is very little white space in his pitch-fx plots, which indicates that he's really good at changing speeds and spins on all his pitches to keep hitters off balance. He's got a fastball, slider, change, curve, and I'm pretty sure there's a cutter in there too which the pitch-fx identifying robot seems to split among the sinkers and sliders. That, or Buehrle's sinker breaks in a ton of different directions. Either way, it's Buehrle - who really cares about identifying pitch types? He's also adept at locking down the running game: in 1657.2 career innings, only 78 baserunners have dared try to steal a base against Buehrle. They are 32-for-78. Buehrle is off to a decent start this year - his stats are all inflated by his first start of the year, in which he got pounded at the Jake to the tune of 7 earned runs in 1.2 innings. He has a 3.67 ERA since, with 7 walks and 15 strikeouts. He is owned by Vernon Wells (.500/.533/.692 in 29 PA), and Shannon Stewart too (.378/.452/.541 in 42 PA) but he owns Eckstein, Rios, Stairs, Barajas, Overbay (0/9 5 K 0 BB), and McDonald.

Tomorrow, it's the breakout star of the Sox rotation: John Danks. Danks is a 23-year-old Austinite sophomore lefty who just sounds like he should be a Texas Ranger. Naturally, the Rangers swapped him for "Tall" Brandon McCarthy, and even threw in sinker-specialist long man Nick Masset too. Say what you will about Kenny Williams, but he's got guts, he's unafraid to deal with bright GMs, and he's certainly hosed his fair share of teams. Where was I? Danks. Pretty hard-throwing lefty in the low 90s. He was a big flyball pitcher last year, but he's in the mid-40s this year. Someone should buzz him with a liner as retribution for what he did to Lyle Overbay's hand last year. Danks' money pitch is a change. In spring training, Ozzie and Danks agreed that Danks can rely too heavily on the change, and he's worked on throwing more cutters this year. The pitch-fx machine thinks he's got a pretty good cutter, just erratic: sometimes it cuts like a knife, and sometimes it cuts like safety scissors. Danks also has a hard curveball to keep hitters honest.

Sunday, it's a battle of efficient contact machines, as Roy Halladay looks to continue his complete game streak against Jose Contreras. Like Andy Sonnanstine (Contreras' #5 pitch-fx comp), though much more liberally, Contreras plays with arm angles, which creates all kinds of funky movement on his fastball and slider, which aren't particularly overpowering on their own. His out pitch - a slow mid-70s forkball - is overpowering. Contreras is good at resolving at-bats quickly. He's got a 3.6 P/PA this year, after posting a 3.5 in 2007. I'm not really sure if that's got more to do with Contreras being aggressive or hitters being aggressive, though. Over his career, when Contreras has had hitters 0-2, they've hit .167/.196/.232 and struck out 42.1% of the time. That's how nasty the splitter is. Yet Contreras only has a 17.1% career K rate. So, maybe Conteras' quick resolution isn't really a function of him pitching to contact so much as hitters hitting to contact when Contreras throws strikes. Who knows? Most Jays have weak career numbers against Contreras, who owns a 3.51 career ERA in 41 innings against Toronto.

Monday, it's Chicago's other ace: widely underappreciated strikeout artist Javier Vazquez. Vazquez is 31 and coming off a strong 2007 season, in which he posted a 3.74 ERA, 6.8 innings a start, and a 15-8 record in front of a pretty pathetic offense, as a flyball pitcher in one of the more claustropobic parks in the AL. Vazquez's fastball is usually around 92. He possesses two solid strikeout pitches in his curve and change, as pitch-fx attests. Vazquez's curve sits in the low 70s with nasty break in two directions. His change is about as close to a true Bugs Bunny change as anyone's. (Call me a traditionalist, Bugs' off-speed pitch had very little downward movement.) It's about 10 mph slower than the heater, and it moves exactly like the fastball. So there will be K's. Vazquez has only given up 1 homer despite his flyball tendencies. The odds of him giving up 6 or fewer this year if he stays healthy are... not good.

Chicago's bullpen has undergone a minor overhaul, as they brought in righties Scott Linebrink and Octavio Dotel to improve Bobby Jenks' setup brigade. They buried funky sidewinder Ehren Wassermann in AAA, where he's rattled off a 7.2-inning no-hit streak as Charlotte's closer, forcing the Sox to admit the error of their ways and call him back up. Meanwhile, everyone's idea of excitement, hard-throwing lefty Matt Thornton, has shot out of the gates. I don't see Linebrink as any kind of savior, but Kenny Williams seems to have assembled a pretty respectable bullpen here. Wassermann should probably be deployed in high-leverage situations, Neshek-style, but Ozzie Guillen is a pretty good handler of pitchers. He'll probably sort things out.

Nick Swisher is the leadoff man. He may not be your idea of Ozzie Guillen's idea of a prototypical leadoff hitter, but Ozzie (a very underrated manager in my view) appreciates the value of on-base percentage. "You have a leadoff hitter who can run, that's a plus," Guillen said. "But to be a leadoff hitter, you've got to get on base. You can't steal first. I'd rather be a guy who gets on base. [Swisher is] hitting [.261] and all of a sudden he gets on base six times in a row by walks, and we need people on base when you have [ Orlando] Cabrera and [ Jim] Thome behind you. You get on base, you're going to score a lot of runs." Swisher's power is MIA despite the Cell factor, which is a mild surprise.

The White Sox anticipated using Danny Richar as their everyday second baseman this year, but he's been out since March with a rib injury. In his place, competent fielder Juan Uribe and Cuban rookie Alexei Ramirez have made a lot of outs, earning the cherished title of Co-Whipping Boys. Ozzie is standing up for Uribe, though: "We are where we are because of Uribe's defense. Uribe deserves and earned to be playing right now. There are other guys struggling at the plate. Obviously it looks uglier when he's struggling up there, but give the kid a break..." In fact, Uribe doesn't have to hit at all to be a key contributor to the Sox: "Maybe a lot of people believe in offense - that's their problem." Uh, careful what you wish for maybe? Chicago is third in the AL in runs per game with 4.96. Only Detroit and Oakland are better.

Finally, from a bullpen-management perspective, it's worth noting that this lineup leans substantially to the right. There are two lefties on the 25-man roster, Jim Thome and A.J. Pierzynski, and they might start all four games. The bench is entirely righthanded: Ramirez, Toby Hall, Brian Anderson and Pablo Ozuna. I can't picture any of those guys batting for Thome or Pierzynski with the game on the line. What does all this mean? It means this series screams out for massive LOOGYage in any game that looks like it might be close at some point. With four lefties in the pen, and the knowledge that there are no pinch-hitters on the bench (unless one of the regulars sits), the Jays can afford to play matchups with impunity in the late innings. Also, because of the right-leaning nature of the lineup, if Marcum leaves with an 8-3 lead after seven innings tonight, Brian Tallet should be given the ball to close the game out. Gibby should conserve his righties if he can help it.

The Credit Section: All offensive stats, pitches per PA for pitchers and league average stats are from the Hardball Times. Pitchers' stats and leverage indices are from Fangraphs. Minor-league stats are from Minor League Splits and First Inning. K% and BB% are strikeouts and walks as a percentage of plate appearances; GB% + LD% + FB% = 100. These are 2008 stats, except where noted.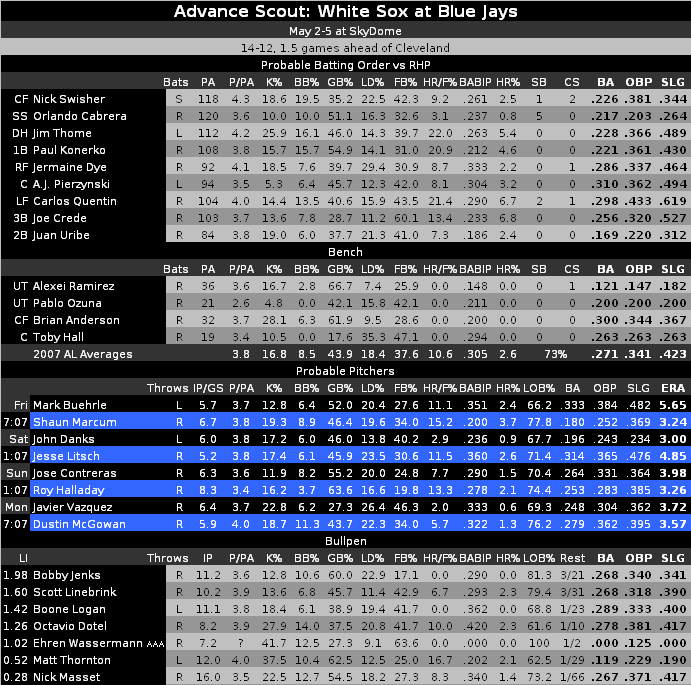 ---

https://www.battersbox.ca/article.php?story=20080502035740441