Advance Scout: Cleveland, May 9-12
Friday, May 09 2008 @ 05:54 PM EDT
Contributed by: Anders

The Jays kick off a ten game, ten day road trip in Cleveland as they take on the scuffling Cleveland's with a few new faces in the lineup. Jorge Velandia, Brad Wilkerson and Kevin

Mench

will be joining the team to take the place of McDonald, Eckstein and Lind.


But enough about the Jays - on to the Advance Scout!



Cleveland has been up and down all year, much like the Jays - they enter this series two games under .500, also like the Jays. The only difference is that the Twins are the only team above .500 this year in the AL Central at 17-16, so Cleveland is 1.5 games out of first. The Jays are in turn 5.5 games out of first, as the Red Sox have been the class of the AL so far.

Tonight it's a battle of Cy Young Award winners as the Jays send Doc Halladay (2003) to the mound against Carsten Charles Sabathia (2007) - C.C. to his friends. The big lefthander (and I do mean big) has had a poor year so far, with an era of 7.51. He is still striking out plenty of batters - almost one an inning - bu he's walked 18 batters in 38.1 innings after walking 37 all last year in 241 innings. He's also been hit much harder, giving up more line drives and fewer fly balls. Sabathia goes fastball, slider, change, though his fastball is really two different pitches: a four seamer around 91-94 without much movement and a two seamer that sinks and tops out at about 89/90. He used to throw a curveball, but has only thrown a handful of them so far this year for reasons that I cannot ascertain. His changeup tails away from righties and towards lefties, and as a result he only throws it against righthanders - lefthanders get more sliders, which he tends to throw when ahead in the count to get hitters to chase - he doesn't generally throw it for a strike. Sabathia got knocked around by the Royals in his last start, giving up 10 hits and 4 runs in 6.1 innings. Several current Jays have enjoyed success against him. Barajas is 6/14 with 3 homers, Rios is 5/16 with 3 walks and 2 homers, and Scutaro is 5/12 with 2 walks. Wells is a meagre 5/24 with 2 homers and 6 k's, and Stewart is 10/39 with 3 walks and 7 whiffs. Sabathia's 11 hits are the most of any current pitcher in interleague play, but I guess that doesn't matter so much...He has more wins than any active pitcher under 27... He was featured on an episode of MTV Cribs...

Saturday evening sees Dustin McGowan take on minor league callup Aaron Laffey, making his 12th career start. Laffey turned 23 in April and is taking the spot of Jake Westbrook, who is on the DL. He had a 2.77 era with 20 strikeouts and 6 walks in 26 innings in AAA Buffalo to start the year, and took a no hitter into the 6th against the Yankees before giving up 3 runs in his first start this year. Laffey is a lefty who throws a fastball around 87-88, along with a slider and a change, though the fb is his bread and butter, the change might be his best pitch - he keeps it out of the zone and gets lots of hitters to chase it. He uses his slider primarily against lefthanders, relying more on the fastball against righties. No current Jay has ever faced Laffey, so they will be relying more on scouting reports. Now word yet on whether this song was written about him... let's hope not.

Sunday is a matchup between wild men Fausto Carmona and A.J. Burnett. Carmona signed a contract extension through 2011 a month ago and his performance since has been, well, interesting. In five starts he has walked 22 and struck out 8, in 26.2 innings. On the year he has a k/bb ratio of 15/31 - that's 15 strikeouts and 31 walks - in 39.2 innings. He's walked four or more in six of his seven starts. Apparently the problem is that his sinker is just not sinking anymore. Still, his percentage of balls in play on the ground is 67%, right around where he was last year and one of the best figures in the majors in a long time (Halladay is at 62% this year for comparison, easily the best mark of his career). As a result Carmona has allowed only 1 home run this year, which might help to explain his era of 2.95 (seriously). Carmona was never a big strikeout pitcher, but this year has descended into sub-Wang territory, striking out 3.4 batters per 9 innings, a rate which most baseball analysts suggest is not good enough to keep you in AAA, let alone the majors. Carmona has survived thanks to his insane ground ball rate, some good defense and a runners left on base rate of 80%. In other words, if you are frustrated about the Jays inability to score runs in the clutch, you might want to watch basketball on Sunday instead. Carmona mainly throws his sinking fastball, but will also rely on the occasional slider or change which are both good pitchers. The only current Jay with more than ten at bats off Carmona is Scutaro, who is 6/11. No current Jay has ever homered off Fausto.

The finale features Cliff Lee and Shaun Marcum and may just be the best pitching matchup of the whole bunch. Lee has been superlative this season. He's won each of his six starts, not allowing a run in four of them. He's allowed just 4 runs in 44.2 innings, with an unbelievable k/bb ratio of 38/2. So, uh, pretty good. Lee was considered a long shot to make the team out of spring training, but thanks to injuries has had his chance to shine. This is after a shaky 2007, in which he was demoted to AAA after hitting Sammy Sosa in the head while Sosa was being feted in Texas for hitting his 600th home run - that Lee was terrible might have had something to do with it as well. In any event, Lee has been the best pitcher in baseball so far this year. He relies heavily on his fastball as well as a wicked slider, mixing in the occasional change up and curveball. He has struggled in the past against righties, but is destroying everyone on an equal opportunity basis so far this year. His low average on balls in play combined with his low home run/fly ball ratio suggest he will fall back to earth at some point, though I think most people could have guessed that given his sub-1 era - Bob Gibson Lee ain't. Shannon Stewart is the most successful Jay against Lee - 10/25 with 5 walks and strikeouts. Rios is 4/11 with 2 doubles, Scutaro 3/10 with 2 doubles, Vernon 3/8 with 2 home runs. Stairs wins the least successful title; he's 1/10 in his career off Clifton Phifer Lee.

Cleveland's offense has been almost as poor as the Jays so far this year, which is saying something. They've actually scored one fewer run than the Jays, albeit in two fewer games. Grady Sizemore is the only regular with an OPS of over .800 - he's hitting .264/.388/.421 with 7 SB, and already missed a couple of games due to injury.

Travis Hafner's days as one of the most feared hitters in baseball seem to be drawing to a close. After a disappointing 2007, Hafner is off to an even worse 2008, and was benched two days in a row earlier in the week. He hasn't homered since April 17th, and is hitting .209 on the season. Dugout Central thinks he might be done, which certainly seems possible.

The Cleveland infield in general has been a disaster. None of Ryan Garko, Casey Blake, Jhonny Peralta or Asdrubal Cabrera is hitting better than .240 or slugging better than .410 - Peralta has been the best of the bunch with a .692 OPS. Garko graduated from the same high school at the same time as teammate Ben Francisco and was originally drafted as a catcher. Casey Blake made his minor league debut in the Blue Jays system before joining Cleveland in 2003, and he has been mister clutch so far this year - 14 of his 21 hits have come with runners in scoring position. Blake has also regrown his beard, and looks like the guy from 300.

Victor Martinez has had a stiff back and missed Thursday's game, but is expected to be back and ready for tonight's game. Martinez is hitting .337, but has only walked 4 times this season in 104 PAs, with six doubles and no home runs. Kelly Shoppach is the backup just in case.

David Dellucci is now getting most of the starts in left field against right handers, after Jason Michaels was cut and traded to Pittsburgh. He also has a good beard, though I cannot find a picture of it. He hit a big game winning three-run homer against Joba Chamberlain the other day in New York. Two days later Joba got revenge, striking him out on five pitches as the Yankees won. Joba let out a big fist pump, which apparently rubbed Dellucci the wrong way: "If he wants to yell and scream after a strikeout and dance around the mound, thatís what gets him going. My home run was in a much bigger situation, a much more key part of the game, but I didnít dance around and scream.Ē Dellucci clearly isn't a petty person...

Joe Borowksi is still on the DL so Rafael Betancourt is closing for now. He's whiffed 14 against 2 walks in 14.2 innings, but allowed 4 home runs and 9 earned runs - he was dominant last year though. Rafael Perez and Masahide Kobayashi are both pretty good setup men - Kobayashi had 227 saves in the Japanese Leagues, while Perez had a 62/15 k/bb ratio in 60.2 innings last year. Jensen Lewis has been good as well out of the pen.

The Infirmary: Jake Westbrook is on the 15 day DL with a left intercostal strain. Joe Borowski is also on the 15 day DL with a right tricep strain, though he isn't expected back for a few more weeks. Shin-Soo Choo is out following elbow surgery last fall, and is expected back perhaps as soon as the end of April.

2008 Team Slogan: Indians '08. Rating: 3/10 - this is just lame and not even attempting to be uncleverly clever... I guess it's about the Presidential Campain...?

The Credit Section: All offensive stats, pitches per PA for pitchers and league average stats are from the Hardball Times. Pitchers' stats and leverage indices are from Fangraphs. Minor-league stats are from Minor League Splits and First Inning. K% and BB% are strikeouts and walks as a percentage of plate appearances; GB% + LD% + FB% = 100. These are 2008 stats, except where noted. Special thanks to Alex Obal to compiling these stats - he is truly a king amongst men.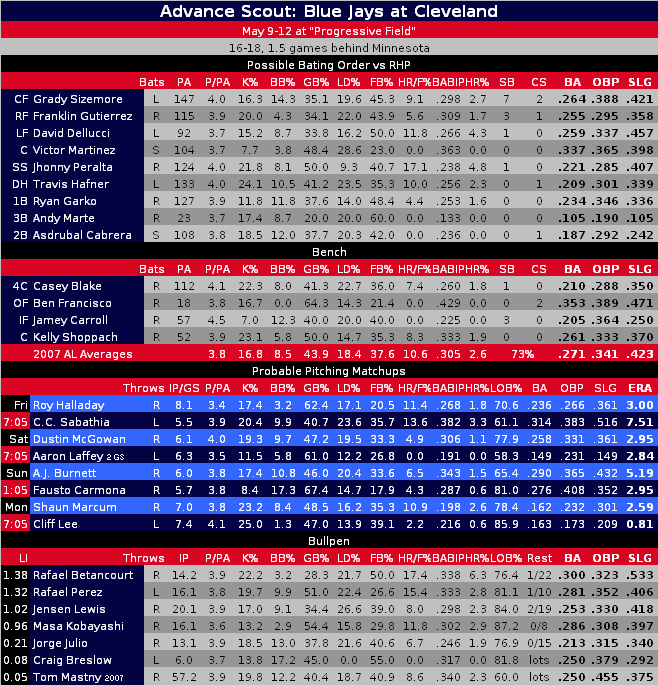 ---

https://www.battersbox.ca/article.php?story=20080509155140144