Advance Scout: Twins, May 13-15
Tuesday, May 13 2008 @ 07:47 PM EDT
Contributed by: Alex Obal
Next up are the surprise leaders of the AL Central. Minnesota has a -1 run differential on the year but finds itself 1.5 games ahead of Cleveland, despite the fact that Adam Everett is tied for sixth on the team in homers. The Jays' inability to hit with runners in scoring position will meet a stiff challenge this week from a couple of starters with strand rates in the 50s.

Kevin Slowey makes his third start of the year tonight. He missed a month in between the first two with a strained biceps. Slowey has always had excellent K/BB ratios and seems like a promising candidate to be the next Josh Towers. He throws a lot of fastballs and cutters - more than 80% of the time according to Fangraphs, assuming that what Fangraphs calls an 86-mph slider is actually his cutter - plus the odd curve and change to keep hitters honest. Slowey has a reputation for impeccable fastball command, but that command has been missing in action this year, probably due to the injury in his first start and rust in his second: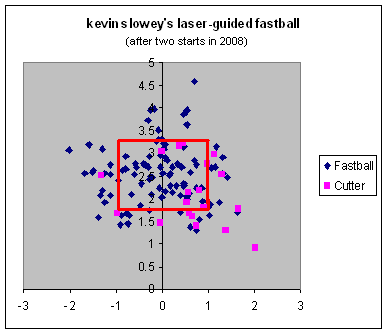 Slowey has surrendered 8 baserunners this year: 3 homers, 4 doubles, 1 single and 0 walks. Could this be the cure for the Jays' missing power? Maybe. Vernon Wells was 3-3 with a homer against Slowey last year. He will be missed. Everyone else combined was 2-15 with (obviously) zero walks. Slowey also has a reverse platoon split over his short career.

Tomorrow, it's the quite average Boof Bonser. Bonser is a four-pitch guy with pretty good ratios. He has been solid this year in every respect except stranding runners: his 58.5% LOB over seven starts is the leading cause of his 5.09 ERA. Could this be the cure for the Jays' missing clutchitude? Maybe. Bonser has a 188-point platoon split in the normal direction. Fangraphs says he only throws his change 7.3% of the time, which might be a sign that it's really a show pitch that isn't on the same level as his breaking balls, and an explanation for why lefties cause Bonser so much trouble.

Thursday, it's a Getaway Game starring Minnesotan lefty Glen Perkins, who makes his second start of the year. Perkins is a 25-year-old lefty who spent some time in the second half last year in the Twins' bullpen. He's spent most of this year in AAA, where he's put up a 2.97 ERA and a 2-1 record (very important) in six starts using Lefty Intangibles and... not a whole lot else, as the chart attests. Could this be the cure for the Jays' missing ability to hit anyone who throws with their left hand? Maybe. In Perkins' first start, he went six competent innings allowing three runs to the Red Sox in a 5-2 loss.

Pat Neshek has a partially torn UCL and is probably out for the season. Unfortunate. Here's Aaron Gleeman's take on the situation and a breakdown of where the Twins' bullpen stands now. Gleeman points out that Neshek has finished third among all AL non-closer relievers in WPA two years in a row. Dennys Reyes is a very competent lefty specialist, and between Juan Rincon, Jesse Crain and Matt Guerrier it's pretty likely that someone else will have a good enough season to serve as a setup man, due to the laws of reliever volatility.

Matt Tolbert is getting a lot of playing time at second base, replacing Alexi Casilla's anemic bat from last year. Matt who? 16th round pick in 2004 out of Ole Miss who's put up pretty good offensive numbers at every level throughout his minor-league career. He's a switch-hitter. Brendan Harris, from last year's Devil Rays, is starting at second tonight.

Finally, just for my own information and amusement (and possibly yours), here's how the Twins' two big trades are looking at the moment:

Johan Santana (MLB): 52.1 ip, 3.10 era, 6.5 ip/gs, 24.2% k, 6.0% bb, 38% gb, 1.11 whip, 1.08 wpa

Carlos Gomez (MLB): 138 pa, .268/.288/.304, 16 sb, 3 cs, -0.12 wpa
Kevin Mulvey (AAA): 38.0 ip, 4.03 era, 5.4 ip/gs, 20.9% k, 8.7% bb, 45% gb, 1.50 whip
Philip Humber (AAA): 34.0 ip, 5.29 era, 4.5 ip/gs, 12.9% k, 9.8% bb, 43% gb, 1.82 whip
Deolis Guerra (A+): 33.1 ip, 4.32 era, 5.0 ip/gs, 14.4% k, 8.2% bb, 43% gb, 1.38 whip

Matt Garza (MLB): 32.2 ip, 3.86 era, 5.4 ip/gs, 10.2% k, 10.2% bb, 38% gb, 1.38 whip, 0.13 wpa
Jason Bartlett (MLB): 136 pa, .248/.276/.295, -0.93 wpa
Eduardo Morlan (AA): 6.2 innings as a reliever, 6 k, 1 bb, 10 hits, 1.65 whip

Delmon Young (MLB): 149 pa, .271/.315/.307, -0.30 wpa
Brendan Harris (MLB): 132 pa, .259/.320/.362, -0.21 wpa
Jason Pridie (AAA): 166 pa, .247/.291/.347, 26.5% k, 6.6% bb

Finally #2: I finally updated the AL average stats in the chart. They are... quite low this year. Viva deadball.

The Credit Section: All offensive stats, pitches per PA for pitchers and league average stats are from the Hardball Times. Pitchers' stats and leverage indices are from Fangraphs. Minor-league stats are from Minor League Splits and First Inning. K% and BB% are strikeouts and walks as a percentage of plate appearances; GB% + LD% + FB% = 100. These are 2008 stats, except where noted.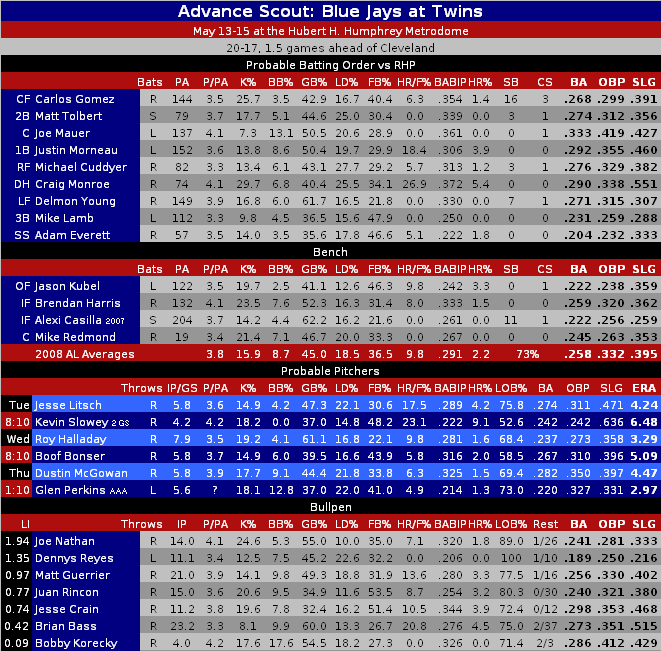 ---

https://www.battersbox.ca/article.php?story=2008051302410141