Mini-Advance Scout: Phillies, May 16-18
Friday, May 16 2008 @ 06:54 PM EDT
Contributed by: Alex Obal
Here to save us from the doldrums of another boring AL-style pitchers' duel, Interleague Play is back at last! The Jays will open up the NL portion of their schedule in Philly's bandbox against their 3-4-5 starters.

(And to celebrate, here's a slap-and-dash, 60-minute edition of the advance scout. Weird things seem to sidetrack me when Philly is involved. Apologies.)

Tonight, it's 45-year-old southpaw Jamie Moyer. Moyer's average fastball velocity is down to 80.5 mph, according to Fangraphs. This year, he's getting lots of contact with his garbage, and that contact is much more thunderous than usual: opponents are hitting .335/.374/.549 off the old guy. The Jays have an abundance of players with good to great career numbers against the ancient mariner.

Tomorrow, it's righty Adam Eaton against A.J. Burnett, in another round of the age-old rivalry between Guy Who Knows How To Win and .500 Pitcher. Did you know Adam Eaton has a 64-56 career record, and only two losing seasons from 2000 to 2007? His winning percentage is better than Kelvim Escobar's, and Ben Sheets', and Javier Vazquez's. And, of course, Burnett's. I sure didn't. Pretty impressive list right there. Eaton only has one loss this year in eight starts. I'm gonna stop right here before I say something that jinxes this automatic win. I mean...

Sunday, it's righty Kobayashi Iwamura, who was acquired this spring from the Yomiuri Giants in exchange for 2007 rookie sensation Kyle Kendrick. Kendrick isn't overpowering, but he's a prototypical sinker-slider guy who rode a low walk rate and slightly above-average GB rate to a 10-4 record and 3.85 ERA last year in Philly's chamber of homers. That entrenched him in the Phils' rotation before the Iwamura trade. No scouting reports on Iwamura exist but Brett Myers (who's been re-converted to starting this year) gets a kick out of the fact that Iwamura shares a name with hot dog eater Takeru Kobayashi. And yes I am painfully aware that this is two months old.

Philly's bullpen is rested because Cole Hamels threw a complete-game shutout at the Braves yesterday.

Jayson Werth is one of the most patient players in the league. As Geoff Jenkins' righty platoon partner, he's put up a .300/.375/.600 line against lefties. He's also 6/7 in stolen base attempts.

And MVP Jimmy Rollins missed several weeks with a sprained left ankle, but he hasn't missed a beat in his return. If his 70 PA this year are any indication, the award has not affected his hitting style in any way.

The Credit Section: All offensive stats, pitches per PA for pitchers and league average stats are from the Hardball Times. Pitchers' stats and leverage indices are from Fangraphs. Minor-league stats are from Minor League Splits and First Inning. K% and BB% are strikeouts and walks as a percentage of plate appearances; GB% + LD% + FB% = 100. These are 2008 stats, except where noted.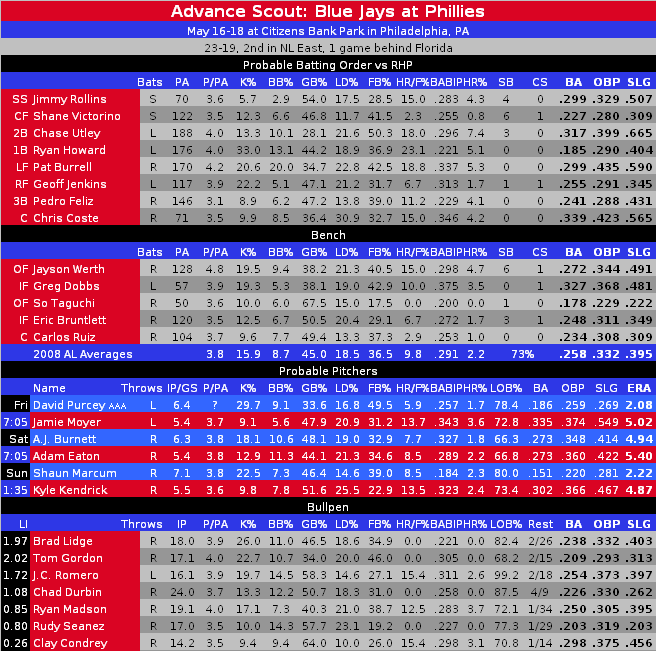 ---

https://www.battersbox.ca/article.php?story=20080516185415477