Advance Scout: Brewers, June 17-19
Tuesday, June 17 2008 @ 05:20 PM EDT
Contributed by: Alex Obal
Ice... cold... beer!

They're 5-5 in their last 10, which is woefully inadequate when you're chasing a team that never loses. They're now 8.5 games off the NL Central pace, and as if that weren't bad enough they get to deal with a couple of AL East teams this week. Fortunately, they get to begin that stretch by throwing their more longball-prone pitchers at a banjo-hitting last-place team that ranks 28th in the majors in longballs, has averaged 2.5 runs a game over the last week, and gleefully insists on tormenting its fans by burying a free power fix in AAA.
Tonight, it's 25-year-old rookie southpaw Manny Parra, who was picked by the Brewers in the 26th round of the 2001 draft and signed the next spring. Over the next six years, Parra persistently forced his way up the slow track in the Brewers' organization. Along the way, he piled up a 34-16 career record and a 3.07 ERA over 102 starts. Parra made noise last summer by earning a promotion beyond AA in his fourth try and subsequently throwing a perfecto for AAA Nashville. He finished 2007 with a 2.45 ERA split between AA and AAA. He also has a slight hesitation in his windup.

That CV may smell like victory, but Parra is absolutely not a Crafty Lefty. His fastball is legitimately in the low 90s. He has a hard curveball and, accoring to every source I can find without trying particularly hard, a change and a splitter. Heck if I can tell those two apart - that's probably the point - but pitch fx does identify two different pitches in the mid-80s with slightly different vertical and horizontal movement, though it calls them a slider and a change. In Parra's last start, he faced the lefty-mashing Astros and survived 5.1 innings. He only gave up three homers and left with a 7-6 lead to pick up the win. Along the way, he made Ty Wigginton go down swinging - literally - at a change or splitter.

Parra has a 246-point career OPS split in the normal direction. His home ERA is half his road ERA.

Tomorrow, it's a primo pitching matchup as Shaun Marcum takes on the Brewers' ace, healthy at last, Ben Sheets. Conventional wisdom says that there is no mystery to Sheets. Hard fastball, huge straight-over-the-top curveball, erratic and very infrequent changeup which is so fast that pitch-fx identifies it as a sinker. Conventional wisdom is wrong, according to Adam McCalvy of the Brewers' official site. When goaded by Jason Kendall, Sheets also throws the occasional slider, which has produced good results, including one timely double play, even though Sheets doesn't actually throw a slider. "Jason brings the fun back into it. Like, calling a pitch that I probably shouldn't be throwing in a big league baseball game ... We just look at each other and laugh. It's like, 'I can't believe you just called that pitch!' It's probably happened like four or five times. And I hadn't thrown that pitch in seven years." Pitching.

One notable thing about Sheets is that his curveball release point is consistently different from his fastball release point - it's a bit higher and closer to his body. Is he tipping? In light of his 2.72 ERA and 4.24 K/BB, maybe not.

Sheets has small splits in the normal direction. Sheets has had success against Scott Rolen - .178/.260/.244 in 50 PA, though with 9 strikeouts, 5 walks and 3 doubles. Matt Stairs is 6-14 with three homers against Sheets, so there will be a place for him in the lineup, but Brad Wilkerson is 8-23 with a homer himself. With no DH, Gibbons will have some decisions to make.

Thursday, A.J. Burnett takes on our old hero Dave Bush, who still has a regular rotation spot, but only by the grace of Reed Johnson. Bush has really struggled in the last two seasons. He's still the same guy - fastball around 90, hard slider, change and slow looping curveball, plus the ability to alter how his pitches move, whether it's consciously or otherwise - except his K rate this year is the worst of his career, and his BB rate this year is the worst of his career. He's actually been hit-lucky. But, like Parra, Bush has been much more successful in the friendly confines of Miller Park than on the road. He has a 3.62 ERA at home, compared to 8.10 elsewhere.

John McDonald has homered off Bush. I had no idea.

Russell Branyan is on a ridiculous power surge, with 7 homers in his first 64 plate appearances. He should be handled with the utmost care. If the Brewers continue to bat lefties Prince Fielder and Branyan 4-5, as they have done in five of their last six games, I trust Gibby to take advantage.

Rickie Weeks is on the DL with a knee injury. In his place, Craig Counsell, struggling supersub Bill Hall and 33-year-old sensation utilityman Joe Dillon have received the majority of the unclaimed playing time. To fill the roster spot, the Brewers called up lefty-hitting second baseman Hernan Iribarren, who turns 24 in two weeks. Iribarren was a starter at AAA Nashville, where he was having the first actually bad season of his respectable minor-league career. He doesn't figure to start much for the Brewers, but he's snuck into 10 games, going 2-13 with a double. Iribarren is also a pretty credible threat to steal bases in the late innings. The temporary leadoff hitter is Corey Hart.

J.J. Hardy missed the Brewers' whole series last weekend with shoulder irritation and looseness. There's a pretty good chance he will start tonight at short, though if the injury persists they might just decide to DL him retroactive to sometime last week and sit him for the whole series.

The backup catcher is 31-year-old Mike Rivera, who's actually hit very well at AAA and in the majors over the last three seasons. He looks like a legitimate major leaguer. Think Chris Coste, except with 200 at-bats of experience for the '01-'02 Tigers. Where do these guys keep coming from?

With Eric Gagne out, the Brewers' bullpen has been led by a gritty corps of Dominican Middle Relief All-Stars. Baseball vagabond and devout Jehovah's Witness Salomon Torres is the nominal closer; he's a solid groundball pitcher with a splitter and a slider. Hard-throwing righty Guillermo Mota is the setup man; he throws a Vulcan change which I'm pretty sure he picked up sometime around 2003 in Los Angeles. Former starter Carlos Villanueva has been used in high-leverage situations out of the pen as he waits patiently for one of the other starters to disappear. And Julian Tavarez, who says he dreamed as a kid of being an adult film star if baseball didn't work out, has landed on his feet after being released by the Red Sox.

The Credit Section: All offensive stats, pitches per PA for pitchers and league average stats are from the Hardball Times. Pitchers' stats and leverage indices are from Fangraphs. Minor-league stats are from Minor League Splits and First Inning. K% and BB% are strikeouts and walks as a percentage of plate appearances; GB% + LD% + FB% = 100.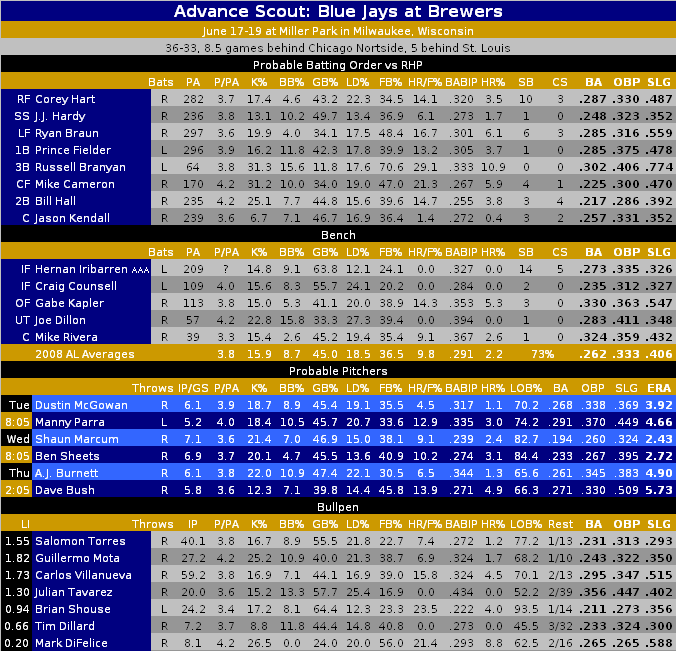 ---

https://www.battersbox.ca/article.php?story=20080617014003761