Advance Scout: Braves, June 27-29
Friday, June 27 2008 @ 03:45 PM EDT
Contributed by: Alex Obal
Cito Gaston and Bobby Cox face off again, the Jays' pitchers get to deal with an offensive juggernaut, and their bats run into some overachieving pitchers.

Tonight, it's righty Jair Jurrjens, whose 3.20 ERA ranks him 10th-best in the NL. He was acquired from the Tigers along with Gorkys Hernandez in the Edgar Renteria trade. Jurrjens is a 22-year-old rookie from Curacao. His fastball is around 92, and his pitch is a dirty moving changeup in the mid-80s which he throws often, even to righties. He also throws the odd slider. As a Changeup Guy, Jurrjens has a 35-point OPS split. The only Jay who's faced Jurrjens in the majors is Brad Wilkerson, who is 0-1 with a walk and a strikeout. He has a fan club - Jurrjens' Surgeons. Makes sense. Only two alternatives I can think of off the top of my head are sturgeons and virgins.

Tomorrow, it's the last surviving effective member of the Big Three: Tim Hudson. Hudson's 2.96 ERA is sixth in the NL. He's a less dominant version of Roy Halladay - another very aggressive pitcher with a hard, heavy sinker. His breaking ball is a harder slider rather than Doc's curveball and he doesn't lean quite as heavily on a cutter. But the results are basically the same: he goes after hitters and they beat the ball into the ground. As a Sinker/Slider Guy, Hudson has huge splits. Over the last three years, righties have hit .228/.266/.261 against Hudson, while lefties have hit .259/.321/.449. That's a 243-point OPS differential. Most Jays regulars have decent career numbers against Hudson. One notable exception is David Eckstein, but he has hit one scrappy homer off Hudson in his career.

Sunday, it's Jo-Jo Reyes, the first Jo-Jo to play in the bigs since Jo-Jo White retired in 1944. Reyes is a 23-year-old lefty. The Braves took him 43rd overall in the 2003 draft out of high school. Reyes throws pretty hard for a lefty - around 91 - and is your generic four-pitch pitcher with a changeup, slider and big slow curve in the low 70s. He bears an odd resemblance to Brian Wolfe. The pitch fx machine says Reyes starts 75% of batters with fastballs, and in 3-2 counts, he's gone with the heater 23 out of 24 times. He's played as a groundball pitcher thus far this year and generally pitches to contact. In his last start, the Brewers hung four runs on him in 2.1 innings.

The Braves are the unluckiest team in baseball, according to Pythagoras. Their projected record is 44.4-35.6, yet they're two games under .500 and fourth in their division behind the Mets and Marlins. What's going on?

I expected their bullpen to have some kind of ungodly negative WPA, but they actually only have a merely bad -0.58. Not great, but not season-killing on its own. Rafael Soriano has been stuck on the DL with lingering elbow problems, which has forced everyone else in the bullpen into higher-leverage situations than they were meant to face. In his place, Peter Moylan, Manny Acosta, John Smoltz and Blaine Boyer have all taken turns playing hot potato with the closer's role. Now, that role has fallen to returning lefty Mike Gonzalez, the pitcher they got back from Pittsburgh in the Adam LaRoche trade. Gonzalez is a year removed from Tommy John surgery. He's a fastball-slider guy who will hand out walks, but he has experience closing and enough stuff to succeed, provided he's healthy. He's 2-2 in save opportunities so far.
This bullpen in general is full of groundball pitchers who will hand out walks. So, although the Jays are setting out to redefine themselves as a team that won't hesitate to swing at hittable pitches, patience is probably going to be a virtue in the late innings.

The Braves have been unlucky on the injury front as well. Chipper Jones has been battling a strained right quad. He's sat out five games in a row after seeing his average fall to a dismal .395. If he plays this weekend, it'll be as a DH. Yunel Escobar has struggled through shoulder and hip injuries but will probably play at some point this weekend. Omar Infante is playing third in Chipper's place, but he pulled his hamstring Wednesday and may not play this weekend. Mark Kotsay is on the DL.

The replacements have performed pretty competently, though. Infante is hitting in the .280s. 24-year-old left fielder Brandon Jones, who figured out AA on his second try last year, has batted .310 in 46 PA with a homer. And Gregor Blanco has done a respectable Reggie Willits impression as the everyday center fielder.

Atlanta's lineup is pretty stacked in general, but there has been one noteworthy hole: Jeff Francoeur. Frenchy, who's only 24 and already in his fourth season as a big leaguer, is hitting .248/.302/.399 with the least power he's ever shown at the major-league level. Francoeur is one of the most aggressive hitters in baseball but still strikes out a fair amount. He has 4 strikeouts per walk over his career. From 2005 to 2007 he had a 173-point OPS split; he's actually hiting righties a bit better than lefties this year, but this is probably still the one guy you probably want to avoid having a lefty face with the game on the line.

2008 slogan: Welcome to the Bigs. I don't get it. I guess they have lots of rookies. Rating: *1/4

The Credit Section: All offensive stats, pitches per PA for pitchers and league average stats are from the Hardball Times. Pitchers' stats and leverage indices are from Fangraphs. Minor-league stats are from Minor League Splits and First Inning. K% and BB% are strikeouts and walks as a percentage of plate appearances; GB% + LD% + FB% = 100.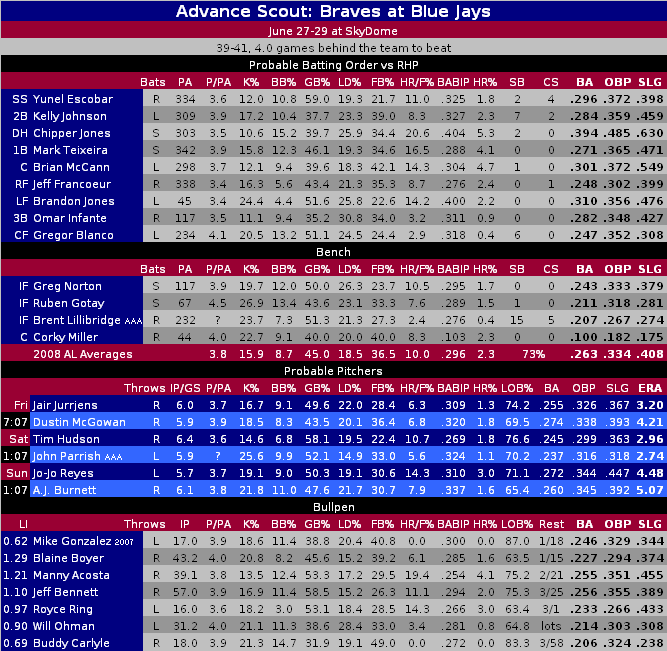 ---

https://www.battersbox.ca/article.php?story=2008062704290070