Advance Scout: June 30-July 2: Mariners
Monday, June 30 2008 @ 06:28 PM EDT
Contributed by: Anders
The Jays get to ease out of Interleague play against the worst team in the AL. I have no idea what's going to happen.

The Mariners have a new interim GM and a new interim Manager, Jim Riggleman. Riggleman had this to say about his new team: ""We're really just trying to get these guys back to where their history says they can play," Riggleman said. "We're all taken aback by this. Nobody could've seen this coming. We felt what we had was a good spring training, and then it just started getting away from us and started spiraling down."" Well, I wouldn't say nobody saw it coming. Most of the statistically inclined saw it coming - the Mariners weren't actually that good last year - they got outscored by 19 runs. Rob Neyer pegged them for 77 wins. I'm pretty sure Baseball Prospectus and all those guys thought similarly. I didn't think they'd do well, and they were one of our most popular 'snake' teams from our pre-season Snakes and Ladders thread. But what do we know.

In any event, Riggleman figures to be less profane than former manager John McClaren, at least.

Tonight sees Roy Halladay taking the mound against R.A. Dickey. Robert Alan Dickey is perhaps the most interesting story in the majors right now. When he was drafted it was discovered that he didn't have an ulnar collateral ligament (the one that is replaced in Tommy John surgery). Instead of signing for some 3/4 of a million, he signed for a tenth of that. Nevertheless, he eventually made the show with the Rangers. He was essentially a slightly below average pitcher in Texas for a couple years, missed almost two full years with injuries, and is now back in the majors at age 33... as a knuckleball pitcher. He got picked up by the Mariners in the Rule 5 draft this year, an unusual move to be sure, given his age. Still, he was the PCL pitcher of the year last year after going 13-6 with an ERA of 3.72. He's struggled on the year, with an ERA of 4.79, but his k/bb rate is decent (29/16 in 41.1 innings) and he has only allowed 3 homers. His FIP is 3.75. He throws the knuckleball about 75% of the time now, and his fastball the rest of the time - it clocks in at 85, which is still 10-15 mph faster than he generally throws the knuckler. He pitched two innings against the Jays earlier this year, walking one, whiffing two and allowing one hit. He also got a double play...

Tuesday it's Jesse Litsch vs. TBA/Felix Hernandez. It is unclear who the starter is on Tuesday, King Felix, or F-Her as I like to call him, is supposed to start, but after hitting a grand slam the other day against the Mets (off Johan Santana no less!), he sprained his ankle covering home when Carlos Beltran slid into him. Miguel Batista is another possibility if Hernandez can't make it, though he is also day to day, or Jarrod Washburn could be moved up a day, which would be his normal rest anyway. Apparently Ryan Rowland-Smith is the favourite at this point. More on this story as it unfolds.

Wednesday its Dustin McGowan versus Jarrod Washburn. Washburn has to be sad to see interleague play go. He was 9/32 with 5 walks heading into this season (though he went 0-6 this go around). Wasburn has been a pretty big disappointment, and I'd guess the Mariners would want the $37.5 million they are paying him over four years back. Despite similar underlying stats, Washburn was good for one year in Anaheim, after several average ones. He then went right back to being the same old average pitcher, except this year he got even worse. He has an ERA of 5.23, and a poor k/bb ratio. Despite this the big lefty has actually been very good over his last four starts, allowing only six earned runs in 25.1 innings. Still, he struck out only sixteen against eleven walks in that span. Washburn throws a lot of pitches - the fastball runs in there in the mid to high 80s, and he throws it about half the time. Otherwise he'll throw a slider, cutter, curve and change - at least according to pitch f/x. Barajas is 6/23 with a homer, John Macdonald is 4/14; he's hit for the cycle against him over several games. Kevin Mench might want to stay by his phone - he is 12/34 against Wasburn. Rios is 6/15, Scutaro 6/22, Wells 5/24, Zaun 7/23, and Stairs 3/10 with 2 homers.

The biggest difference with Riggleman taking over is that Ichiro! moves from centre field to right field. There has been speculation that Ichiro! basically runs the team – Mike Hargrove 'resigned' last year in the middle of a winning streak but still got paid after he and Ichrio! apparently didn't get along, and after Bill Bavasi got fired this year, Ichiro! made his move across the outfield. The speculation is debunked a bit here, but whatever. In any case, Willie Bloomquist and Jeremy Reed are splitting time in CF. Reed is making his case, hitting .307/.369/.413 on the year. He's 27, and is finally starting to make good after posting a .926 OPS as a 23 year old (in 58 at bats) four years ago. He was the centrepiece in a Freddy Sanchez trade oh so many years ago. He homered off Dustin McGowan earlier this year. Bloomquist is 30 and has a career line of .260/.317/.324, so I imagine Reed will start to see the bulk of the playing time as long as he stays hot.

In other news, Richie Sexson still sucks, as does Jose Vidro (who DH's…), Kenji Johjima has been terrible this year, Adrian Beltre continues to be mediocre, Yuniesky Betancourt has drawn four walks in almost three hundred at bats, Raul Ibanez is still playing well, Jose Lopez is hitting a pretty empty .300 – he has 12 walks in 325 at bats, and doesn't hit for much power.

In somewhat more interesting news, Jeff Clement appears to be in the bigs to stay. Clement was the third pick in the 2005 draft, and was seen as the Mariners catcher of the future. This didn't stop the Mariners from re-signing Johjima this offseason to a three year deal. Bavasi strikes again! This is the second time he's been called up – the first time he played a fair bit of DH, but now he appears to locking down the starting catchers job, though his .176/287/.324 line doesn't help too much.

Star closer J.J. Putz has been injured several times this year, and is currently on the DL. He's probably out til the all-star break. If only the Mariners had another top flight reliever who would be one of the best closers in baseball. Hey, if only they had a centre fielder of the future as well! Oh that Erik Bedard trade! Well, Brandon Morrow, the 5th overall pick of the 2006 draft, seems to be doing alright at least. He has a 32/7 k/bb ratio in 23.1 innings, and has allowed only 2 runs all year. I don't know how many relievers the Mariners think they need, really, as they drafted another one in the first round this year as well. Oh well.

2008 Motto Rating: Apparently they don't have one. A+

The infirmary: J.J. Putz is the only big one – he has a hyper-extended right elbow. As mentioned, Batista and F-Her are a bit knocked up and may not play.

The Credit Section: All offensive stats, pitches per PA for pitchers and league average stats are from the Hardball Times. Pitchers' stats and leverage indices are from Fangraphs. Minor-league stats are from Minor League Splits and First Inning. K% and BB% are strikeouts and walks as a percentage of plate appearances; GB% + LD% + FB% = 100. Alex Obal is once again the chart Wizard. Huzzah!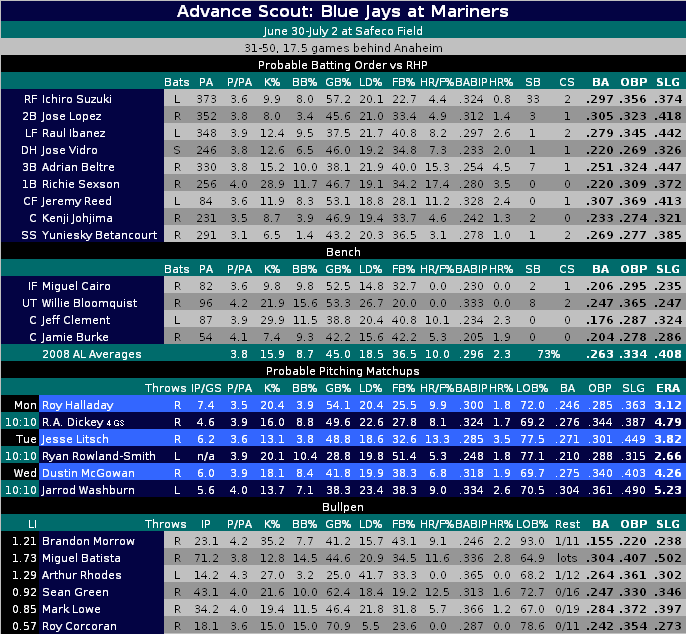 ---

https://www.battersbox.ca/article.php?story=20080630182841428