Your New Jays For 2009!
Monday, April 06 2009 @ 12:02 AM EDT
Contributed by: #2JBrumfield
Three players will be wearing the black, blue and graphite for the first time on Opening Day when the Blue Jays take on the Tigers Monday night at the Rogers Centre. They'll also get to wear powder blue during Flashback Fridays if they stick around long enough.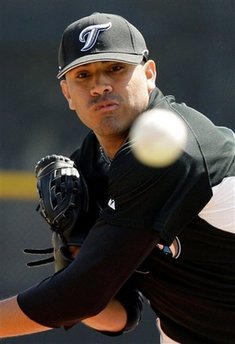 The biggest surprise of the trio heading to Toronto is 24 year-old lefty Ricky Romero. He was on the verge of being sent down to the minors after a slow start to spring training, in which he issued nine walks in six innings and allowed five runs. However, Casey Janssen's sore shoulder and Matt Clement's ineffectiveness helped crack open the door for Romero. Pitching coach Brad Arnsberg then helped Romero kick it open by tweaking his mechanics and mental approach. That helped Romero put together two good starts, including a strong seven inning effort against Houston this past Sunday in which he allowed just two runs and managed to escape a bases-loaded situation with nobody out. He ended the spring with another solid outing, going five innings in a 1-1 tie against the Marlins in the preseason finale. Romero went 1-2 with 3.91 ERA and a 22-13 K/BB mark in 23 innings. He will make his major league debut in the finale of the Jays four game series against Detroit at Rogers Centre April 9th.
The key for Romero is to cut down on his walks as he his BB/9 rate was nearly 4.0 in his minor league career. The big stat from his last start against Houston was zero walks so let's hope that's a sign of things to come. The former Cal State Fullerton product did show signs of improvement after he was called up to Syracuse at the tail end of last season. After an ERA of nearly 5.00 with New Hampshire, Romero went 3-3 with a 3.37 ERA with the Chiefs. According to Baseball America, he throws a fastball around 91-92 MPH with an odd 94 along with an above average change, a high 70's 12-to-6 curveball and slider. He also began throwing a two-seam fastball in the high 80's with Syracuse. Another key will be Romero's arm slot as that can tip off a batter to what type of pitch is coming. Here's hoping the Jays club record signing bonus of $2.4-million dollars to Romero begins to pay off next week. He will be wearing Matt Stairs' number #24, this season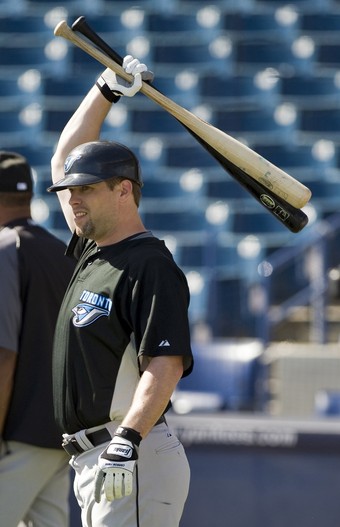 Michael Barrett will be the backup catcher to Rod Barajas to start 2009 after beating out Raul Chavez for the job. If he can find his stroke with the bat, he might wrestle more at-bats away from Barajas or at least occasionally fill in as the DH. The 1995 first round pick of the Montreal Expos was at the Big O from 1998 to 2003 and began his big league career as a third baseman before settling in behind the plate. Barrett's salad days were with the Chicago Cubs where he enjoyed three straight 16 homer seasons and slugged a career best .517 in 2006. That wasn't the only thing he slugged that season, as he popped White Sox catcher A.J. Pierzynski in a bench clearing brawl at U.S. Cellular Field. He earned a 10 game suspension and the respect of all non-White Sox players and fans everywhere.
Unfortunately, Barrett had just as eventful a season in 2007 as he and Cubs ace Carlos Zambrano went at it in the dugout and engaged in a shouting match with lefty pitcher Rich Hill in a later incident. That helped punch Barrett's ticket out of Wrigleyville as he was later dealt to San Diego. Last season wasn't any better for Barrett with the Padres as he fouled a pitch off his face in July and missed the rest of the season. His batting average was just two points over the Mendoza line in 2008. That's a far cry from his career batting average of .264.
However, the 32 year-old right-handed hitting catcher is back north of the border and is looking to turn the page. He finished up the spring with a .225 average with four doubles and four RBI. If you want to hear more about Barrett, check out this recent interview from the FAN 590. Jordan Bastian from bluejays.com got Barrett's reaction to making the club.
Barrett will be wearing number 5 with the Jays this season. Why is that significant? That was the number worn by ex-manager John Gibbons before he was let go last season. Unless you checked your program or an official roster, there's no way you would have known that because Gibby always wore a jacket or pullover. I've never understood why managers and coaches get numbers anyway but I guess that's the charm of baseball.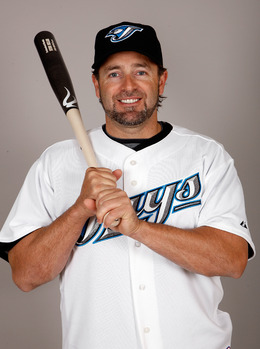 Veteran 1B/DH Kevin Millar is past the halfway mark in his tour of the American League East. He began his career with the Florida Marlins in 1998 and he enjoyed some pretty good seasons in the Sunshine State by slugging a career best .557 in 2001 and followed that up with a .509 SLG in 2002. Millar tried to join the Chunichi Dragons in Japan but wound up with the Red Sox instead when they claimed him on waivers.
With a career best 25 homers and 96 RBI in 2003, Millar became a fan favourite in Boston by coining the phrase "Cowboy Up". Boston would fall short just short of the World Series in a heart-breaking loss to the Yankees in Game 7 of the ALCS. However, Millar helped the Red Sox gain their revenge by drawing the most important walk in franchise history in the ninth inning of Game 4 of the 2004 ALCS. Dave Roberts came in to pinch-run for Millar and wound up scoring the tying run in an eventual Red Sox victory. That would spark the Red Sox to erase a 3-0 deficit in the ALCS and an eventual World Series title. Millar would only last one more year in Beantown as he hit just 9 homers and slugged .399.
Millar would spend the next three seasons in Baltimore after signing with the O's as a free agent. He set a club record by getting on base in 52 straight games in 2007 and kept his batting eye sharp with an OBP of .365. Last season, Millar reached the 20 homer plateau for the first time in 2003 but it came at the expense of his batting line, which was .234/.323/.394 (AVG/OBP/SLG).
Signed as a minor league free agent before camp, the Jays hope the 37 year-old Millar can find his form and add some life into the clubhouse. Despite being a replacement player in 1995 after the strike of '94, Millar has managed to become one of the most likable players and popular players in the game. Even as a member of a divisional rival, he was given a hero's welcome in Boston by throwing out the first pitch for Game 7 of the 2007 ALCS.
Millar has also earned notoriety in the gaming world as his name cannot be used for any licensed video games because he's not a member of the players union. His aliases have been Anthony Friese, Carlos Ahearn, Ivan Jimenez and Kyle Morgan. Millar also has a Blue Jay connection of sorts as he is the nephew of Wayne Nordhagen, a member of the 1982 Blue Birds. Millar will be doubling up his usual number 15 (already taken by some guy named Rios) and wear number 30 this season. With any luck, let's hope this means he'll be twice as good with the Jays than he was with the O's. Hopefully, he still has something left in his bat after just a .213 spring albeit with two homers and 11 RBI.
If the Blue Jays are going to surprise the rest of the A.L. East, they could use some big-time contributions from Romero, Barrettt and Millar in 2009.
---

https://www.battersbox.ca/article.php?story=20090401193620946