BBFL Update
Wednesday, April 29 2009 @ 09:05 PM EDT
Contributed by: Gwyn
Update on the early going in the BBFL.

With results in for the first three weeks The New Jersey Stratuses, Wedding Singers and Flying Fish lead their respective divisions.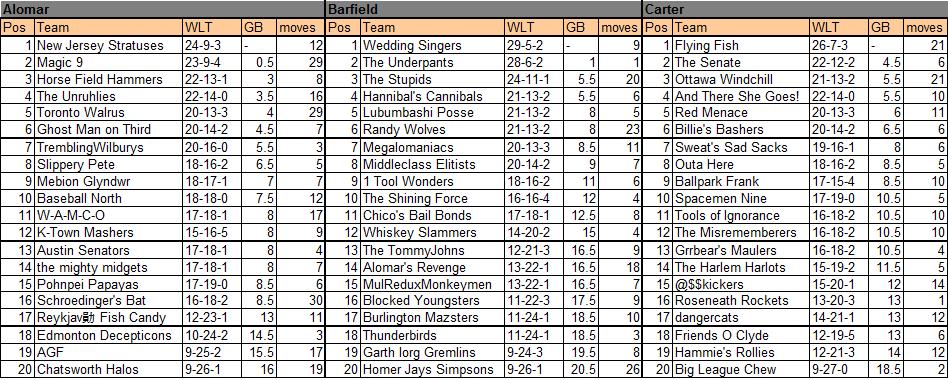 In Alomar, the Stratuses are holding off perennial powerhouse the Magic 9 for the top spot - as ever the division is extremely close with 15 teams within ten games of the lead. In Barfield. The Wedding Singers and Underpants have opened up a small but substantial lead on the opposition with 4.5 games seperating them from the chasing pack led by the Stupids and BBFL veterans Hannibals Cannibals. The Carter division has the Flying Fish with a relatively comfortable 4.5 game cushion over the field with a tightly grouped pack of teams holding the early places in the playoff bracket.

The biggest early surprise might be Schroedinger's Bat holding the early lead in the coveted transactions category with 30, 1 ahead of the magic 9 and Toronto Walrus who normally dominate the transactions race. Homer Jays Simpsons are doing admirable work in Barfield with 26 moves to date.

---

https://www.battersbox.ca/article.php?story=20090429200519908