The Fugitive Helps Jays Escape With A Win!
Saturday, May 30 2009 @ 11:22 AM EDT
Contributed by: #2JBrumfield
Hey, I could get up and back, right on track
(Is that gonna get you back?) It's right on track, is that gonna get you back?
Casey Janssen had more close calls than Dr. Richard Kimble but he wiggled his way through seven innings to lead the Jays to a 6-3 win over Boston Friday night at Rogers Centre.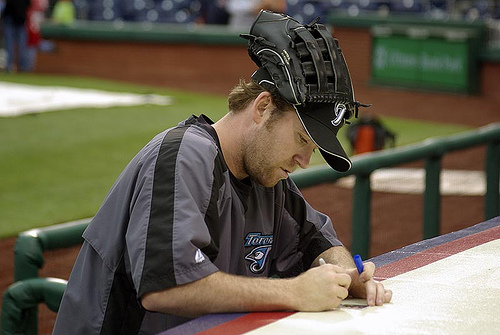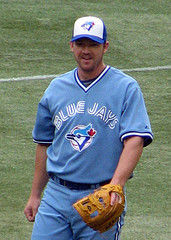 If there was ever a time for Janssen to earn his first victory as a starter since 2006, this was the night to do it as the Jays put an end to an ugly nine game losing streak. The 27 year-old righty knew he was going to be in for a struggle when he got into a bases loaded jam in the first. However, he had enough raspberry to keep the ball in the park as David Ortiz's blast to center died at the warning track and into the glove of Vernon Wells to end the inning. Alas, the Jays were jammed themselves in the bottom of the first when Adam Lind hit into an inning-ending double play with the bases drunk.
The Red Sox got on the board in the second when Jacoby Ellsbury doubled home a run but Julio Lugo was left stranded on third. In the home half of the second, Lyle Overbay and Kevin Millar drew one-out walks and moved to third on a passed ball but the Jays would not score. Janssen gave up a leadoff single in the third but his defence bailed him out as the hit was erased on a 6-4-3 double play and then Overbay made a nice snare of a Big Papi liner to end the frame.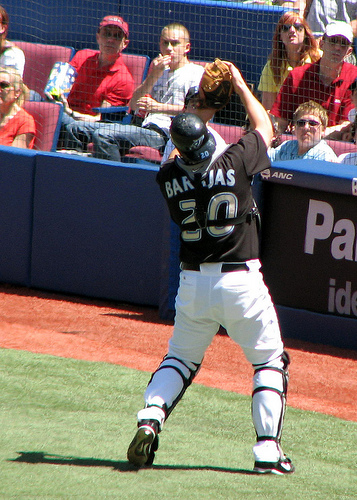 Toronto tied the game when they strung together a trio of two-out hits, capped out by a Scott Rolen double to score Wells. However, Lind was left at third when Millar struck out. The tie was short-lived in the fourth when Ellsbury knocked home his second run of the game with a single to score a double by Scarborough's George Kottaras. However, another 6-4-3 double play got Janssen out of another jam. The Fugitive also navigated his way through the fifth by stranding a two-out two-bagger by Jason Bay.
Then the Jays offence got the bats going as they strung together a big two-out rally. Back to back RBI doubles by Rolen and Overbay put Toronto ahead 3-2 and Rod Barajas followed with a two-run single. In A Wide World of Sports moment (cue music here), Barajas rumbled 270 feet around the bases to score on a Marco Scutaro double to make it 6-2. Hopefully, Barajas will have caught his breath by the time you read this. After that, Tim Wakefield was pulled from the game and replaced by fireballer Daniel Bard.
Janssen did not have a clean inning all night but the only other run he gave up was a seventh inning solo blast by J.D. Drew to cut the Toronto lead to three runs. However, the bullpen was perfect as Brandon League and Scott Downs retired the side in order in the eighth and ninth respectively to preserve the "W" for Janssen. Janssen was able to effectively scatter 11 hits and two walks in seven frames and struck out a pair. The only downside for the 32,000-plus in attendance was no pizza as League had the other Jays strikeout. Janssen also got 10 ground ball outs to go along with nine fly outs.
The Toronto offence collected 10 hits and five walks and got two-hit nights from Rolen, Barajas and Scutaro. Wells was on base three times with a hit and two walks and Millar also earned two bases on balls. They were 4-for-11 with runners in scoring position and left 10 men on.
This afternoon, lefty Brian Tallet goes to the hill for Toronto and Brad Penny will do the same for Boston in a 1:07 p.m. first pitch at the Concrete Cave. This was supposed to be Scott Richmond's start but the Canadian righty will be in the pen instead this weekend. Roy Halladay will pitch Tuesday in their series opener against the Angels and he'll be followed by Janssen Wednesday.
---------------------------
In other TDIB notes....
* The Matt Wieters era begins in Baltimore with a 7-2 win over the Tigers.
* The Jim Tracy era begins in Colorado with a 3-0 win over the Rockies.
* Yankees upend the Tribe 3-1 and set a record in the process.
* The Rangers take two from the A's.
* The Brewers Braden Looper gets a win under trying circumstances.
---

https://www.battersbox.ca/article.php?story=20090530091250807