The Straight Dope - Jays Get A Real McCoy
Tuesday, November 10 2009 @ 07:02 AM EST
Contributed by: #2JBrumfield
The Jays have added first baseman/DH Brian Dopirak to the 40-man roster and also acquired utility man Mike McCoy off the waiver wire from the Colorado Rockies.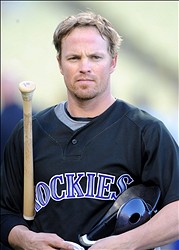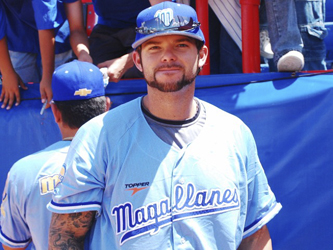 McCoy comes to the Jays after getting his first taste of the big leagues this past season. The 28 year-old right-handed hitter played 12 games with the Rockies as a September callup and there was speculation he might have been up sooner with the big club had they been able to trade the struggling Garrett Atkins. McCoy made his debut September 9th against Cincinnati to fill in defensively as a second baseman. He earned his first at-bat the next night but he wound up striking out against the Reds Kip Wells. However, McCoy's biggest contribution to the Rockies drive to win the National League Wild Card came as a pinch-runner September 11th. He scored his first major league run as part of a four-run ninth inning rally to help Colorado beat Cincinatti 4-1. The 5-9, 171 pound native of San Diego is still looking for his first major league hit and walk but he did manage to collect a pair of stolen bases in pinch-running appearances. McCoy spent most of his time as a pinch-runner/pinch-hitter but saw a bit of time on the field at second base and right field.
McCoy was selected in the 34th round of the 2002 amateur draft by St. Louis and remained in the Cardinals organization until March of 2008 when he was traded to Baltimore. His stay with the Orioles lasted all of four months as he was traded to Colorado for infielder Juan Castro. A career .270/.369/.360 hitter in the minors, McCoy enjoyed hitting at AAA Colorado Springs as hit .343/.391/.507 in 162 at-bats in 2008 and followed that up with a .307/.405/.400 campaign for the Sky Sox in 2009. He's also made three appearances as a pitcher in his minor league career, including a scoreless inning with the Sky Sox this season.
Right now, McCoy is playing for Culiacan in Mexico where he's hitting .347/.472/.472 with three doubles, two homers and four RBI. He's also stolen eight bases in 10 tries and he continues to walk more than he has struck out with a BB-K total of 15-12. Compared to former Atlanta Brave Mark Lemke, Colorado Springs skipper Tom Runnells says McCoy could help a major league team right now. The Blue Jays are hoping they'll be that team.

Brian Dopirak's dream of getting to the bigs took another big step forward as he was added to the 40-man roster. The former Cubs prospect certainly played well enough to deserve a call up to Toronto but his only appearance on the Rogers Center turf came when he was presented with the R. Howard Webster award as the organization's top player at the AA level. The 6-4, 230 pound first baseman put together a combined batting line of .317/.371/.549 with New Hampshire and Las Vegas while belting 42 doubles, three triples, 27 homers and 102 RBI.
Currently, Dopirak is playing winter ball in Venezuela and is hitting .292/.389/.542 with Magallanes. He's hit six doubles, six homers and 27 RBI while drawing 17 walks against 27 strikeouts. Las Vegas hitting coach Ken Joyce says the right-handed hitting Dopirak "has raw power you just can't teach and there's no question he'll get to the big leagues if he continues to swing the bat the way he is". Dopirak hopes to take the first of many swings against major league pitchers in 2010.
---

https://www.battersbox.ca/article.php?story=20091110021823616