Fun With the Hall of Fame (A Holiday Diversion)
Saturday, December 26 2009 @ 03:00 PM EST
Contributed by: Magpie
Have you ever seen a Hall of Famer play baseball?
There are 291 members of the Hall of Fame and most sources, including the Hall of Fame website itself, will tell you that there are 202 former Major League players, 35 Negro leaguers, 26 executives or pioneers, 19 managers and nine umpires. That happens to be incorrect, so let's get that straightened out. Although Clark Griffith is regularly listed as a Hall of Fame pioneer/executive, he was in fact elected (by the Veterans Committee in 1946) in recognition of his playing career, as a pitcher. So I'm adding Griffith as well as the two Negro League inductees who also got to play in the major leagues (Satchel Paige and Monte Irvin), giving us a starting point of 205 Hall of Famers that baseball fans have so far had a chance to see playing in the major leagues.

So - have you seen one of them play?

It probably depends on how old you are, first of all. The Hall of Fame has a waiting list these days. The last actual Hall of Fame player active in the major leagues was Rickey Henderson, in 2003. You have probably seen a host of players who will be Hall of Famers someday. But there's many a slip between the cup and the wrist (or whatever the hell they say.) It's hard to imagine what could possibly keep Derek Jeter out of the Hall of Fame. Personally, I think he's planning to take a run at 4,000 hits and if he gets there he'll then fix his sights on the all-time record held by... Pete Rose. Who isn't in the Hall of Fame yet, either. So youneverknow.

Me, I'm older than dirt. Some dirt, at least. I've seen many Hall of Famers play in person. But strangely enough - I'm not certain exactly how many. When I go over the list of possibilities I discover that I'm actually not sure about some guys. Did I see Jim Palmer, Ferguson Jenkins, Gaylord Perry or Steve Carlton pitch? It's quite possible, but I honestly don't think so. I just think I'd remember that, the same way I vividly remember seeing Tom Seaver or Rich Gossage. If I was at a game in 1986 or 1987 when Steve Carlton made one of his two career appearances in Toronto, I'd remember. I would have been breathless with excitement. Steve Carlton! And Tony Perez... I have no idea one way or the other. Did I happen to catch the Red Sox in those three years? Was he in the lineup? Probably, but I'm not sure.

In which case, I can still submit with absolute confidence, Kirby Puckett, Dave Winfield, Carlton Fisk, George Brett, Nolan Ryan, Robin Yount, Don Sutton, Phil Niekro, Reggie Jackson, Rollie Fingers, Tom Seaver, Rod Carew, Carl Yastrzemski, Jim Rice, Rickey Henderson, Rich Gossage, Cal Ripken, Wade Boggs, Dennis Eckersley, Paul Molitor, Eddie Murray. And Stan Musial.

Now there there were doubtless lots of players roaming the fields of North America this past season who will eventually go into the Hall. What are the chances of having seen one?

Not nearly as good as they used to be.

I think it's time for some pretty pictures. Here are the Hall of Famers per team from 1871-99. For the first 20 years, there are a few historically important players from the Dark Ages - Cap Anson, Charley Radbourn. We get a distinct jump as the modern game begins to emerge in the 1890s, and people like Cy Young and Kid Nichols come onto the scene. We 've reached an average of roughly two Hall of Famers for each major league franchise. We stop in 1899 because 1900 was unusual.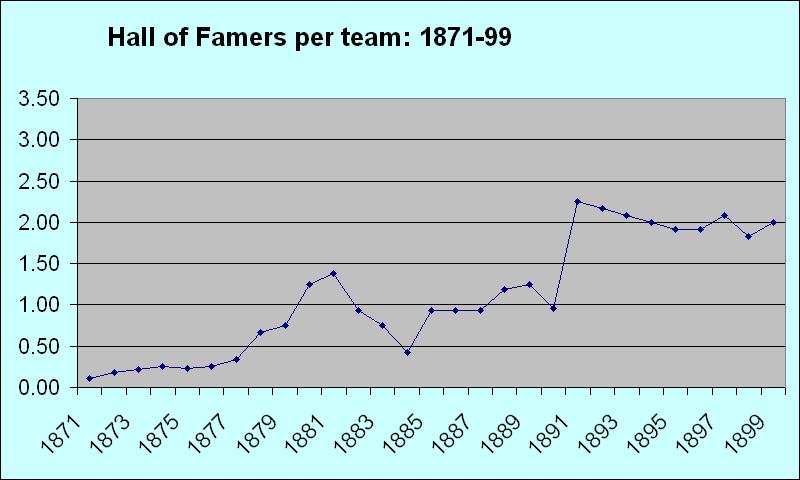 In 1900, everything changes. Just for a moment, but if you were a baseball fan in 1900 (and no, I wasn't) - well, you couldn't go to the ball park without seeing a Hall of Famer. It just couldn't happen. Everybody had a Hall of Famer. The average was more than three of them to a team.

1900 (26)

Brooklyn (4) - Jennings, Keller, Kelley, McGinnity
Pittsburgh (4) - Wagner, Clarke, Chesbro, Waddell
Philadelphia (3) - Delahanty, Lajoie, Flick
Boston (5) - J.Collins, Hamilton, Duffy, Nichols, Willis
St. Louis (3) - Wallace, Burkett, Young (plus W.Robinson)
Chicago (3) - Chance, Bresnahan, Griffith
Cincinnati (2) - Beckley, Crawford
New York (2) - Davis, Mathewson

You'll notice that I'm not even counting guys like John McGraw and Wilbert Robinson, who were active players in 1900 but are both in the Hall mainly because of what they accomplished as managers. McGraw was certainly a Hall quality player, although his playing career was very short.

Now 1900 ought to be an outlier. 1900 was the year of contraction - the National League shrunk from 12 teams to 8, and while fewer jobs were available, it wasn't the stars who had trouble finding work. It was a one-year phenomenon. In 1901 the NL introduced a kind of salary cap - no player could be paid more than $2400 a year. Ban Johnson, who had just turned the Western League into the quite successful American League, saw his chance to set up a rival major league. The AL began signing NL stars, the war was on, and the rest of history...

So 1900 was an unusual year, and in 1901 the number of major league teams doubled. There would be 16 teams for more than half a century. What did this do to your chances of seeing a Hall of Famer when you went to the ball park?

Very little, as it turns out. By 1930, with twice as many teams, we find that the number of Hall of Famers in uniform had doubled as well. There were 53 Hall of Famers active during the 1930 season, and every team in the majors had at least one suit up for them. Even the Red Sox, who traded theirs to the Yankees in early May. We still have an average of better than three of Hall of Famers per team - just as we did during the freak contraction year of 1900.

Of course they weren't all at the peak of their powers. The aging Eddie Collins made a few pinch-hit appearances for the A's, but he was mainly one of Connie Mack's coaches. Hank Greenberg and Dizzy Dean were youngsters making very tentative debuts and wouldn't even make a roster to stay for a couple more seasons. But that's always the way. Ty Cobb hit .240 in 1905, Mariano Rivera had an ERA of 5.51 in 1995...

1930 (53)
Philadelphia AL (5) - Cochrane, Foxx, Simmons, Grove, Collins
Washington (4) - Cronin, Manush, Rice, Goslin
New York AL (9) - Dickey, Gehrig, Lazzeri, Combs, Ruth, Ruffing, Pennock, Hoyt, Gomez
Cleveland (2) - Sewell, Averill
Detroit (2) - Gehringer, Greenberg (also Hoyt - see NYY)
St.Louis AL (1) - Ferrell (also Goslin, Manush - see Wsh)
Chicago AL (3) - Appling, Lyons, Faber
Boston AL (0) - (also Ruffing - see NYY)

St. Louis NL (6) - Bottomley, Frisch, Hafey, Haines, Grimes, Dean
Chicago NL (5) - Hartnett, Cuyler, Wilson, Kelly, Hornsby
New York NL (6) - Terry, T.Jackson, Lindstrom, Ott, Bancroft, Hubbell
Brooklyn (1) - Vance
Philadelphia NL (2) - Klein, Alexander
Cincinnati (2) - Heilmann, Rixey (also Kelly - see NYG)
Pittsburgh (3) - Traynor, P.Waner, L.Waner
Boston (2) - Sisler, Maranville (also Grimes - see STL)

That's right - the third-place Yankees had nine Hall of Famers in uniform in 1930.

And here are the Hall of Famers per team from 1900-1929.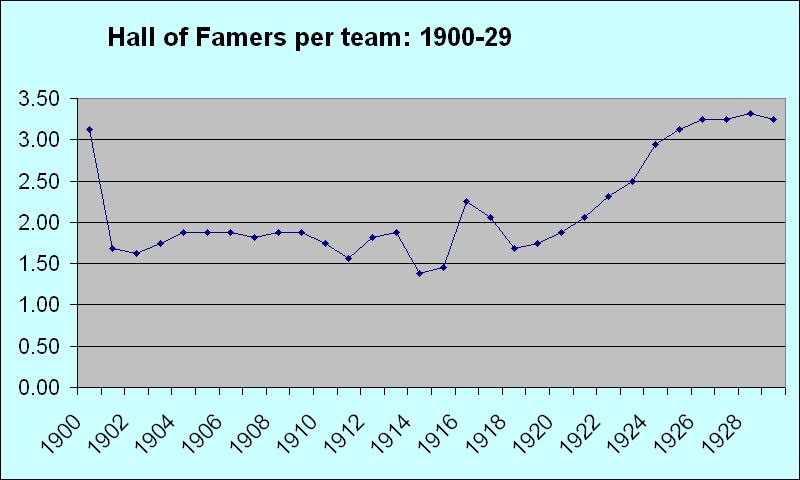 But 1930 was the high-water mark. Just five years later (1935), we're down to 42 active players who would end up in the Hall. And then history intervened - the Hall itself was established in 1936, and in 1941 the United States went to war (the rest of the world had been pre-occupied with this for a couple of years already.) A remarkable number of Hall of Fame baseball players - Musial, Greenberg, Appling, Reese, Slaughter, Ruffing, DiMaggio, Rizzuto, Gordon, Mize, Spahn, Dickey are just some of them - missed seasons out of their career while this catastrophe raged.

Anyway, just 14 Hall of Fame players were active in the major leagues in 1944, and only 15 in 1945.

The players came back. By 1947 there were 32 active Hall of Famers in the game, and by 1957 there were 37. But you notice that the average is now just a little more than two Hall of Famers per team. And this figure itself, 37 active Hall of Famers in 1957, is the high-water mark for the entire post-war era (it was matched a few times - in 1965 and from 1967-69).

Here are the Hall of Famers per team from 1930-59: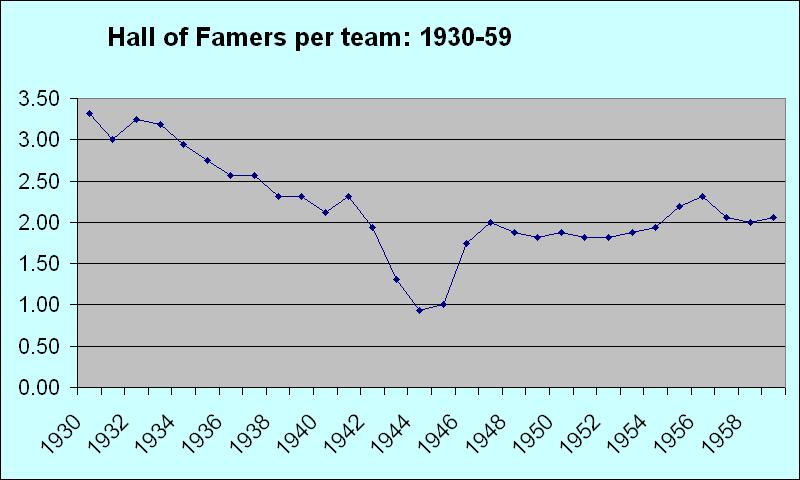 The expansion era began in 1961. By 1962 there were 20 major league teams and by 1969 there were 24 teams. But the highest number of Hall of Famers in action never surpassed 37 - they were now simply scattered among many more teams. Like so:

1969 (37)
St. Louis (4) - Cepeda, Brock, Carlton, Gibson
San Francisco (4) - Mays, McCovey, Marichal, Perry
Chicago NL (3) - Banks, Williams, Jenkins
Cincinnati (2) - Perez, Bench
Philadelphia (0)
Pittsburgh (4) - Clemente, Stargell, Mazeroski, Bunning
Atlanta (2) - Aaron, Niekro (also Wilhelm - see CAL)
Los Angeles (2) - Drysdale, Sutton
Houston (1) - Morgan
New York NL (2) - Seaver, Ryan

Boston (2) - Yastrzemski, Fisk
Detroit (1) - Kaline,
Minnesota (2) - Killebrew, Carew
Chicago AL (1) - Aparicio
California (1) - Wilhelm
Oakland (3) - Jackson, Hunter, Fingers
New York AL (0) -
Baltimore (3) - F.Robinson, Palmer, B. Robinson,
Washington (0)
Cleveland (0)

Don't you just love that Zero for the Yankees? Mickey Mantle retired that spring, leaving them bereft of active Hall of Famers for the first time since 1912, when they were still called the Highlanders. The 1969 Yankees featured one guy who definitely will be a Hall of Famer, but as a manager - Bobby Cox - and two guys who at various times looked like they would become Hall of Famers, but didn't - Bobby Murcer and Thurman Munson. The Yankees didn't get a Hall of Famer into uniform until 1975, when they scooped up the first true free agent (Catfish Hunter.) They've had that base covered for most of the years since then, one would think (1991 and 1992 are the problem years - the only viable candidates are Don Mattingly and Bernie Williams - but in 1993 they added Wade Boggs, who's already in the Hall, and in 1995 Jeter made his debut.)

Anyway, here are the Hall of Famers per team from 1960-1989: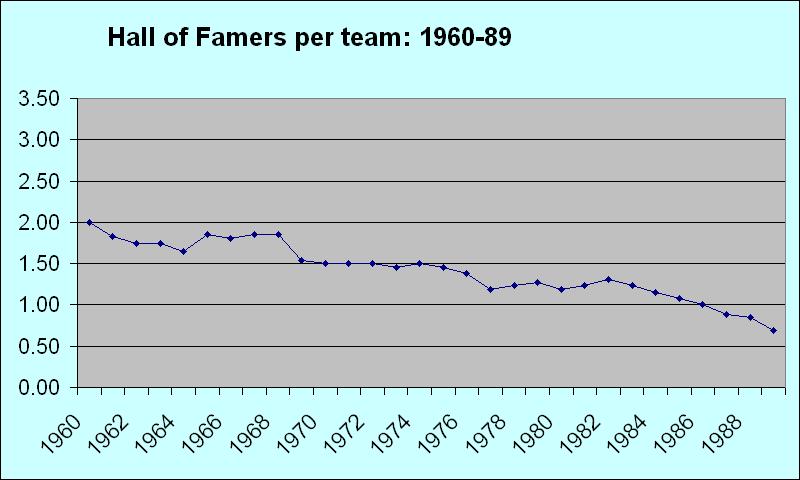 We're now down to about 1.5 Hall of Famers per team.

That was 40 years ago, and there are, I would venture, three players who were active in 1969 who are still at the centre of the Hall debate and could very well eventually gain admission: Ron Santo, Tommy John, and Jim Kaat. Even so, this would still only bring the total up to 40 Hall of Famers, scattered over 24 teams.

Two more franchises were added in 1977, two more in 1993, and two more in 1998. But the number of Hall of Famers in action at any given moment has continued falling. Obviously, this is partially because there were players active in 1984 (let's say) who will eventually go into the Hall but just haven't made it yet. But we're not returning to the three Hall of famers per team mark anytime soon.

There's an equilibrium somewhere in here, somewhere in between the 3 plus Hall of Famers per team that has blessed the ballplayers of the 1930s and the 1.5 Hall of Famers per team that has prevailed for the last - well, almost half a century. The bar needs to be adjusted.

What should that equilibrium be?

Well, anything we want it to be. Setting a bar anywhere for anything is pretty well always a fairly arbitrary procedure. The random figure I'm going with is about 2.5 per Hall of Fame players per major league franchise. By 1993, we were up to 28 franchises, which would suggest that we could to have about some 60 or so active Hall of Famers. I think that's a pretty conservative figure.

It's not like the talent pool has shrunk. Quite the reverse, as everyone knows.The 26 Hall of Famers active in 1900, like the 53 Hall of Famers active in 1930, were all drawn from the Caucasian population of the United States. By 1960, major league talent was coming from the entire population of the United States (which, roughly, tripled in the course of the 20th century) as well as Latin America. The careers of Willie Mays and Roberto Clemente were in full swing. By the end of the century, the talent pool was even larger as the first great Asian players entered the majors. There should be - and I have no doubt that there are - many more great baseball players active right now than ever before. Many, many more. If there were 25 active players of Hall of Fame quality 100 years ago, it's not unreasonable to find about 60 from a talent pool at least four times that size.

This is, I freely admit, an odd (if not downright ass-backwards!) way to go about identifying those players who could be regarded as Hall of Famers. But it appeals to me...

We're going to thin the herd around 1930, which will require some evictions. We will have to add a few players from early in the 20th century simply for the sake of consistency (if Billy Herman is in, so is Buddy Myer - they're the same player). There are also a few players who I think would be clear-cut Hall of Famers if they had done during their missing war years what they did on the field before and after their service. This wasn't an injury - this was somehow different, a condition of the times they lived in. In my mind they've earned the benefit of whatever doubt they might be. But mostly we're going to be adding the best players of the post-war era as needed to bring the Hall roster more in line with our General Equilbrium.

But we can't be too fanatical about that - talent sometimes bunches up in the strangest ways. It really is possible that the three greatest first basemen who ever lived were all active in the same league at the same time (I don't think Greenberg was quite that good, but he's pretty close.) Or consider Roberto Clemente, an amazing and unforgettable player - and at best, the third-best guy at his own position in his own time (obviously behind Aaron and Robinson, I think he's got to come behind Kaline as well, and there were even years when guys like Roger Maris and Johnny Callison were better.) Roberto Clemente! You absolutely do not have to be the best at your spot while you're active.

Therefore:

Thirteen Men Out: - George Kelly, Ross Youngs, Travis Jackson, Fred Lindstrom, Rick Ferrell, Lloyd Waner, Waite Hoyt, Jesse Haines, Hack Wilson, Kiki Cuyler, Earle Combs, Chick Hafey, Jim Bottomley

The Overlooked Old-Timers: - Ed Reulbach, Johnny Kling, Larry Doyle, Carl Mays, Stan Hack, Buddy Myer, Wally Berger, Sherry Magee, Dolph Camilli

The War-Torn Careers - Johnny Pesky, Dom Di Maggio, Mickey Vernon

Stars of the 1940s - Bob Elliott, Wilbur Cooper, Vern Stephens

Stars of the 1950s - Allie Reynolds, Gil Hodges, Alvin Dark, Minnie Minoso

Stars of the 1960s - Ken Boyer, Joe Torre, Tony Oliva, Dick Allen, Rusty Staub, Jimmy Wynn, Ron Santo, Jim Kaat, Vada Pinson, Jim Fregosi, Bill Freehan

Stars of the 1970s - Luis Tiant, Reggie Smith, Graig Nettles, Al Oliver, Ted Simmons, Bill Buckner, Steve Garvey, Darrel Evans, Tommy John, Dave Concepcion, Bobby Grich, Cecil Cooper, Ron Cey, Buddy Bell, Dwight Evans, Dave Parker, Thurman Munson

Stars of the 1980s - Keith Hernandez, Ron Guidry, Don Mattingly, Orel Hershiser, Lee Smith, Gary Gaetti, Harold Baines, Dale Murphy, Dennis Martinez, Jack Morris, Lou Whitaker, Alan Trammell, Tim Raines, Brett Butler, Willie Randolph

Stars of the 1990s (generally not yet eligible) - Kevin Brown, Craig Biggio, Roberto Alomar, Tom Glavine, Mike Mussina, Kenny Lofton, Bernie Williams, Jeff Kent, Mike Piazza, Larry Walker, Albert Belle, Luis Gonzalez, Frank Thomas, Jim Edmonds, Jeff Bagwell, Edgar Martinez, Fred McGriff, Greg Maddux, Barry Larkin, Curt Schilling

Active in 2009, but have already assembled enough of a resume - Johnny Damon, Andy Pettitte, Mariano Rivera, Derek Jeter, Billy Wagner, Gary Sheffield, Randy Johnson, John Smoltz, Ken Griffey Jr, Omar Vizquel, Ivan Rodriguez, Jamie Moyer, Jim Thome, Pedro Martinez, Manny Ramirez, Chipper Jones, Carlos Delgado, Trevor Hoffmann, Alex Rodriguez, Garret Anderson, Todd Helton, Vladimir Guerrerro, Scott Rolen

Everybody else still playing can be regarded on working on the resume - even Albert Pujols. Technically, Albert the Great wouldn't even qualify for the Hall if he were to give up baseball this winter and devote his time to fighting crime. Neither would Ichiro Suzuki. You need to play for 10 seasons (a requirement that the Hall has waived exactly once, for Addie Joss.)

We have to make a judgement on five players generally linked, in the minds of the public anyway, with performance-enhancing drugs. As far as I know, only one of these guys actually failed a major-league drug test - we just take their guilt for granted. But anyway - a rule that is not enforced is no rule at all. I have written (and documented quite convincingly, if I do say so myself) that Fred McGriff was clearly a greater player than Mark McGwire: with the exception of that five year period, from ages 31 to 35, when the always injury-prone McGwire built himself a new body and temporarily turned into the mightiest right-handed power hitter in history. Baseball didn't stop him. Baseball, from top to bottom, didn't just allow it to happen - they cheered wildly as it happened. Those were the circumstances McGwire played under, he took full advantage, and helped his team win. It seems to me that blacklisting McGwire now would be a little too much like to booting Ty Cobb out because we don't approve of racism, or Ed Walsh because we've banned the spitball. It's not an exact parallel, I realize - but I think it's too close for comfort, and I do believe rather strongly that rules or laws that are not enforced are not to be taken too seriously or applied in retrospect.

The Gang of Four. Or Five - Sammy Sosa, Roger Clemens, Rafael Palmeiro, Barry Bonds, Mark McGwire

And then there are players currently on the permanently Ineligible List. Only two of them are truly serious candidates, and I'll always be a hardliner on Joe Jackson. But I will open the Hall to the other one, though I do think he must remain banished from active participation in the game.

Ineligible List - Pete Rose

This is, obviously, a bigger Hall - I may have evicted 13 guys, but I've added 61 that Hall voters have so far passed on, another 20 they haven't had a chance to vote on yet, and 6 special cases. It's built with the idea of tracking a certain utterly arbitrary equilbrium of roughly 2.5 Hall of Famers for each franchise active at a given time. The 1910s are still somwhat under-represented. But from the early 1920s right through to the end of the century we have from 2.3 to 2.75 Hall of Famers per franchise active every year. Which is what I was aiming at.

You can set the bar wherever you like. If you like the post-war equilibrium, of roughly 1.25 to 1.5 per franchise, and don't want to add anyone - no problem. You can achieve the equilbrium of your choice by thinning the herd a lot more drastically than I have. Candidates for dismissal would be people like Herb Pennock, Earl Averill, Ernie Lombardi, Bobby Doerr, Joe Gordon, Enos Slaughter, Harry Hooper, Heinie Manush, Ray Schalk, Edd Roush, Rabbit Maranville, Pie Traynor. Dizzy Dean (but if Dizzy is out, isn't Sandy Koufax? And if Koufax is out, how does Drysdale get to stay...)

Personally, I'd rather do as little of that as possible. The least deserving Hall member is doubtless one of McGraw's old Giants that Frankie Frisch placed in the Hall when he ran the veteran's committee - Travis Jackson or George Kelly. I have gone for the Big Hall, but I don't want to get to the point where Larrry Bowa and J.T. Snow are modern equivalents to Hall of Famers. So I'm kicking Jackson and Kelly and Youngs and the rest to the curb, but I don't feel good about it. They were, without exception, really good ballplayers, they've been dead for many years, and I'd much, much rather see them remembered with admiration and affection than...to be insulted.

---

https://www.battersbox.ca/article.php?story=20091223161138146