Yakity Yak! Zach Jack's Back!
Sunday, January 10 2010 @ 02:42 AM EST
Contributed by: #2JBrumfield
Lefty Zach Jackson is back in the Blue Jays fold thanks to a trade with Cleveland. The Indians will be receiving a player to be named later in the deal.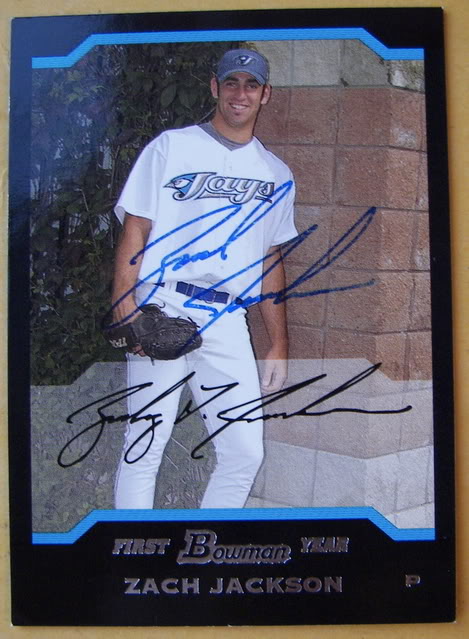 Jackson was the Jays 32nd pick in the 2004 amateur draft from Texas A&M, sixteen picks after fellow lefty David Purcey was taken. Word is the Jays brass were excited Jackson was still available because they were strongly considering taking him before Purcey. Now the two find themselves together again in the Jays nest six years later.
Jackson got his feet wet with four abbreviated starts in Auburn in which he recorded a 5.40 ERA and struck out 11 batters while walking six in 15 innings. The 6-foot-5, 220 pound lefty made a quick climb up the Jays minor league ladder in 2005 as he posted an 8-1 record with a 2.88 ERA at Dunedin and posted an impressive K-BB mark of 48-6 in 59 1/3 innings. Jackson found the going a little bit rougher with AA New Hampshire but won four of seven decisions with a 4.00 ERA and a K-BB total of 43-12 in 54 innings. That led to another promotion to AAA Syracuse where he split eight decisions with a 5.13 ERA but his WHIP was 1.73 in 47 1/3 innings.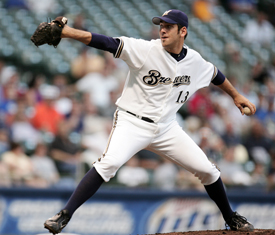 Despite his ascent to Syracuse, the Jays traded Jackson along with righty Dave Bush and outfielder Gabe Gross to Milwaukee for first baseman Lyle Overbay and righty Ty Taubenheim. The Greensburg, Pennsylvania native would make his major league debut with the Brewers by pitching a shutout inning against the Nationals June 4th. Filling in for injured future Jay Tomo Ohka, Jackson would go on to earn his first major league victory in just his second start in Cincinnati June 12th. Despite giving up four homers, Jackson lasted 6 1/3 innings to pick up the "W". He would later split four decisions with an ERA of 5.40 before being sent back down to AAA Nashville where he finished with a 4-6 record and a 4.12 ERA.
Jackson would spend the entire 2007 campaign in Nashville where he went 11-10 with a 4.46 ERA. He would get back to Milwaukee for two relief appearances in May which his ERA was nearly five. That mirrored in struggles with Nashville as he went just 1-5 with an ERA of 7.85.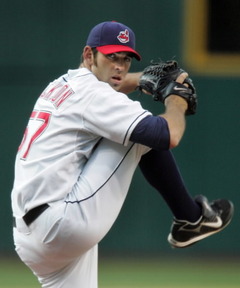 In early July of that season, Jackson was on the move again to Cleveland with slugger Matt LaPorta, pitcher Rob Bryson and outfielder Michael Brantley for lefty C.C. Sabathia. He found the International League to be more to his liking as he won three of four decisions with a 4.05 ERA at AAA Buffalo where he struck out 20 batters over 26 2/3 innings. That earned up a call up to the Tribe in mid-August where he lost his first three decisions but went on to win his final two starts against the Red Sox and White Sox while allowing just four runs in 13 innings combined. His ERA for the season was 5.60 ERA.
Jackson was hoping to build on the late momentum of 2008 but he only made two appearances in early April. Despite earning a hold against the Yankees, he gave up three runs in 4 2/3 innings and was sent down to AAA Columbus. Jackson did make one more appearance with Cleveland as he was given a start against Tampa Bay May 27th. He surrendered seven runs over four innings in what turned out to be a no-decision. Jackson spent the majority of the year with the Clippers and went 4-8 with a 6.05 ERA.
According to fangraphs.com, Jackson is a fastball-slider-changeup pitcher who averages 88 MPH with a fastball and has a funky delivery in which he appears to knee himself in the chest. Now Jackson hopes to kick start his career again with his original organization in 2010.
---

https://www.battersbox.ca/article.php?story=20100110013311858