Merkin For A Living
Wednesday, January 20 2010 @ 10:32 PM EST
Contributed by: #2JBrumfield
The Blue Jays have acquired pitcher Merkin Valdez in a deal with the San Francisco Giants for cash considerations. Jordan Bastian of bluejays.com says Valdez will join the crowded competition for a spot in the Jays bullpen.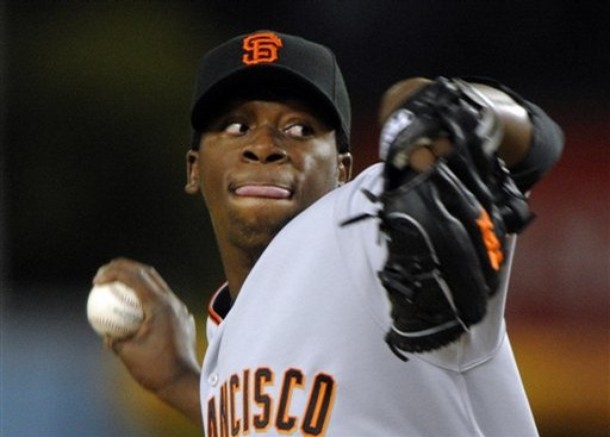 28 year-old Merkin Valdez joins the Blue Jays after making a career-high 48 appearances out of the Giants bullpen in 2009. The 6-5, 230 pound right-hander was 2-1 with a 5.66 ERA and struck out 38 hitters in 49 innings but his WHIP was 1.723. A free agent signed by the Atlanta Braves back in 1999 out of the Dominican Republic under the alias of Manuel Mateo, Valdez was dealt to San Francisco with lefty Damian Moss for righty Russ Ortiz before the 2003 campaign despite going 7-3 with a 1.98 ERA for the Gulf Coast League Braves.
Valdez continued to show promise in '03 by whiffing 166 batters in 156 innings while posting a 9-5 record with a 2.25 ERA with Class-A Hagerstown. He earned a selection to the Futures Stars Game that season and that would mark the first of three straight appearances at the event. In 2004, Valdez made it all the way to the bigs after making stops in Class A San Jose, Class AA Norwich and Class AAA Fresno. He averaged nearly a strikeout an inning with an 80-24 K-BB mark in 82 1/3 innings while posting a combined ERA of 3.72. Valdez made two appearances with the Giants in August but gave up five runs in 1 2/3 innings for an ERA of 27.00.
Valdez took two steps back in 2005 as he stayed in Norwich for the entire campaign. Despite a 5-6 record, his ERA was 3.53 and he struck out 96 batters in 107 innings. He spent the 2006 season in Fresno where he struggled to an 0-4 record with a 5.80 ERA and his WHIP was 1.832 in 49 2/3 innings. Valdez then had Tommy John surgery for his ailing right elbow and wound missing the 2007 season. Valdez made it back to the bigs in 2008 and had a successful stint to begin the season. He was 1-0 with a 1.69 ERA in 17 appearances, all but one of them out of the bullpen. However, his season was cut short around mid-May when his elbow started acting up again. The good news was he made it through 2009 without incident.
Valdez is known for bringing the heat with a mid-90's fastball that has been clocked as high as 99 miles per hour. He also throws a low-80's slider and changeup. Designated for assignment by the Giants to make room for first baseman Aubrey Huff, Valdez hopes to put things together with the Jays in 2010. However, he is out of options so he would have to clear waivers if he doesn't make the club out of spring training.
---

https://www.battersbox.ca/article.php?story=20100120212610411