Two Shawns & Two Hills? Maybe!
Wednesday, January 27 2010 @ 01:52 AM EST
Contributed by: #2JBrumfield
The Toronto Blue Jays recently signed Mississauga native Shawn Hill to a minor league deal. The right-handed pitcher will look to join fellow hurler Shawn Camp on the Jays staff and become king of the hill while Aaron Hill mans second base.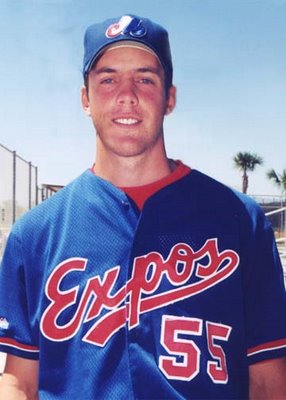 Shawn Hill played high school ball in Milton, Ontario and was drafted by the San Diego Padres in round 33 of the 1999 amateur draft. However, he did not sign with the Friars and was selected again in the 2000 draft by the Montreal Expos in the sixth round. After pitching just 60 innings in his first two minor league seasons, Hill broke through in 2002 with Single-A Clinton when he went 12-7 with a 3.44 ERA while striking out 99 hitters in 146 2/3 innings and had a WHIP of 1.255. The 6-foot-2, 180 pound righty recorded another 12 win season in 2003 when he split time with Single-A Brevard County and Double-A Harrisburg. He struck out just 78 batters in 147 innings combined but his WHIP dipped to 1.211 and his overall ERA was 2.65. Still, that performance was good enough to earn Hill an appearance at the 2003 Futures Game. He won three of his four decisions with Harrisburg after his promotion but his K-BB mark was a troubling 12-11 in 20 innings and his WHIP was 1.672.
In 2004, Hill's record with Harrisburg saw him go two games below .500 at 5-7 but the peripherals were better as his K-BB mark was 53-20 in 87 2/3 frames. He earned his first trip to the bigs on June 29th but his debut was a rocky one as he shelled for eight runs in 2 2/3 innings as the Phillies pounded the Expos 17-7 in the City of "Not So" Brotherly Love. He bounced back in his next start July 4th as he won his first major league start by allowing one run on six hits and two walks over five innings to help the Expos beat Ted Lilly and the Jays 6-4 in San Juan, Puerto Rico. That turned out to be the last Jays-Expos regular season game and it wasn't even in Canada! Unfortunately, Hill was bombed again in his next start at Hiram Bithorn Stadium as the Pirates burned him for seven runs in 1 1/3 innings in an 11-0 shellacking. That would be Hill's last appearance in an Expos uniform and he never got to experience the joy of pitching at Olympic Stadium. Even with the decent start in between, he was 1-2 with a not-so-sweet 16.00 ERA.
Hill never got to pitch in 2005 thanks to Tommy John surgery on his right elbow. In 2006, he made 10 starts at Double-A Harrisburg and one at Triple-A New Orleans and found his form again by splitting six decisions with an ERA of 2.77. He struck out 34 and walked just seven in 55 1/3 innings. Hill made his Nationals debut May 29th and got a no decision despite seven innings of one-run ball. Two starts later, he earned his first win of the year with seven shutout innings over the Phillies and followed that up with a quality start against the Yankees by allowing three runs over six frames. After Boston roughed him for eight runs over 5 2/3 innings, Hill made his Rogers Centre debut June 28th but the homecoming did not turn out as planned. He went up against Ted Lilly again and gave up four runs over five frames as the Jays prevailed with a 6-4 win. That turned out to be Hill's swan song for '06 after being sidelined due to injury. He finished up that year going 1-3 with a 4.66 ERA.
Hill returned to the Nationals with a vengeance in 2007 by going 3-3 with a 2.70 ERA into early May. However, the injury bug bit again as elbow problems forced him out until August. He finished the year 4-5 with a 3.42 ERA and a WHIP of 1.140 in 97 1/3 innings. Hill's injury problems continued in 2008 as his elbow put him on the disabled list twice. When he did take to the mound, he struggled to a 1-5 mark with a 5.83 ERA and a 1.753 WHIP in only 63 1/3 innings. He won his arbitration hearing by getting $775,000 instead of $500,000 but the Nationals wound up releasing him.
Hill came back to the team that originally drafted him as he signed a minor league deal with San Diego last March just five days after Washington released him. He won his Padres debut with a two-run, five inning start against the Giants and repeated that same performance in Philadelphia where he got a no-decision. He turned in a quality start against the Padres with a three-run, six inning effort but wound up with the loss. Hill's record was 1-1 with a 5.25 ERA at that point and he would not be able to improve on those totals because he needed another Tommy John surgery.
According to fangraphs.com, Hill throws a fastball around 88-89 miles per hour with a changeup around 80 MPH and a curveball around 75 MPH. In 2009, Hill threw more changeups and sliders than curveballs in what may have been an effort to prevent wear and tear on his elbow but I am probably talking out of my ass here so feel free to call me on it. You're welcome!
With a career record of 8-16 and a 4.95 ERA in the bigs, Hill hopes a return to Canadian soil will bring better health and success in 2010.
---
In other Jays related news..........
* Jays assistant GM Tony LaCava has a chat on THE FAN 590 and Sportsnet's play-by-play man Buck Martinez does likewise.
* MLB.com's Jonathan "Hold The" Mayo speaks with Jays prospect Kyle Drabek.
* Drunkjaysfans.com, via a tweet from Phillies reporter Scott Lauber, says shortstop Brian Bocock has been claimed off waivers by the Phillies. Bocock & Doc! What a combo!
* Bluejays.com's Jordan Bastian details the charitable endeavours of Jesse Litsch.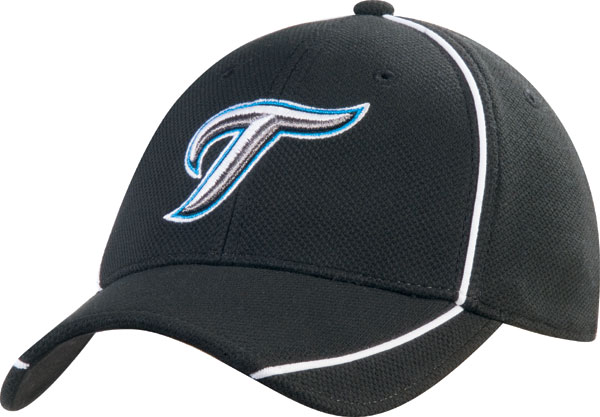 And finally, this will be the Jays new spring training/batting practice cap for 2010.
---
Around the majors.......
* Ben Sheets signs with the A's.
* Jim Thome returns to the A.L. Central with the Twins.
* Jon Garland remains in the N.L. West, this time with the Padres.
* Johnny Damon may have played his last game as a Yankee.
* Another prospects list is on the way! MLB.com will announce its Top 50 minor league prospects list tonight at 8:00 p.m. ET.
---

https://www.battersbox.ca/article.php?story=2010012700024754