Keeping Up With The Kevins
Wednesday, February 03 2010 @ 12:42 AM EST
Contributed by: #2JBrumfield
Former Marlins and Cubs closer Kevin Gregg has agreed to a one-year deal with the Toronto Blue Jays according to SI.com's Jon Heyman. The $2.75-million dollar deal includes two option years that could pay as much as $12-million dollars total. Gregg is expected to compete with Jason Frasor and lefty Scott Downs for the closer's role but the Toronto Sun's Bob Elliott speculates Downs could be on his way out. A tip of the Jays 1989 road cap to Bauxite "The Original Ryan" for letting us know.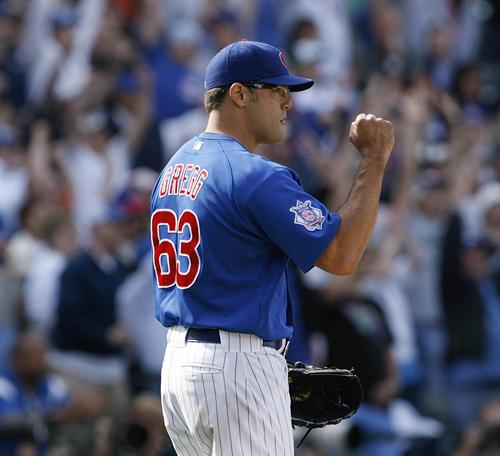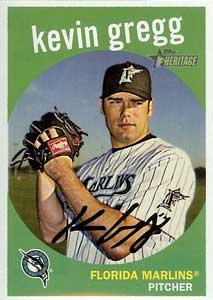 Kevin Gregg joins his fourth major league team in what will be his eighth season in the bigs. The 31 year-old righty was a 15th round selection in the 1996 amateur draft out of high school in Corvalis, Oregon. He didn't reach the majors until 2003 with the Anaheim Angels when he signed with them as a six-year minor league free agent. Gregg began his pro career as a starter and reached Triple-A Vancouver in 1999 where he won his lone start by allowing just two runs over five innings. He endured a rough ride at Double-A Midland in which he went 5-14 with a 6.40 ERA and that saw him spend more time in the Midland bullpen in 2001 and 2002 where his ERA hovered around 4.50. He got another taste of Triple-A ball with Sacramento but a 7.52 ERA in eight starts and eight relief appearances resulted in the A's letting him go. However, Gregg found new life with the Halos in 2003 by winning a combined 11 games in Double-A Arkansas and Triple-A Salt Lake.
Three of his five appearances with the Angels came as a starter in '03 and he won back to back starts in September against the Royals and the Mariners with one-run, seven inning efforts. He finished the year with a 2-0 record and a 3.28 earned run average. The 2004 season saw the 6-foot-6, 200-pound Gregg establish himself in the Halos bullpen as he went 5-2 with a 4.21 ERA and one save while striking out 84 hitters in 87 2/3 innings. However, he unleashed 13 wild pitches to finish second in the American League. He did earn some post-season experience in 2004 and 2005 by pitching two scoreless innings against the Red Sox and White Sox each season. Gregg made a combined 65 appearances with ERA's of 5.04 and 4.14 in 2005 and 2006 before he was traded to Florida in the off-season for fellow righty Chris Resop.
Gregg became the Marlins eventual closer after Jorge Julio and Henry Owens failed to hold the job. He had a record of 0-5 but he converted 32 out of 36 save opportunities with a 3.54 ERA by striking out 87 batters in 84 innings. In 2008, Gregg collected 29 saves for the Fish but his record was 7-8 and he blew nine save opportunities. He struck out less than a batter an inning by whiffing just 58 in 68 2/3 innings. He also missed time that year with a knee injury that sidelined him at the end of August.
Gregg was on the move again as he was traded to the Chicago Cubs for minor league righty Jose Ceda in the off-season. He beat out Carlos Marmol to become the Cubs closer and replace the departed Kerry Wood, who signed with Cleveland. Gregg did pick up 23 saves in 2009 but the long ball hurt him as he surrendered 13 homers in 68 2/3 innings. He was eventually replaced by Marmol as the club's closer in mid-August. He won five of 11 decisions with an ERA of 4.72 but he was back to averaging a strikeout an inning by ringing up 71 batters.
Fangraphs.com clocks Gregg's fastball around 91-92 miles per hour and he also throws a slider and splitter in the low 80's range.
---
In former Jays news involving Kevins......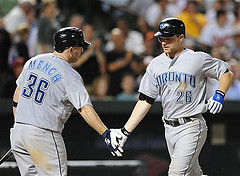 Former Jay Kevin Mench is back in North America as he signs a minor league deal with the Washington Nationals. Natsfarm.com points out Mench could very well wind up with the Nats Triple-A affiliate in Syracuse which is where he spent time in 2008 during his less than one year tenure in Toronto. Mench spent the 2009 season in Japan with the Hanshin Tigers after a 2008 campaign that saw him bat .243 and slug .357 with no homers and ten runs batted in with Toronto.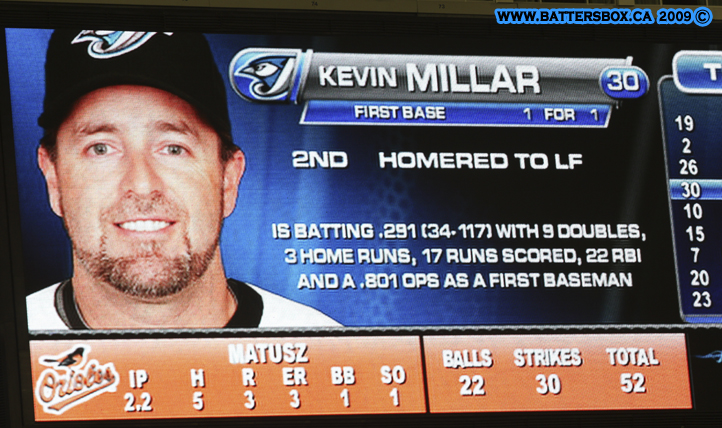 Former Jay Kevin Millar is looking to extend his major league career with the Chicago Cubs after signing a minor league pact. The 36 year-old Millar hit .223 and slugged .363 with seven homers and 29 RBI with Toronto last season.
---
In other former Jays news not Kevin-related.....
Former Jay Orlando Hudson and the Washington Nationals are trying to see eye to eye on a new deal. "O-Dog" batted .283 with nine homers and 62 RBI with the Dodgers in 2009.
---
And finally.......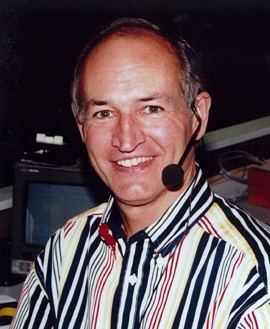 Play-by-play announcer Jerry Howarth appeared on XM/Sirius MLB Home Plate yesterday.
Among the highlights......
Roy Halladay is the best Blue Jay to wear the uniform due to his work ethic and passed up free agency to stay with the club for as long as he did
Robbie Alomar should have been in the Hall of Fame and took issues with voters who didn't vote and those who held the John Hirschbeck spitting incident against him. He says Alomar and Willie Mays are the two best players he has seen.
Jack Morris and Bert Blyleven should also be in the Hall. He points to Morris being the winningest pitcher of the 80's as the big reason he should be in.
Tom Cheek's time will come when it comes to the Ford C. Frick award and points out his 27 1/2 seasons of not missing a game behind the microphone. He calls his former partner the "signature voice of the Jays".
Safeco Field is his favourite place to call a game.
---

https://www.battersbox.ca/article.php?story=20100202210835180