An Interview with Sal Fasano
Wednesday, May 26 2010 @ 12:30 AM EDT
Contributed by: Gerry
Sal Fasano was only a member of the Blue Jay's organization as a player for one year, and in that year he had only 45 at-bats, but he did leave a lasting impression on the organization. Maybe it was the moustache or maybe it was because he is a friendly guy. Fasano is now back as manager of the Lansing Lugnuts and I caught up with him last weekend in Lansing.
The umpire doesn't look too comfortable with the "feedback" he is getting from Sal.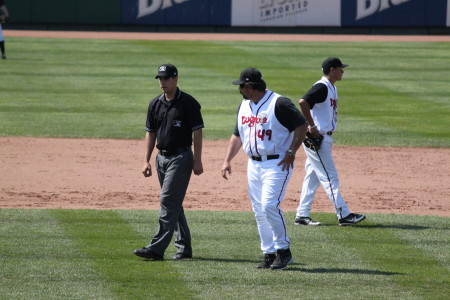 BB: It's your first year managing, how has it been on the other side of the fence.
SF: It's actually been pretty good. It's been a lot more fun than I anticipated, it's been really a great time, we have some good kids here and we have an opportunity to learn every day, both me and them. It makes it pretty nice. Anytime you can take your job and still learn everyday, it is a pretty exciting time. I am happy with it.
BB: And you are in a playoff run which is always exciting.
SF: Yeah I know, it's early, it's only 40 games, it's hard to think about the playoffs but with the split season we have put ourselves in a pretty good position. Obviously this series against Great Lakes is big and if we can win a few games here we can stay in the hunt and we have a chance.
BB: Chad Jenkins is a first round pick. He didn't pitch last season. How has he settled into pro-ball this season?
SF: I think it is going to be an adjustment for him still. You never get it your first couple of weeks so I think little by little he is starting to understand there is more to pitching than throwing the ball. Learning how to set guys up, learning how to use both sides of the plate, all the stuff you aren't taught, because when you are drafted it's because you have a good arm. So he is still learning and we are trying to teach him the ropes.
BB: I was talking to him and he said that in college he could get by on two pitches but you guys are on him to use his change-up more.
SF: Yeah, the change-up is a foundational piece. If you don't use your change-up effectively you are going to have issues later because most hitters can sit on sinker, slider, it is an easy combination to hit. The change-up will keep left-handers honest to they can hover over or dive over the plate and get the barrel to the ball. So he is a work-in-progress, he is working well, so I am pretty happy about it.
BB: On Thursday night you had your closest attempt at a complete game with Ryan Tepera pitching into the ninth. What are his keys to success?
SF: He is still learning as well. When he (i.e. his pitches) can stay down and keep his movement down he gets a lot of quick outs. Because when you look at him he is not a big guy (note: Tepera is approx 6 feet tall but skinny) but he has a pretty good arm, his fastball average is 91, his fastball high is 94. And he has life on that ball, so a lot of hitters go up there and assume it's going to be an easy sinker they can hit but they beat it into the ground. You know in that game, in the fifth inning, he had thrown thirty something pitches. He could have had a complete game because he threw eight and a third and eighty pitches. But it was my decision to pull him out and we won so I think I made the right decision. But it was tough because it is hard to get a complete game at this level, you have to have everything going for you, pitch count, defense, and everything else.
BB: Give me a scouting report on tonight's game one starter, Ryan Shopshire.
SF: Ryan is also learning. Ryan is also a sinker, slider, change-up pitcher. His change-up is a pitch where he can get swings and misses on it, his slider is probably his third best pitch. His whole key is to throw strikes early, get them to swing early, he can get early outs. But he is still working on his mechanics and getting his lower half to work the right way. He is still a ways away from where we would like him to be but he is a competitor and that's what you love about him.
BB: Tell me about Evan Crawford.
SF: He has been pitching really well. He is a nice change because we have sinker, sinker, sinker (in the rotation) and here we have a guy with a good 4-seamer and a plus curveball and a change-up that is work-in-process but is above the curve. He has pretty good stuff and he should do well at this level, and he has. He is one of those guys that you wish them all the best and you hope he can advance because he has been grinding for a couple of years It's nice to see him have some success.
BB: As a catcher, tell me about AJ Jimenez.
SF: I think AJ is a very skilled individual, he is one of the most skilled guys I have seen at his age. He can throw like I have not seen a young kid do. What is also nice is that you don't get too many latins who can speak perfect English and Spanish and he has a good grasp of both so he can communicate with both types of pitchers. His work ethic is good, he is still young and I am not sure about his durability yet. That is my only questions about him. But I love him, if he ever makes it to the big leagues he is the type of kid that has a chance to win a world series. I think he is special.
BB: Like a lot of latin players he seems to like to hit the first pitch he sees.
SF: He has improved on that since last year. He is hitting .326 and he is doing a pretty good job with his pitch selection. The better he gets at that obviously, the more he is going to advance.
BB: Ryan Goins got off to a slow start but he has picked it up over the last month.
SF: He has. The beginning of a season can be tough at times because you want to do too much, and you want to have all these numbers, and you want to do it in the first month of the season, and you can't. You have to understand it's a long season. He was trying to get his approach down so he would land and get his body going to left centre field. It is hard when a guy pulls the ball all the time in college and he gets here and guys don't throw you inside. He had to make the adjustment to that but he has come along great. He has been playing a great shortstop too.
BB: And his partner Ryan Schimpf? He has a bit of pop.
SF: Yes he has some pop. We have to get him to consistently make better contact. There are still a lot of swings and misses there. But defensively he has been solid. We put him in the three hole so he has an idea, he knows how to work the count to get a pitch to hit. But then when he gets it, sometimes if he fouls it off it can get to him a little bit. But he is definitely a guy who, if he wanted to, could play for ten years.
BB: Brad Glenn started out like a house on fire but now he has slowed down. Have the pitchers started pitching him differently?
SF: Yes for the first part of the season he kept us alive, he and Kenny Wilson. But now the pitchers have started to pitch him differently and he needs to make the adjustment. We have been trying to give him some time off to work in the batting cage and get himself back. He and Balbino are our only two guys with real power. Sobo has power but he is more of a doubles hitter. He is a home run threat but we need guys to put the ball in play and he is still learning that part of it. The one thing about this level that's hard is they want to hit home runs but they strike out too much. They need to understand the home runs come when the pitchers make mistakes, if they don't make mistakes you don't hit them.
BB: You mentioned Kenny Wilson. In general he has been doing reasonably well.
SF: He has been doing real well, considering where he was last year to where he is now. We have probably spent the most time with Kenny getting him to a point where he can be a threat from both sides of the plate not just righthanded. Obviously he is learning an approach left-handed where he can go the other way and use his speed and where he can bunt. It's a hard transition because you have to set your ego aside and understand a ground ball can get you a base hit whereas most other guys can't say that. I could never say that in my career, a ground ball, I'm out. But Kenny is very fast. We are trying to get to understand it is OK just to put the ball in play without having the machismo of getting a hit to the outfield. He is the type of kid who can have 30-40 infield hits.
BB: I had heard he was bunting a lot, are you asking him to bunt more than he normally would.
SF: I think so. That's part of the game where he has to master that. Kenny is a top of the lineup or bottom of the lineup guy, he is not in the middle. He is a run manufacturer. If there is a guy on first he has to be able to get him over. Anything he can do to get on base and create havoc on the bases that's what he has to do. A lot of kids think I have to hit doubles and triples. No, get on first and steal second and you will be in scoring position. Not too many guys have that ability. That's why we have spent so much time with him on the soft side, like bunting.
BB: Finally Sean Ochinko, a utility guy for you. He won the MVP in Auburn last season. He is playing OK for you.
SF: Yes, just OK. He is more of a one-sided guy right now and he is in pull mode. So we are trying to get him to use the whole field and understand there are hits to right field. He is valuable in the sense he can play first, third, catch and DH for me. Not too many guys can do that, he is very versatile and it takes a lot of pressure off our everyday guys where I can plug him in and forget about it.
Batters Box thanks Sal Fasano for his time.
---

https://www.battersbox.ca/article.php?story=20100525173018150