An Interview with Antonio Caceres
Thursday, May 27 2010 @ 12:54 AM EDT
Contributed by: Gerry
Antonio Caceres is back for his second season as the pitching coach at Lansing. Previously Caceres had been the pitching coach in Auburn and prior to that Caceres was a pitcher in the Blue Jays minor league system in the nineties. Last season pitchers Henderson Alvarez and Chuck Huggins made big strides under Caceres and he hopes to do the same this year with a new group of pitchers. I spoke with Caceres last week in Lansing.
BB: Ryan Shopshire, who started yesterday, can you evaluate his performance for me?
AC: I would evaluate it as a quality start last night. He had a couple of rough innings, the first couple, but he settled down after that. The main thing with him is commanding his pitches and having him being able to repeat his delivery. We have been working very hard with him on his mechanics and he is doing much better now. Sometimes he gets lost a little bit but he did a good job last night coming back and he had a good outing. I was happy with how he threw.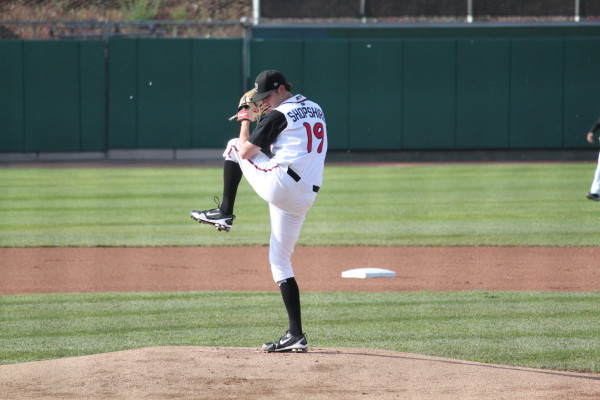 BB: Pitch-wise it looked like he hung a few change-ups early last night.
AC: Like I said he had trouble repeating his delivery. He hung a slider too, he is coming off the ball, opening up the front shoulder. He just has to keep working on it to try and get better.
BB: Today's pitcher has been injured, give me a scouting report on Dave Sever.
AC: He has thrown a couple of times in relief but he looked good, he is strong, he threw the ball well too. He throws a 4 seam fastball, a curveball and a change-up. He knows how to pitch, hopefully he can do it today.
BB: Evan Crawford has been pitching really well for you. What are the reasons for his success?
AC: He attacks hitters and keeps the ball down. He has been working hard on the two-seamer and it is really good right now and it gets a lot of ground balls. His change-up is good too and with those two pitches it makes it easy for him to pitch and get a lot of ground balls. I think the last two starts he got twenty-something ground balls and two fly balls. He is looking good and throwing the ball well.
BB: Does he need to do anything to get up to the next level or is he ready now?
AC: I think he is ready. But sometimes you are ready but the league is not ready for you because we have some other guys up there. But when the time comes he will be ready and I think he can compete up there because he is left-handed, he has a good curveball. the change-up and two-seamer like I mentioned and he throws strikes.
BB: Chad Jenkins comes in here as a first round pick. He has done well but maybe not as well as some people expected. What does he have to work on to get up to Dunedin?
AC: I think he has done well. The first year in pro baseball is a big transition, he has to get used to the league, he has to get used to playing every day, and the travelling. He has been OK, he needs to stay within himself and trust his stuff a little bit more. Sometimes he overthrows and leaves pitches up in the zone and most times he gives up a big hit, a two run home run or a three run home run and that's it. I think he will be alright. I don't know what they (front office) are thinking but I think he needs to stay here a bit longer, maybe send him up to the next level at the end of the season, maybe for a month or so. Hopefully next year he can be in AA.
BB: Jenkins is a pitcher who needs to be down in the zone all the time.
AC: Yeah, his sinker is pretty good and he has good command but if he gets out of his delivery and starts leaving pitches up in the zone, that's when he gets hit. When he is on, he is on, his stuff is good.
BB: And finally Ryan Tepera who has been pitching well for you guys.
AC: Yeah, he has been pitching good. We have been working a lot but mostly mentally, telling him how to attack hitters and what to do and be aggressive. Before he was trying to be too perfect to the plate, throwing a lot of pitches in each inning and he would get to the fifth inning and that's it. But now he is throwing strikes and working ahead. We made a little adjustment in his mechanics, getting him to stay tall and drive the ball downhill. And the slider is so much better that way too. He is throwing the ball well.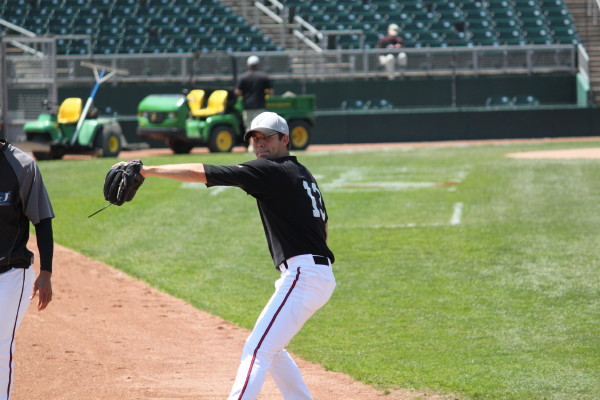 BB: What is his main out pitch?
AC: He has three pitches that are good enough, his fastball is from 89-94, he has a good slider. I would say the slider if he needs to get an out.
Batters Box thanks Antonio Caceres for taking the time to talk with us.
---

https://www.battersbox.ca/article.php?story=20100526115426689