An Interview with Chad Jenkins
Friday, May 28 2010 @ 05:15 AM EDT
Contributed by: Gerry
Chad Jenkins is two months into his professional baseball career. He is pitching for Lansing in the Midwest League and I caught up with him there last week. Here is our interview.
BB: Going to spring training this year did you have any expectations about where you were going?
CJ: To be honest with you I didn't really know where I was going. Alex told me I would either be here or Dunedin and I ended up here. It's a great place so I am excited, really happy about it.
BB: Although you signed last year you didn;t play. You went to instructional league but do you consider this the start of your professional career?
CJ: Yeah this is definitely my start. I threw four innings in instructs and didn't really get a feel for what pro baseball lifestyle was. So this is my first year, it is a grind but it is a lot of fun.
BB: You had some exposure to the major leaguers in spring this year, what was that like?
CJ: It was a lot of fun, that was an awesome experience. I am glad I got to do it, those guys are good, they are really good.
BB: Had you ever played in weather like they have here in April?
CJ: I grew up in Georgia my whole life. March gets kind of cold but the weather up here is something else. It stays cold for a long time up here.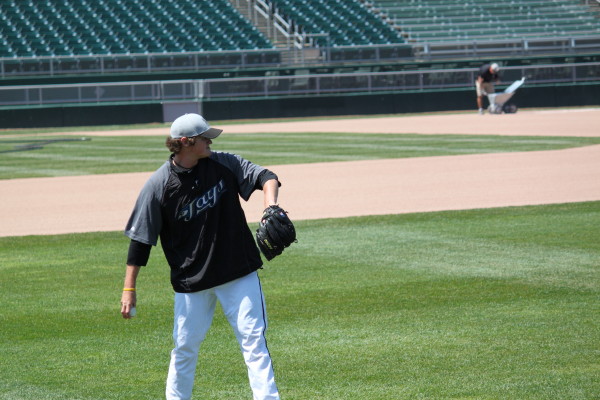 BB: When you are working do you mind the cold?
CJ: It doesn't bother me too much but when it gets cold it can be hard to get a grip because your fingers are dry. But once I get going I stay pretty warm. Sitting between innings can be cold but once you get back on the mound you warm right up.
BB: So now that you are in the swing of things, what have you learned about the hitters in A ball?
CJ: I have learned you have to throw all your pitches, that's for sure. I got by in college with two pitches, the fastball and the slider and now I have had to mix in my change-up a lot, keep them off balance. That's the biggest part, keep them off balance.
BB: Coming out of school you had a good sinker, is that still working good?
CJ: Yes the sinker is working real good, it has got me out of a lot of jams. Definitely gets me a lot of ground balls.
BB: So what are the big things you, or the Blue Jays, are having you work on through the first half of the season here?
CJ: I have been working on my change-up, I still don't throw enough of them in a game, and just working my way up.
BB: Any expectations for the rest of the year?
CJ: Right now I am trying to stay healthy, that's a big thing for me to finish my first year healthy. Hopefully move up a little bit. But right now just get the ball very five days and throw.
BB: It's almost the end of May. Are you a better pitcher now than you were in April?
CJ: Yes, a lot better. I am starting to put together some good starts, starting to get things figured out. Sal's great, he has helped me with my pitching. He shwoed me some things I never thought about before, it's a big help.
Batters Box thanks Chad Jenkins for his time and wishes him the best for the rest of the season.
---

https://www.battersbox.ca/article.php?story=20100526171551488