2010 Draft - Day One
Monday, June 07 2010 @ 06:00 PM EDT
Contributed by: Gerry
Draft day is here. This years first round draft choices appear to be the most uncertain in several years. A few years ago, Jim Callis of Baseball America was able to predict the first thirteen or so picks of the first round. This year the picks, once you get past the top three, are a guessing game. The talent level for picks from 4 to 40 is supposed to be very even, which should help the Jays. This year they have seen the top players ten or more times instead of three times. They should have more information than other teams and so should be able to make more educated selections. The fun begins at 7:00. There will be 50 players drafted tonight. The Jays will select four of them at 11; 34, 38; and 41. We will update this thread with the picks as they happen.
UPDATE: Shocker! Washington selects the former artist known as catcher Bryce Harper, outfielder Bryce Harper of the College of Southern Nevada first overall.
Washington - Bryce Harper, OF, College of Southern Nevada.
Pittsburgh - Jameson Taillon, RHP, Woodlands HS, Texas.
Baltimore - Manny Machado, SS, Brito Harper HS, Florida.
Kansas City - Christian Colon, SS, Cal State Fullerton.
Cleveland - Drew Pomeranz, LHP, Mississippi.
Arizona - Barret Loux, RHP, Texas A&M.
New York Mets - Matt Harvey, RHP, North Carolina.
Houston - Delino DeShields, Jr., OF, Woodward Academy, Georgia.
San Diego - Karsten Whitson, RHP, Chipley HS, Florida.
Oakland - Michael Choice, OF, Texas-Arlington.
---
11. Toronto - Deck McGuire, RHP, Georgia Tech.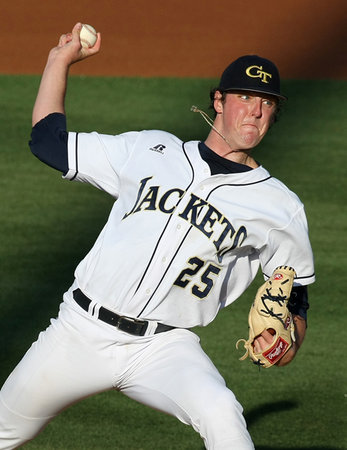 The Jays take right-handed pitcher Deck McGuire from Georgia Tech with the 11th overall pick.
---
Baseball America says William "Deck" McGuire is a 6-foot-6, 218 pound pitcher from Virginia. They say he throws a fastball in the 90-92 MPH range that can touch 94 along with a curveball, a slurve and an average to fringe-average changeup. He projects to be a number three or four pitcher in a starting rotation and is described to be an excellent competitor with composure and durability. BA says McGuire doesn't have a lot of life on his fastball and adds he hasn't been the same pitcher since pitching in last season's ACC playoffs when Southern Miss torched him for nine runs on two days rest. However, John Manuel's blog points out the pick makes sense for Toronto as he cites McGuire's ability to throw four pitches for strikes and his ability to throw downhill.
The 2009 ACC Pitcher of the Year was 11-2 with a 3.50 earned run average with the Yellow Jackets last season and posted a K-BB total of 118-41 in 100 1/3 innings. This season, the first team All-ACC selection won 9 of 13 decisions with a 2.96 ERA and put up a K-BB ratio of 118-33 in 112 2/3 innings but also allowed 13 homers. McGuire has been the Friday starter, or ace, for the Yellow Jackets the last two seasons. Over the weekend, he pitched eight innings to help Georgia Tech beat Alabama 5-2 in the Atlanta Regionals of the NCAA Tournament. He allowed just two runs on eight hits and two walks while striking out six. Alabama shorstop Josh Rutledge had this to say about McGuire's performance:
He was throwing a fastball, probably in the low 90's, and he was just spotting it up real well. He threw the left-handers a lot of change-ups and the right-handers more curveballs. He was just having good control all night, so it was tough to hit him.
McGuire will turn 21 years old on June 23. The junior righty has compiled a 28-7 record in his three seasons at Georgia Tech with a 3.28 ERA and a 306-106 K-BB mark in 291 innings. The Atlanta Journal-Constitution says he wants to make amends for his rough start in the post-season last year.
---
34. Toronto - Aaron Sanchez, RHP, Barstow HS, California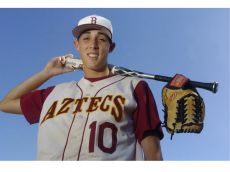 38. Toronto - Noah Syndergaard, RHP, Legacy HS, Texas
Click here for video.

41. Toronto - Asher Wojciechowski, RHP, The Citadel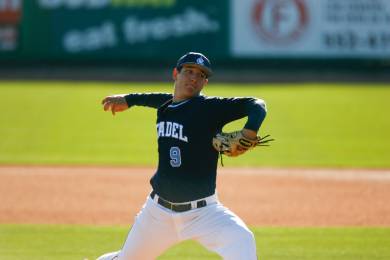 Some early reactions (thanks for various h/t):
John Sickels: "Very pitching heavy, with a nice mixture, two college arms (McGuire, Wojciechowski) who should move fast and two high schoolers (Sanchez, Syndergaard) who will need more time but have great upside. Extra letters for uniform names might be a budget hassle."
Keith Law: Syndegaard pick was crazy - I can't believe he went on day one, nice body, some arm strength, arm works well, no polish, no second pitch. They went all slot guys on the first day. Wojo was good value, but not an upside guy. McGuire was safe. Sanchez was the one day one pick I really liked, and Hawkins was a sleeper for me today, but I really expected them to swing more for the fences on Monday night.
---

https://www.battersbox.ca/article.php?story=20100607171115663