An Interview with Marcus Knecht
Friday, August 13 2010 @ 12:00 PM EDT
Contributed by: Gerry
Marcus Knecht is a Toronto native who was selected in the 2010 draft by the Blue Jays with the 113th overall pick. Knecht was assigned to Auburn in the New York-Penn league and he has been playing well there. I caught up with Knecht in Auburn this week to discuss his baseball life, so far. Also, here is some of what Baseball America said about Knecht before this years draft:
Knecht's 6-foot-3, 210-pound frame generates plenty of bat speed and raw righthanded power. He ranked among the national juco leaders in hitting (.453) and homers (21), though he struggled at times to make consistent contact against good velocity. Knecht is more than just a slugger. He ran a 6.55-second 60-yard dash during Connors State's scout day in the fall, and he earns solid 55 grades on the 20-80 scouting scale for his speed and his accurate arm. He lacks the instincts for center field and played left for the Cowboys this spring, and it's possible he could play right field as a pro.
BB: Where did you start playing minor ball in Toronto?
MK: I played in Agincourt from age 3-5 or maybe 4-6. Then I went to North York, North York Blues. I played at Bond Park for basically all my life until I reached about 16.
BB: Then did you join one of the travel teams?
MK: Yes, I joined the Ontario Blue Jays until I was 18 then went to college.
BB: Which high school did you go to?
MK: St. Mike's, the sports one, not the choir school.
BB: Did any of those teams, rep or high school, win anything when you were playing for them?
MK: We were runner-up in OFSAA's my sophomore year (note: OFSAA is the Ontario high school championships).
BB: Did you get to play in the Dome (Rogers Centre)?
MK: I pitched in the final game but we lost.
BB: Were you always an outfielder, or did you play other positions growing up?
MK: I was a pretty good pitcher growing up. I always thought I would be a pitcher but I guess my coach didn't think so. So he moved me to the outfield.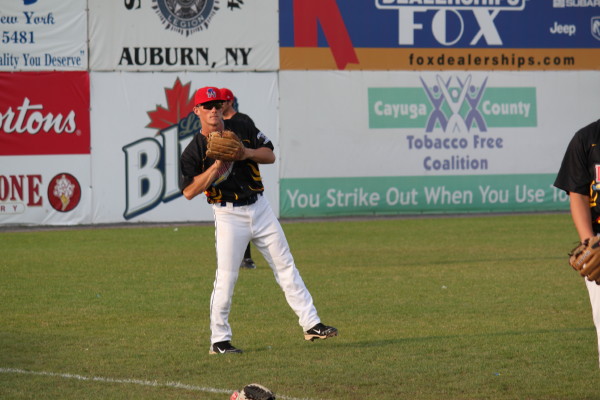 BB: So when you finished high school you went to college?
MK: I went to Oklahoma State then transferred to Connors State.
BB: That was to get at-bats, right?
MK: Right.
MK: On draft day did you know the Jays were on you, did you have any suspicions?
MK: I had a lot of teams on me but you never know who is interested the most. I knew the Jays were interested and they had a lot of picks in the early rounds.
BB: Where were you when you were picked?
MK: At home, with a couple of friends and family. You could watch live on your computer so my parents hooked it up to the TV and we watched it on TV which was cool.
BB: It must have been exciting to be picked by the Jays.
MK: Definitely.
BB: Did you go to a lot of Jays games growing up?
MK: Yes, all the time. I still try and make it to a few every summer because I am home for a at least a week every summer.
BB: Not any more.
MK: Yes, not any more. Maybe September but when I was growing up, all the time.
BB: So how has the transition been to pro, what's the big difference for you?
MK: Playing every day. The pitching is definitely better than junior college but I have adapted pretty well there. Playing every day, getting ready to come to the park way early. Coming to the park 5, 6, 7 hours before game time to get in some early work and batting practice. It's been a smooth transition for sure, I love it.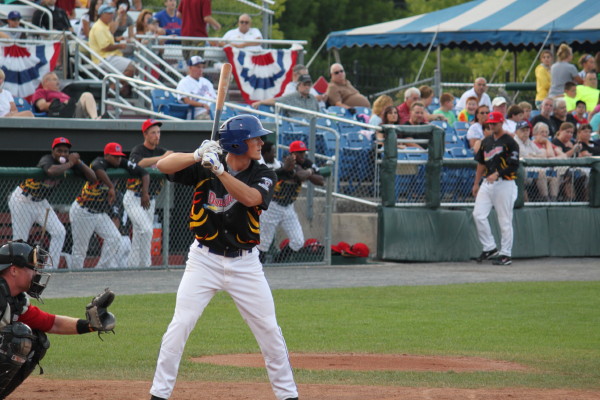 BB: You injured yourself at the end of the junior college season?
MK: Yeah I was going back on a ball in left field and I crashed into the wall and I separated my shoulder. It was pretty traumatic when it first happened, I knew it was somehwat serious but I thought it was going to be more serious than it was.
BB: Do you still feel it?
MK: No, It's completely better. The trainer, Shawn McDermott, did a great job helping me get better, so I thank him.
BB: You are playing mainly right field up here?
MK: Yeah, but I've played everywhere actually, left, right, centre.
BB: Where did you play at Connors State?
MK: Left field, every game.
BB: So how is right field, longer throws and a different spin on the ball?
MK: Yeah, the different angles took a few games to get used to but it feels natural now.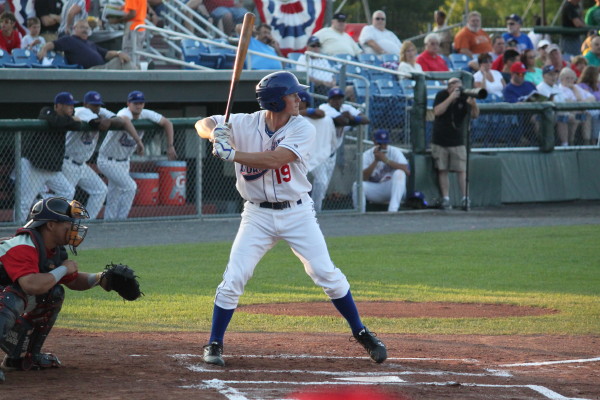 BB: What is your highlight so far of playing at the pro level?
MK: I would have to say getting my first home run and almost getting the cycle. I had a home run, a triple and a single and I had two at-bats to get a double.
-------------------------------
Batters Box thanks Marcus Knecht and wishes him much success in his professional career.
---