Advance Scout: Angels, August 13-15
Friday, August 13 2010 @ 01:45 PM EDT
Contributed by: Anders
There was a 96% chance that there wasn't going to be an Advance Scout today, until the Jays pulled it out in the 9th against the hated Red Sox. The last Advance Scout was in September of 2008; the Blue Jays had gone 11-1 in their last 12, they were 6.5 games behind the Red Sox for the Wild Card, and had a 4 game series against those same Sox before finishing the year with 6 against the O's and 3 more each against Boston and the Yankees. If they had gone 3-1 in the series (or even swept) they would have been 4.5 or 2.5 back... so of course they promptly lost 3 of 4 to end their faint hopes. When it looked like the triumphant return of the Advance Scout, 2010 edition, would result in that same fate, it seemed like a sign to hang up the keyboard for this season. But with faint hope kept alive, we continue intrepidly. On to the Advance Scout!
The Jays kick off a 6 game West Coast swing (and 9 game road trip) against the up and down Angels, who are coming off a sweep of the Royals at home. They won those 3 games by a combine 5 runs, and haven't played a good baseball team in 10 days (they beat up on the Tigers and got swept by the Buck Showalter Orioles in their two series prior.) The Angels are in a similar position as the Blue Jays regarding the playoffs, though in their case they are 7.5 back in the division, whereas the Jays are 9 back in the WC, the Angels 2 worse than that. Both teams are coming off off-days, and are rejigging their rotations a bit. The "good" Weaver, Jared, pitched on Wednesday so the Jays miss him, but Dan Haren will move up a day thanks to rotation injuries and the off-day to pitch the finale.
On Friday Scrabble makes his triumphant return to the bigs, though he has struggled in Las Vegas (really who hasn't.) He gets Scott Kazmir, former divisional foe and a shell of his fomer self at this point - all at age 26. While Kazmir was always a flamethrower and a little wild, now he is just a little wild. His K/9 IP has falled for four consecutive years, from 10.41 to 9.81 to 7.15 to 5.83 this year. Meanwhile his walk rate, previously hovering around 4 per 9 innings, is up to 4.62 this year. His average fastball velocity, almost 94 when he broke in the league, has dropped to 90.6 MPH after hovering around 92 for a number of years. He has also shifted from a slight groundball pitcher to a slight flyball pitcher. All of these are pretty lousy indicators, and the two DL stints with shoulder issues haven't helped; as you may imagine his numbers this year are pretty awful. He has allowed 71 ER in 97.1 innings, including an astonishing 17 home runs. He's getting fewer swings outside the zone, and guys are making much mor contact against him. Kazmir is still a three pitch pitcher - fastball, slider, change - and he seems to be throwing his fastball much more this year at the expense of the slider. The later two pitches were never particularly strong ones - Kaz pretty much lived off his fastball - but now they are decided negatives, and batters have been destroying the slider all year. Per 100 pitches his slider is nearly 3 runs below average, making it one of the 10 worst pitches in baseball this year. His fastball has also been getting hit hard. Jose Bautista is 2/8 lifetime with 2 doubles, Aaron Hill is 10/33, Lind is 2/12, Overbay is 4/12, and Vernon Wells is 12/36 with an OPS over 1.100.
Saturday sees Brett Cecil square off against Ervin Santana in a late game. Believe it or not, Santana's given name is, apparently, Johan. He actually changed it because of the other Johan, with the reasoning that: "I just came up with Ervin... Ervin Santana, that sounds good." Santana never really became the horse people thought he would be, but he has posted respectable numbers for most of his career and has a pretty strong K/BB ratio. Like Kazmir though he gives up a lot of home runs - 20 in 153 innings - and he is a decided flyball pitcher. Santana will work with a fastball around 92 and a slider 10 MPH slower, with the occasional change mixed in. His slider is by far his best pitch, and he throws it a ton, almost 2 out of every 5 pitches. Aaron Hill and Adam Lind both have 4 hits against him in 19 and 12 at bats respectively, with two of Lind's being the 4-base variety. Lyle is 3/19, Vernon 6/22.
The finale is going to be a good one, Ricky Romero vs. Dan Haren. Haren has been one of the better pitchers in baseball for the last five years, but this year he is getting fewer ground balls and allowing more of his fly balls to leave the yard. He has given up 26 home runs so far this year in 168 innings, albeit with many of those coming out in the dessert. He got his first win as an Angel against KC on Tuesday after being acquired for Joe Saunders, minor league pitchers Rafael Rodrigeuz and Patrick Corbin and a PTBNL (Tyler Skaggs.) Haren throws a one of the stranger arsenals at batters, a fastball, cutter, curve and splitter. He dropped his slider in favour of the cutter a few years ago, and he hasn't thrown a change in years. He'll throw pretty much any pitch in any count agaisnt any batter, and the using the fastball and the perfunctory curve to set up the slider, his out pitch. None of the pitches have been particularly valuable this year according to Pitch/Fx, however. Despite this he doesn't walk anyone, and has a K/BB above 5 for the third year running. Yunel Escobar is 2/8, Aaron Hill 5/15, Fred Lewis 9/23, Lyle Overbay 5/13, Vernon Wells 7/21 and EE 4/8 with two dingers.
The Angels aren't an offensive juggernaut, and losing their best hitter for the year didn't help. Howie Kendrick and Mike Napoli have been playing first base in Kendry's absence, and Alberto Callaspo has played and batted third in almost every game since he was acquired from KC. Torii Hunter has been shifted out of CF for rookie speedster Peter Bourjos (who has done nothing since being called up) and even when Bourjos sits Reggie Willits covers centre. Hunter is the right fielder now, and seems to be handling it reasonably well, ""It's cool, because now I'm learning something new. I was always told when you stop learning in baseball, your career is over." Hunter is also coming off a 4 game suspension for arguing with an umpire.
The Infirmary: Joel Pineiro is on the 15-day DL and Kendry Morales is out for the year; a bunch of relievers you've never heard of are also out.
Over/Under on Jays homers this weekend: 7.5
The Credit Section: Most stats and leverage indices are from Fangraphs. Minor-league stats are from Minor League Splits and Baseball Reference. AL average stats are from Baseball Reference. K% and BB% are strikeouts and walks as a percentage of plate appearances - this is different from Fangraphs, which calculates K% as a percentage of at-bats. UZR is UZR for each player's listed position - e.g., Bill Hall's is his left field UZR, not his total UZR for the many positions he plays. The actual chart is constructed by chartmaster extraordinaire Alex Obal.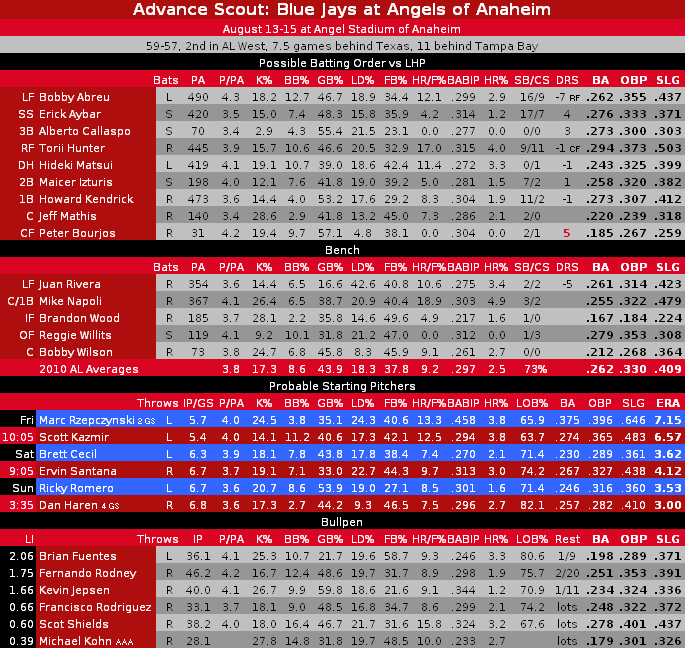 ---

https://www.battersbox.ca/article.php?story=2010081310472740