An interview with Sean Nolin
Tuesday, August 17 2010 @ 09:30 AM EDT
Contributed by: Gerry
Sean Nolin was a 6th round pick of the Blue Jays in this years draft out of San Jacinto Junior College in Texas. Here is what Baseball America said about him:
At 6-foot-4 and 250 pounds, Sean Nolin looks like a lefthanded version of Jason Jennings. Nolin's fastball will sit at 86-89 mph in some games and 88-92 in others, and he backs it up with a solid changeup and fringy curveball.
Nolin sounds like a more raw player, despite his college experience. Nolin was born on Boxing Day and he will be 21 this year and entering next season. Nolin has made three starts for Auburn with mixed results. As the story notes, and as Vince Horsman and our own sam reported a week ago, Nolin is not in full playing shape yet.
BB: You are from Seaford New York, where is that?
SN: It's on the southern part of Long Island, it's near the beach. It's a pretty nice area.
BB: Were you a Yankee or a Met fan growing up?
SN: I was aYankee fan growing up.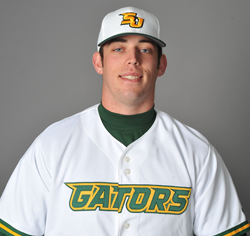 BB: So when you were drafted by the Blue Jays you knew a lot about them?
SN: Definitely, I know every team in the AL East just from following the Yankees.
BB: Did you have much expectations going into draft day?
SN: I was hoping for top ten rounds, that's what I was looking for. I had a really good junior college season, I went 13-0 and I felt I was in that area.
BB: Did the Blue Jays talk to you before the draft?
SN: Definitely, they were talking to me a little bit and things worked out.
BB: Where were you when you got the draft news?
SN: I was still in my apartment in Texas. Our move out date was a few days later, I was there with my roommates when I heard.
BB: That was in June, and you only signed a few weeks, so did you do anything in those six weeks?
SN: I took it easy for a few weeks before starting to work out a little bit. I definitely needed some time off because I threw a little over a 100 innings in college.
BB: So when the Jays brought you into Dunedin what did they tell you about this year?
SN: Just work hard, do what you can this year and we will see what happens.
BB: Did they tell you you were coming here or did they say go to the GCL and we'll see what happens?
SN: Start in the GCL. Then I guess they felt I needed to move up.
BB: I know it's early days yet but have you found much of a difference in the hitters here?
SN: Yeah they seem to be a lot better. They go for a lot of contact, they are very aggressive but I will get used to it as I get back into pitching shape.
BB: Compared to where you were when you finished the college season, how is your throwing now?
SN: I think I am still behind, just from the workload I had. It put me behind a little bit but I am working my way back, getting stronger and hopefully I can finish the season strong.
BB: And then next year, whatever happens, happens?
SN: Wherever they want me I am ready to play.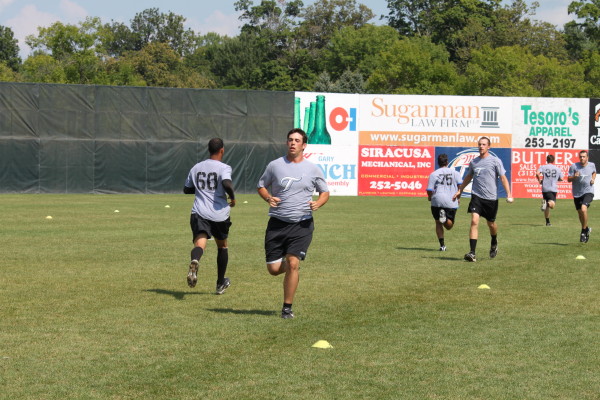 ---------------------------------------------------------------
Batters Box thanks Sean Nolin.
Image note: When I was in Auburn I never saw Sean Nolin in full uniform as he was in the stands for both games charting. This bottom image is the only picture I have of him.
---

https://www.battersbox.ca/article.php?story=20100816153048443