Advance Scout: Athletics, August 16-18
Monday, August 16 2010 @ 08:30 PM EDT
Contributed by: Alex Obal
This week, the Jays head north to deal with three good lefty starters and a punchless offense. It should be a good series - quick and to the point. Enjoy it, 'cause there are some epic ballgames on the horizon.

Lefty #1: 22-year-old sophomore Brett Anderson. The A's acquired Anderson from Arizona two years ago in the Second Dan Haren Trade. (They also got Carlos Gonzalez, Chris Carter, Greg Smith, Dana Eveland and Aaron Cunningham. OK, maybe Haren was a bit less expensive then, but that's considerably better value than the Diamondbacks managed to coax out of Anaheim.) Anderson is only 22, but he might be one of the 14 best pitchers in the American League already. He throws around 92 and puts batters away with a nasty slurve, which he throws more than 30% of the time.

Strangely, his splits are backwards. Righties hit .239/.287/.357, lefties .320(!!!)/.354/.430, off Anderson over his career. The difference is all BABIP, but this is over 938 PA. Even if teams have been protecting their weak LH batters from the slurve, I think it's safe to conclude that Anderson's been doing something wrong against lefties. Certainly hope Snider starts today.

Lefty #2 is the elder statesman of the A's staff, 27-year-old soft tosser Dallas Braden, who resides in Stockton and was given the key to the city earlier this year. Braden throws around 87 and pitches off it with a cutter, slider and sloooow changeup. It's fairly likely that the Jays will be shut out at some point this series, in this huge and empty pitchers' park at night against some tough lefties and an opposing lineup that can lull you to sleep. I think Braden's the most likely Oakland pitcher to pull it off, though the Jays have succeeded against him in the past. Aaron Hill is 4/9 off Braden with 4 walks and no strikeouts. Lind is 4/7 with a homer. Buck and Snider are both 0/3 with 2 K.

Lefty #3 is hot stove hot potato Gio Gonzalez, who, as a prospect, was traded

- From Chicago to Philly (with Aaron Rowand and Daniel Haigwood) for Jim Thome
- From Philly to Chicago (with Gavin Floyd) for Freddy Garcia
- From Chicago to Oakland (with Ryan Sweeney and Fautino de los Santos) for Nick Swisher

And now he's the #4 man in Oakland's big-league rotation. He's always been regarded as a top prospect with control issues. This year, his walk and strand rates have improved. That's helped him accumulate 1.80 WPA this year. Fastball, big hard 12-6 curve (less Zito more Lincecum), change.

Closer Andrew Bailey is on the 15-day DL with a rib injury. It's possible, but not likely, that he will return in time for this series. Slider maestro Mike Wuertz is getting the save chances in his absence. Boof Bonser kills righties, Craig Breslow kills lefties in theory though not in 2010, Brad Ziegler is a submariner, Jerry Blevins throws hard for a lefty sidewinder, Ross Wolf is a groundball machine who was deemed too good for the Orioles and traded to Oakland for Jake Fox (who I assume was deemed too powerful), and Henry Rodriguez's average fastball is 98.5 according to Fangraphs.

I'd bank on three low-scoring games this week. Oakland's offense is weak. They're 12th in runs per game. It's a long-sequence offense - the A's have just 70 homers, tied with the Mariners for fewest. Only two of their hitters have double-digit homers: Kurt Suzuki (12) and Kevin Kouzmanoff (10). They'll work the count and draw walks, but who cares? This is the kind of team that gets shut out by Brian Duensing and no-hit by Kevin Slowey in back-to-back games. You never want to look past any lineup, but Oakland, in the cavernous Coliseum, against the Jays' starting pitching, looks like an easy target. Marcum should bulldoze this team 9 times out of 10. Morrow and Rzepczynski could get into trouble if they throw too many balls, I guess. But this is the AL's least scary offense outside of Seattle.

The tradeoff is that the A's defense is fantastic. Their team BABIP against is .281, tied with the Rays for lowest in the AL. John Dewan's +/- stat loves all their regulars, except Jack Cust, who's a DH now that Eric Chavez is in Eric Chavez steady state, stuck on the DL with neck spasms. Daric Barton, in particular, is a defensive superstar.

Breaking news! The A's just made some roster moves, rendering the several paragraphs I had done about Chris Carter obsolete. Carter, a power-hitting outfield prospect with 27 PCL homers who had gone 1-20 in his first six games, was demoted along with Tigers castoff Jeff Larish. They've been replaced by walking man Conor Jackson, formerly of Arizona, and former top prospect Travis Buck, who's returning from the 60-day DL, where he'd been nursing a strained oblique.

The Credit Section: Stats from Fangraphs, Baseball Reference and Minor League Splits, as always. I switched the defensive stat to DRS this week, "Defensive Runs Saved," as listed by Fangraphs. This is basically +/- with some other stuff thrown in - a GDP bonus for middle infielders, bunt bonus for corner infielders, and so on. I don't know how it's calculated, but it seems to jive with my intuition better than UZR. I'm open to changing it to something else, though, if anyone has any suggestions...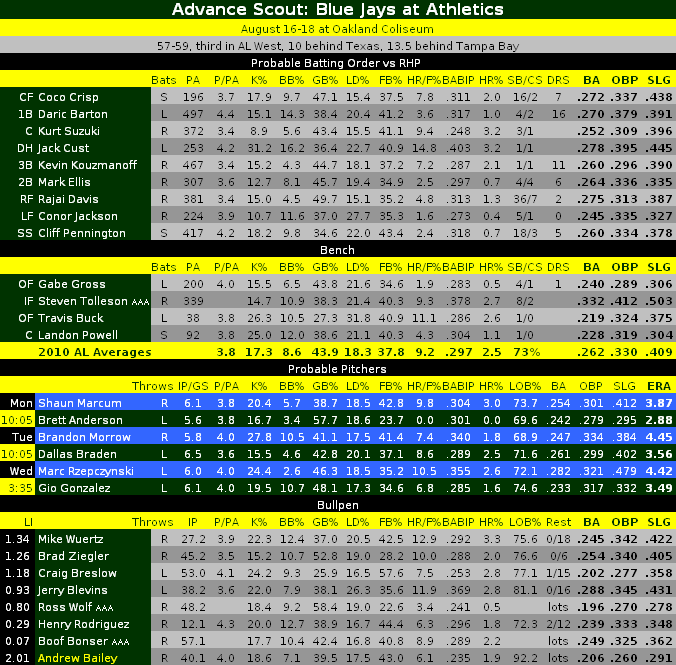 ---

https://www.battersbox.ca/article.php?story=20100816165236139