An Interview with Drew Hutchison
Monday, August 23 2010 @ 12:30 PM EDT
Contributed by: Gerry
Drew Hutchison has had a very successful 2010 campaign. Hutchison was selected by the Jays in the 15th round of the 2009 draft out of a Lakeland, Florida high school. Hutchison did have a college scholarship offer and late in the summer the Jays paid him what he wanted to turn pro, $400,000 according to Baseball America. Hutchison did not pitch for the Jays in 2009 and started 2010 with Auburn. Hutchison put up good numbers in Auburn and was named to the NYPL all-star team, but before the all-star game the Jays promoted him to Lansing.
Drew turned 20 years old on Sunday so happy birthday from Batters Box.
BB: Drew, you were promoted this week, was that a surprise to you?
DH: Actually I had no idea, I got the call one night from Dennis Holmberg and I met up with the team the next day.
BB: Then your first start here was like a dream start.
DH: Yes, I just tried to go out there and do what I do, keep the ball down, the defence played great. Kareem Turkamani and I were on the same page, everything went well.
BB: I talked with Vince Horsman in Auburn and he said he told you to do the same things you were doing there.
DH: Yes, I tried to be myself, didn't try to change much, just tried to do what I do when I take the mound.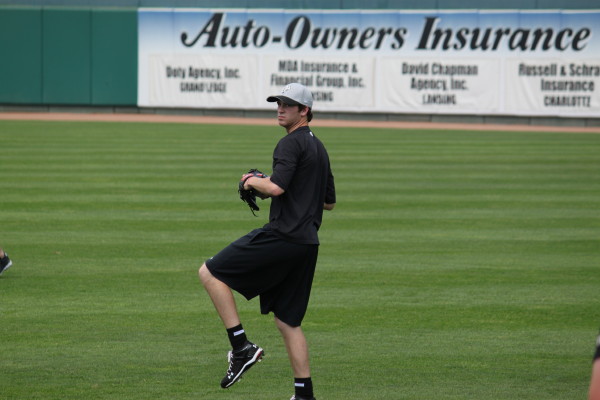 BB: So what do you think has been the key to your success this year?
DH: I am not an overpowering guy, I am a command guy, I have to hit my spots and stay within myself.
BB: Is your fastball the same speed or are you adding some speed to it as you grow?
DH: Maybe a mile or two, 90-92, but for me it's all about command not really overpowering
BB: I know you have been working on your off-speed pitches have you been learning any new pitches this year?
DH: I have improved my change-up a lot, it was an all right pitch but now I am starting to get a feel for it. It's been real good at times, sometimes it has been inconsistent. I have really worked on that and tidying up my slider a little bit.
BB: Are they trying to get you to cut the fastball?
DH: Not really, I throw both the two seam and the four seam.
BB: When I think back to when you were drafted I believe you were drafted below where you would have been because you had another option, is that right?
DH: Yes, I had signed to go to Stetson, In Florida, as a two-way player, to be both a shortstop and a pitcher.
BB: Did it take much convincing for you to change your mind?
DH: I knew what it would take to give it up, and it happened, so I was very happy to have the opportunity to play professional baseball.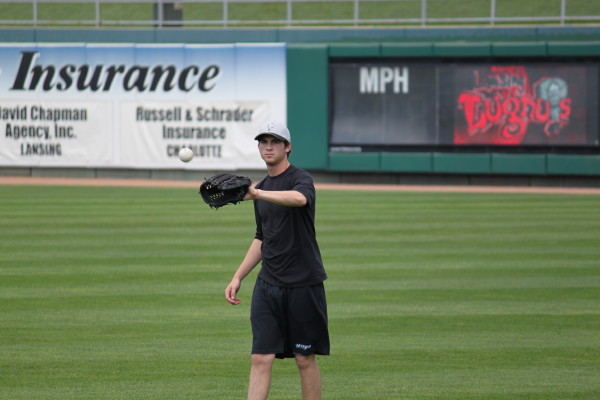 BB: So when you go to Auburn and you are pitching in front of a few thousand people instead of five, what is that like?
DH: It's exciting, you love to throw in front of big crowds. Once you step on the mound you get tunnel vision but it's good to play in front of a big crowd.
BB: What is it like throwing to Carlos Perez in Auburn?
DH: Oh he is a very good catcher, very good, he is a really good hitter too, he is going to be a really good player.
BB: Did the Jays say anything to you about an innings limitation for this year?
DH: I am not allowed to go over 75 pitches or five innings.
BB: Is that the same as Auburn?
DH: I had a 70 pitch count but I went into the sixth inning a few times.
--------------------------------------------
Batters Box thanks Drew Hutchison and Go Nuts!
---

https://www.battersbox.ca/article.php?story=20100818143537569