Smokin' Jay Frasor Signs & Henke's A Hall Of Famer!
Saturday, January 29 2011 @ 05:22 PM EST
Contributed by: #2JBrumfield
The Blue Jays and reliever Jason Frasor have avoided arbitration by agreeing to a one year deal worth $3.5 million with a club option for $3.75 million.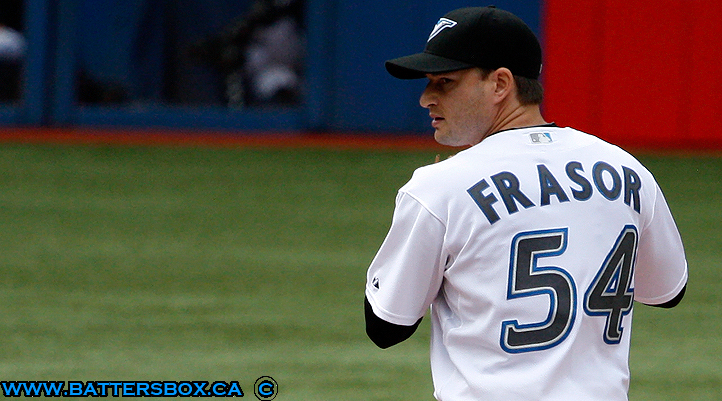 Jason Frasor pitches a scoreless inning against Tampa Bay during the Jays 17-11 win at the Dome August 7. He compiled a 3-4 record with a 3.68 earned run average and four saves in 2010. Frasor also struck out 65 batters and had a WHIP of 1.382 in 63 2/3 innings.

The 34 year-old Chicago native began last season as the team's closer but wound up losing the job to Kevin Gregg early in the season. The 5-10, 175 pound righty had a rough April by blowing the save and taking the loss in the season opener in Texas enroute to an 8.38 ERA for the month. Frasor righted himself in May with a 2-0 record and an 0.82 ERA before struggling to a 6.75 ERA in June. However, he finished up strong with an ERA below three for the final three months of the season while earning 14 holds and posting an opponents batting average of .247. His 411 career appearances leave him fourth on the Jays all-time list, trailing Duane Ward (452), Tom Henke (446) and Dave Stieb (439).
---

Tom Henke shown on JaysVision during World Series Reunion Night at the Dome August 7, 2009.
---
"You can bring him in now, but he's even better later!"

Speaking of Tom Henke, a much overdue congratulations to "The Terminator" for being elected to the Canadian Hall of Fame recently. It was 26 years ago this week when the Kansas City native was claimed by the Jays from the Texas Rangers as a free agent compensation pick. Even though Joey McLaughlin, Roy Lee Jackson, Dennis Lamp and Bill Caudill tried, Henke was the Jays real first honest to goodness bonafide bullpen ace as he racked up 222 career saves (including five in the postseason) from 1985 to 1992. He was so good that he inspired this musical classic. The 6-foot-5, 215 pound righty split 58 regular season decisions with Toronto but was the winning pitcher in Games 2 and 4 of the 1985 American League Championship Series against the Royals. He struck out 644 batters in 563 innings as a Jay to go along with a sterling WHIP of 1.025. Henke earned his first All-Star selection in 1987 and led the American League with 34 saves and 62 games finished.

Henke rejoined the Texas Rangers for the 1993 and 1994 seasons and saved a career high 40 games in '93. He ended his career with the St. Louis Cardinals in 1995 where he made another All-Star appearance and posted a career low 1.82 ERA, 10 points lower than the 1.92 ERA he had with the Jays in 1989. Who can forget his fist pump after he nailed down the division clincher against Baltimore in the first season at the Dome? Henke capped off his career with the 1995 NL Rolaids Relief award after nailing down 36 saves.

Henke, Baseball America founder Allan Simpson (a publication that has helped me cope with many a cold winter!) and 1880's and 1890's star George "Dandy" Wood will be inducted at the Canadian HOF in St. Marys, Ontario June 18.
---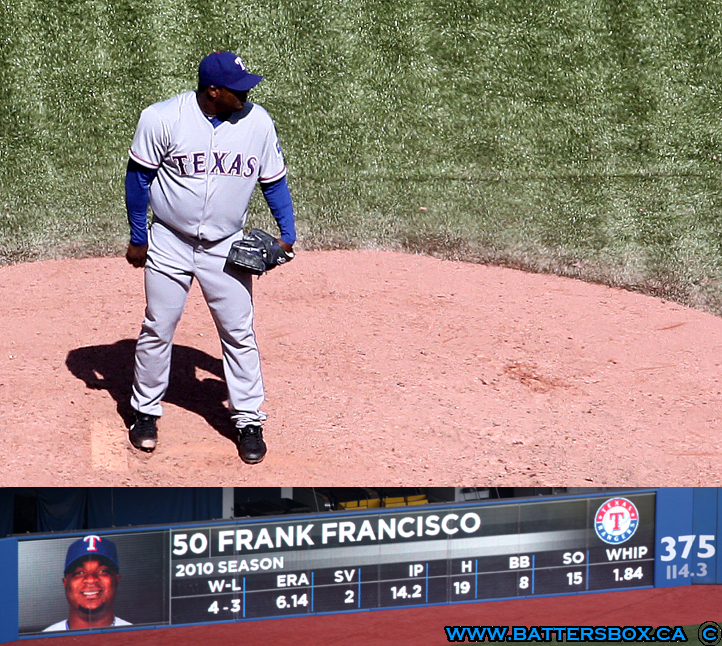 Newly acquired Frank Francisco pitches a scoreless eighth inning against the Jays at the Dome May 16, 2010. Toronto beat Texas 5-2.
---
With lefty Rommie Lewis being designated for assignment after the Vernon Wells deal, it's expected Frank Francisco will wear #50 with the Jays in 2011. The last time the Jays got a reliever from Texas and went on to wear #50, it worked out okay, didn't it? The 30 year-old from Santo Domingo in the Dominican Republic was traded to the Jays for catcher/first baseman Mike Napoli. Francisco entered 2010 as the Rangers closer but that didn't last long thanks to his current team. The 6-foot-2, 250 pound righty got the save on Opening Day against the Jays but blew the save in the series finale as Toronto took two out of three. After blowing two straight save opportunities, he was replaced by AL Rookie of the Year Neftali Feliz as the Texas stopper but Francisco finished with a 6-4 record, a 3.76 ERA, two saves and 15 holds.

Francisco was signed as a free agent by the Boston Red Sox but changed Sox when he was dealt to Chicago in 2002 for reliever Bobby Howry He was then flipped to Texas in 2003 for outfielder Carl Everett. He made his major league debut in May of 2004 when he was called up from...wait for it...Frisco of the Double-A Texas League (you can't make this stuff up! ). Despite winning five of six decisions with an ERA of 3.33 in 45 appearances, his season came to an end after the infamous chair throwing incident in Oakland in which a woman was hit in the face. He was suspended for the rest of the 2004 season and to add injury to insult, he underwent Tommy John surgery on his right elbow causing him to miss 2005. However, Francisco returned to the Texas bullpen and found his form in 2008 and especially 2009 when he earned 25 saves.

According to fangraphs.com, Francisco throws a fastball averaging 93 miles per hour with an 85 MPH splitter and a 79 MPH curveball. He had thrown the occasional slider and changeup around 84 MPH but apparently scrapped those in 2010. Called "2Frank" by Texas fans, Francisco will battle fellow righties Jon Rauch and Octavio Dotel to be the the Jays closer in 2011.

---

https://www.battersbox.ca/article.php?story=20110129143912397