Great Scott! Podsednik Signs Minor League Deal With Toronto!
Wednesday, February 16 2011 @ 06:22 PM EST
Contributed by: #2JBrumfield
Faster than a Delorean, the Toronto Blue Jays have come to terms with speedy outfielder Scott Podsednik on a minor league deal with an invite to spring training. Podsednik, who split last season with the Kansas City Royals and the Los Angeles Dodgers, could have been a Dodger again in 2011 but turned down a team option earlier in the off-season.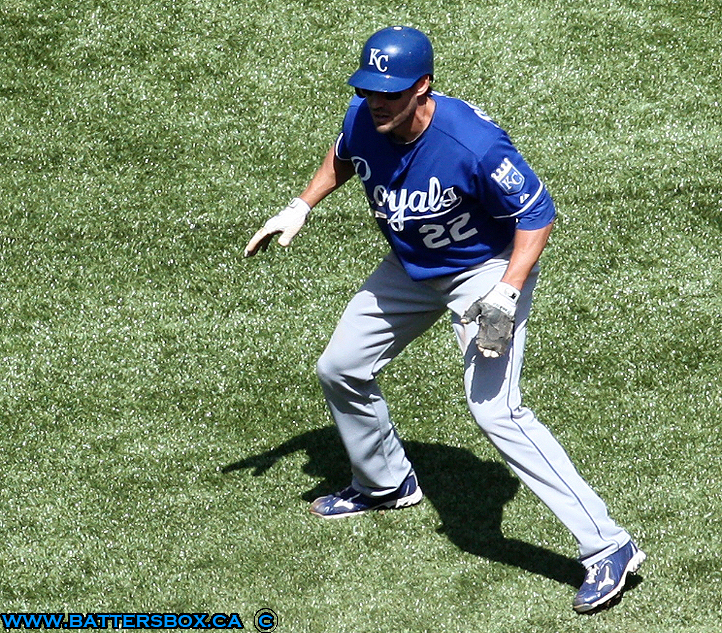 Scott Podsednik leads off from first during a game in Toronto April 21.
UPDATE February 17 @ 9:00 am: Bio information added.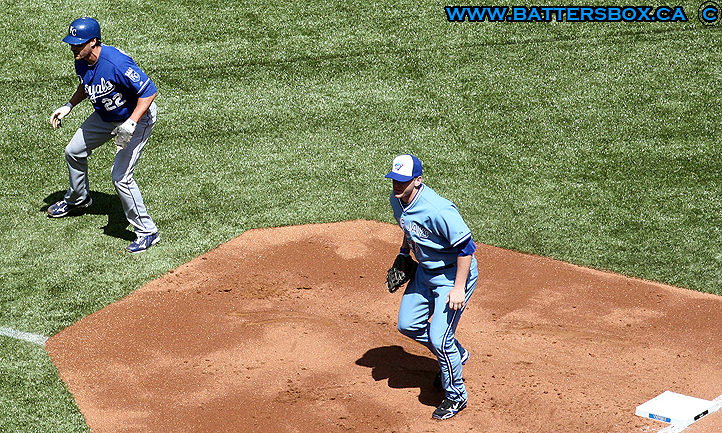 Podsednik tries to increase his lead off first base while his former Milwaukee Brewers teammate Lyle Overbay stays close to the bag.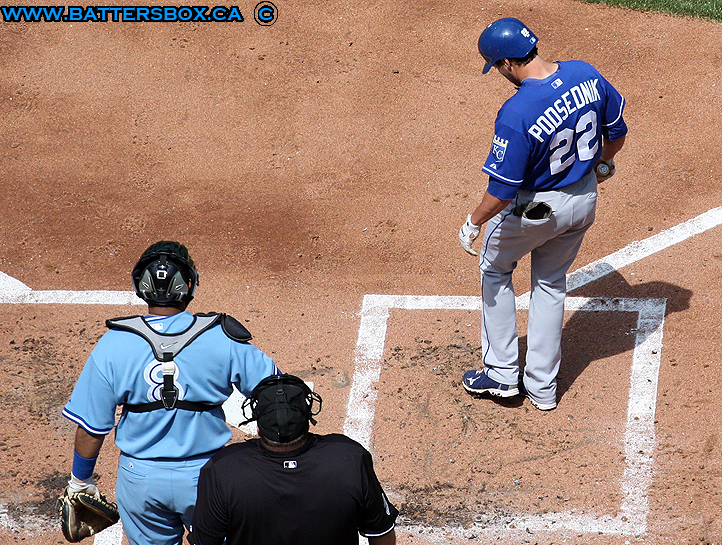 Podsednik settles in at the plate. He had a hit, a walk and a run scored as the Royals beat the Blue Jays 4-3 in extra innings.
---
The "Podfather" looks to extend his big league career to an eleventh season in Baseball North. The 34 year-old outfielder was drafted by the Texas Rangers out of high school in his hometown of West, Texas in the third round of the 1994 amateur draft. His stay in the Lone Star State was interrupted when he was sent to Florida for pitcher Bobby Witt after the 1995 season. Podsednik would return to Texas after he was selected in the Rule 5 draft in 1997. He never did get a cup of coffee with the Rangers so he left for Seattle after the 2000 campaign.

The left-handed hitting Podsednik got his first taste of the majors with the Mariners during their 116 win campaign in 2001. He pinch-hit for former Blue Jay Ed Sprague and delivered a bases clearing triple for his first major league knock in his first at-bat against Arizona July 15. That would be his only hit in six at-bats. Podsednik saw a bit more playing time with the M's in 2002 and hit his first home run against Anaheim's Troy Percival September 28. Half of his four hits and 40 percent of his RBI total came in that contest as he hit .200/.320/.350 in 25 plate appearances. Podsednik would be picked up on waivers by the Milwaukee Brewers after the 2002 campaign.

Podsednik's career picked up steam with the Brew Crew in 2003 as he finished second in National League Rookie of the Year voting to Florida lefty Dontrelle Willis. He batted .314/.379/.443 along with 29 doubles, eight triples, nine homers, 58 RBI and 43 stolen bases. In 2004, Podsednik struggled with the bat to the tune of a .244/.313/.364 performance but he did belt a career high 12 homers. He made his biggest impact on the basepaths by stealing a league leading 70 bases and was caught just 13 times.

The Chicago White Sox figured Podsednik could run like the wind so he went to the Windy City with reliever Luis Vizcaino for slugger Carlos Lee. He rebounded with the bat with a .290/.351/.349 line and stole 59 bases to earn an All Star berth on the American League squad and he finished 12th in voting for the AL's Most Valuable Player award. After not hitting a home run in the regular season, Podsednik hit one in Game 1 of the ALDS as the White Sox swept the Red Sox in three straight. His biggest post-season home run came in Game 2 of the World Series when he hit a walk-off home run off Brad Lidge to help the South Siders beat Houston 7-6. Podsednik had at least one hit in all four games of the World Series as the Pale Hose swept the Astros to win their first title since 1917. He also had six stolen bases in the playoffs and batted. 286 overall.

In 2006 and 2007, Podsednik's batting average dipped to .261 and .243 respectively with 40 of his 52 total steals coming in 2006. A groin injury and a muscle strain contributed to his struggles in 2007, causing him to miss over two months. Podsednik left the Windy City for Colorado in 2008 but hit just .253 with 12 stolen bases in 93 games. He suffered a broken pinky finger that season which sidelined him for nearly a month.

Podsednik came back to the White Sox in 2009 and hit .304 with 30 stolen bases. However, Podsednik packed his bags again by signing with Kansas City in 2010 and hit .310 with 30 stolen bases before he was traded to the Los Angeles Dodgers July 28 for catcher Lucas May and reliever Elisaul Pimentel. He did not have the same impact in Dodger blue as he batted .262 with five steals.

Podsednik is a career. 279 hitter and has stolen 301 bases. Turning 35 on March 18, he'll team up with fellow outfielder and new acquisition Rajai Davis to burn up the basepaths in 2011.
---

https://www.battersbox.ca/article.php?story=20110216172859869