Morrow Elbow Woe = DL
Wednesday, March 23 2011 @ 07:12 PM EDT
Contributed by: #2JBrumfield
Brandon Morrow will not make his scheduled April 2 start against the Minnesota Twins at the Dome. The Globe & Mail says the 26 year-old Morrow is going on the 15-day disabled list with a right forearm strain. BlueJays.com describes the injury as inflammation in the flexor muscle of his right elbow. Thanks to Bauxite China fan for the heads up!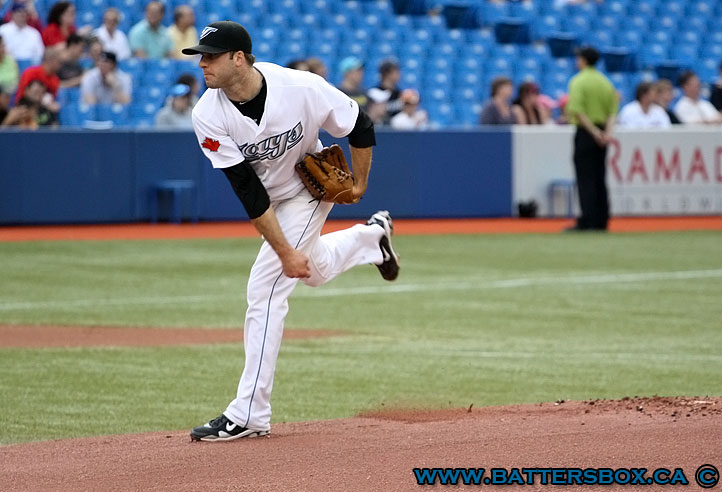 Brandon Morrow in action against the St. Louis Cardinals at the Dome June 24.

Jays general manager Alex Anthopoulos says the team just wants to play it safe and hopes Morrow will only miss his April 2 start.

"We're talking about him missing a start. He really is adamant he is ready to go and we said: 'That's fine, we understand it.' But we decided to take the more cautious approach. We didn't plan on having him throw 220 innings this year anyway. So, we took the decision out of his hands."
However, Morrow felt a stay on the disabled list was not necessary.

"It sucks. I didn't think it had to be a DL stint. It feels fine right now, but that's not what they're going off of ... they're going off of the MRI."

Morrow's injury means Kyle Drabek will get the April 2 start against the Twins after Ricky Romero's Opening Day start April 1. Despite getting roughed up by the Phillies in Dunedin on Tuesday, Romero says he feels good after missing time with a finger strain.

"My arm felt great -- probably the best I've felt all spring, even going back to that Pittsburgh game where I threw four shutout innings. If anything, fastball command was a little off, but I threw some good curveballs, some good changeups and some cutters that were in on the hands."
---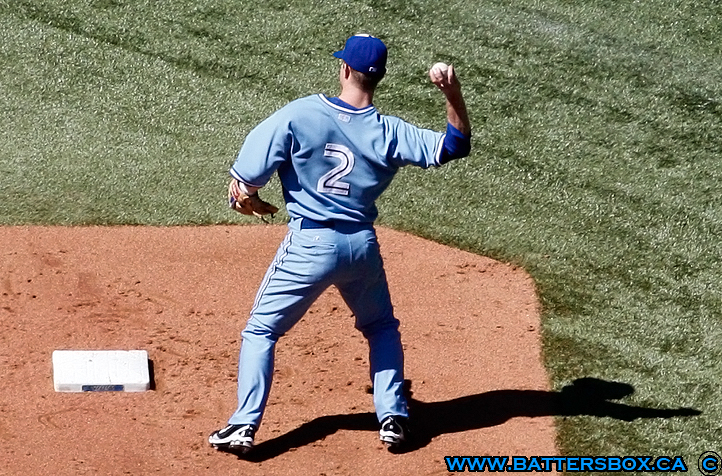 Aaron Hill at the second base bag during an August 29 game against Detroit at the Dome.

The Globe & Mail also caught up with second baseman Aaron Hill to assess his readiness for the 2011 season as he tries to recover from a right quadriceps strain. He made his official Spring Training debut in Tuesday's 5-4 loss to the Phillies.
"I can play. It's just going to be their decision. If they want to go forward with me being 80, 90 or whatever per cent, I'm ready."

The National Post features additional comments from Hill which casts doubt on how effective he will be to start the season.

"It's never been my mentality to just say, 'Hey, OK, I'll take some time off.' I want to play. I want to play through it. I still have that mentality, but I guess I'm learning it is better for the long run, probably, to not be stupid, I guess."
---
In other news...

"He'll start with a throwing program on Sunday. It looks like right now he will not be ready to go at the start of the season. We'll have a better read on that once he gets back into the throwing program."


Farrell says the news is better for fellow closer candidate Octavio Dotel.


"It was an encouraging outing just from an arm-strength standpoint and not favoring anything in the hamstring from his delivery."

---
Finally...

If you are an ESPN Insider, you can check out a feature on how the Jays would win the NL Central.
It appears former Jays farmhand Brad Emaus' chances of making the New York Mets roster are looking good according to ESPN New York. Emaus was taken by the Mets from the Jays in the recent Rule 5 draft.
---

https://www.battersbox.ca/article.php?story=20110323174258230