Jays vs Twins - April 1-3
Friday, April 01 2011 @ 06:52 PM EDT
Contributed by: #2JBrumfield
The Minnesota Twins are the first club to visit the Dome in 2011. According to the Jays press notes, this is the fourth time these clubs have met on Opening Day. The Jays hold a 2-1 edge and the home team has won each time. The Jays also opened their home schedule in 2002 against Minnesota and emerged victorious. Toronto has won 28 out of 40 against Minnesota since 2006.
Jose Molina finishes crossing the plate after hitting his first home run as a Blue Jay against the Twins July 8.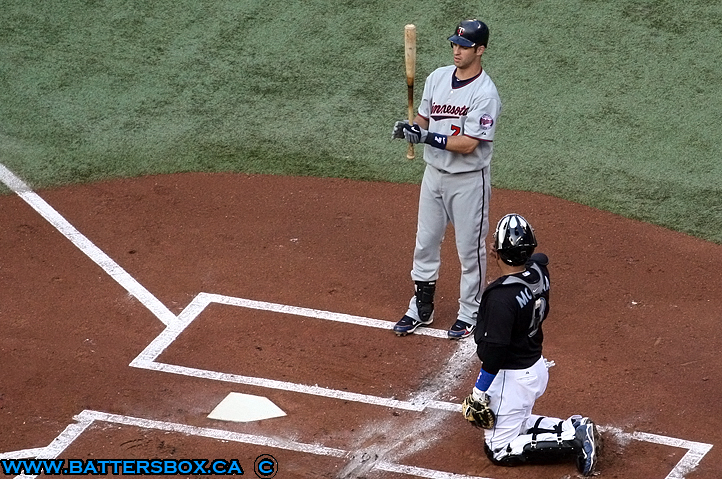 Joe Mauer hit .327 with 9 homers and 75 RBI in 2010.

Twin Tales

Projected Starters
Carl Pavano gets his second career Opening Day assignment against Ricky Romero (2-0, 2.78 ERA vs. Twins) tonight and he hopes this one goes better than his 2007 performance. The one-time Expo signed a two year, $16 million dollar deal to stay in Minnesota. As a Twin, his career ERA is 3.97. According to FanGraphs.com, Pavano's stuff includes a fastball around 90 MPH, a slider around 83 MPH and a changeup around 81MPH.
Lefty Francisco Liriano, who faces Kyle Drabek Saturday, had a 4.82 ERA this spring but finished up with a quality start by allowing three runs on four hits and striking out four over six innings against Pittsburgh. Liriano's repertoire includes a 93 MPH fastball as well as sliders and changeups averaging 86 on the gun. Edwin Encarnacion is 2-for-2 lifetime against Liriano, Rajai Davis is 5-for-14 (.357) and Jose Bautista is 3-for-8.
Sunday's starter is Nick Blackburn and he will take on lefty Brett Cecil (2-0, 2.08 vs. Twins). Blackburn, who believes the Twins have a playoff-calibre rotation, is a four pitch pitcher with a fastball around 90, a cutter around 88, a curve around 79 and a change around 83. Against Blackburn, Juan Rivera is 5-for-13 (.385) and Davis is 4-for-11 (.364).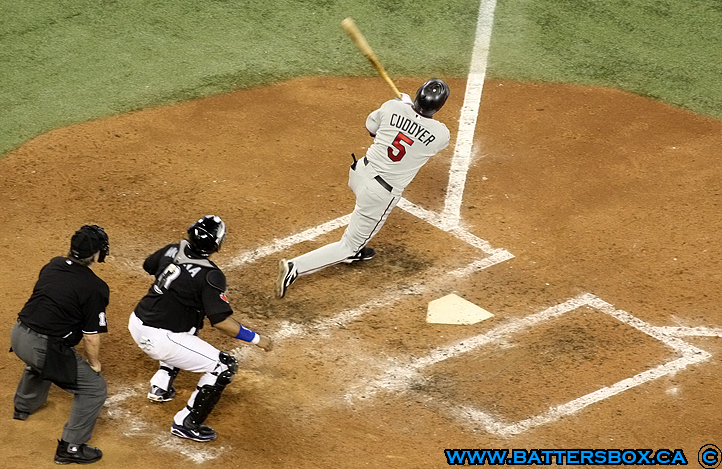 Michael Cuddyer batted .271 with 14 homers and 81 RBI last season.

Twins 25 Man Roster

Catchers Joe Mauer and Drew Butera (son of former Jay Sal)
Infielders Justin Morneau, Tsuyoshi Nishioka, Danny Valencia, Alexi Casilla and Matt Tolbert

Outfielders Delmon Young, Denard Span, Michael Cuddyer and Jason Repko

Designated Hitters Jason Kubel and Jim Thome

Starters Carl Pavano, Francisco Liriano, Nick Blackburn, Scott Baker and Brian Duensing

Relievers Jeff Manship, Kevin Slowey, Glen Perkins, Dusty Hughes, Jose Mijares, Matt Capps and Joe Nathan.
---

https://www.battersbox.ca/article.php?story=20110401133030876