1 June 2011: Poker Face
Wednesday, June 01 2011 @ 03:59 PM EDT
Contributed by: Alex Obal
Today's thread is a Giant Data Table.

These are career full-count splits for current AL pitchers, plus Roy Halladay and Shaun Marcum because I'm arbitrary like that. They're ranked by OBP.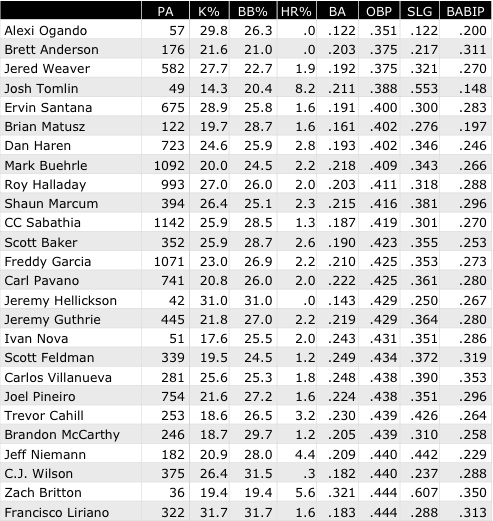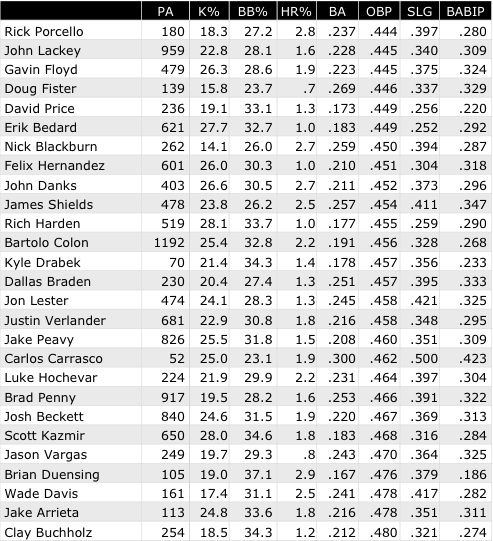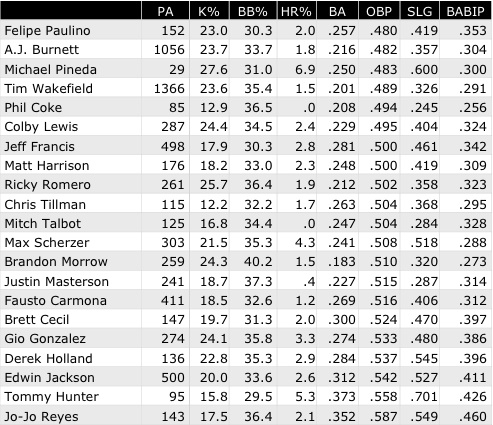 Caveats:
1. The samples are small.
2. Different pitchers might tend to run deep counts against different kinds of hitters.
3. Some of the pitchers have been in very different environments - Peavy pitched several years in San Diego, Francis pitched several years in Denver.
4. These are career stats, which are not really a good measure of how good players are at this very moment.

With that out of the way... Some of the numbers are unsurprising - Carmona and Masterson would rather walk you than give in to you, and why not? And it's not a shock, to me at least, to see Buehrle and Sabathia and Weaver near the top of the leaderboard. Because most of the samples are so small, you can't read too much into this about any individual player, but I found the stats revealed a decent amount about what you can expect in a full count, and how (in case this wasn't intuitively obvious already) this situation clearly favors the hitters.

Tonight's contest should be good. I've had the pitching matchup circled on my calendar for weeks. We're in for a serious clash of styles, as Kyle Drabek continues his baptism by fire against Cleveland's soft-tossing righthander Josh Tomlin, who doesn't have anywhere near the raw stuff Drabek possesses but nevertheless arrived as a big league pitcher right out of the box, no assembly required. Drabek's 42 walks lead baseball; Tomlin's 10 are the fewest among qualifiers for the ERA title. After the game, as MatO and Dave pointed out in the other thread, the Baseball Project is playing the Horseshoe tonight. They write topical tunes which should hook any baseball fan who's not completely averse to their jangly retro-indie vibe. Highly recommended!

Jays -115 at 7:07.

---

https://www.battersbox.ca/article.php?story=20110601152845910