Meaty, BEEDE, Big & Bouncy!
Monday, June 06 2011 @ 09:05 PM EDT
Contributed by: #2JBrumfield
Who did the Toronto Blue Jays use the 21st pick of the 2011 MLB Draft on? Tyler Beede, a 6-foot-4 righthanded pitcher from Lawrence Academy High School in Massachusetts. Committed to Vanderbilt, the word is the Jays will have to pay big time for Beede to join the nest and not join the Commodores. It won't be easy but the Jays may have a good one here according to ESPNBoston.com.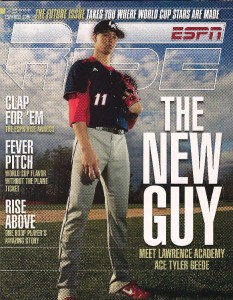 Tyler Beede, the Blue Jays first pick of the 2011 MLB Draft.

Update 1: Jays select OF Jacob Anderson, Chino HS, California with the 35th selection.
Update 2: Jays select RHP Joe Musgrove, Grossmont HS, California with the 46th selection.
Update 3: Jays select OF Dwight Smith Jr., McIntosh HS, Georgia with the 53rd selection.
Update 4: Jays select RHP Kevin Comer, Seneca HS, New Jersey with the 57th selection.
More details below...


Round 1 - 21st overall - Tyler Beede, 6-4 200 lb. RHP, Lawrence Academy HS, MA. Born May 23, 1993. Commitment - Vanderbilt.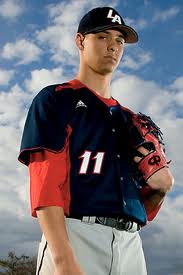 Here is the scouting report on Beede from MLB.com.

There might not be a high school pitcher with better mechanics than this Massachusetts product. The right-hander has a clean and effortless delivery, and the ball comes out of his hand really well. Beede throws his fastball 89-93 mph, sitting comfortably at 91-92 mph, with good late life. He's got a nasty hard breaking ball, which is kind of between a curve and a slider, with the shorter break of a slider, but with the depth that looks more like a curve. He's also got good feel for a changeup, and he's got above-average command of all three pitches. He pitches now like an advanced college arm, something it might be difficult to sign him away from doing at Vanderbilt next year.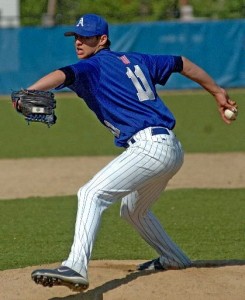 Baseball America had this to say about Beede.

Beede won a state championship as a sophomore at Auburn (Mass.) High, and then transferred to Lawrence, one of the top prep schools in the state. Since then, he has been all over the showcase circuit and developed into New England's best prep prospect. At 6-foot-4 and 200 pounds, Beede has an ideal pitcher's frame. Throwing from a high three-quarters arm slot, he pitches at 88-93 mph and touches 95. He has good arm speed on his changeup, and he has a firm curveball that's average but has good shape. Beede is also developing a slider, though he hasn't used it in game action. There were concerns about his mechanics and arm action in the past, but he has smoothed them out this year, repeating his delivery well and getting good extension out front. His father, Walter, was a 13th-round pick of the Cubs out of a Massachusetts high school in 1981 and had a short stint in the minor leagues, when he played with Brewers scouting director Bruce Seid. Beede has advanced command, feel and offspeed stuff, and scouts are impressed with his approach to the game. He has committed to Vanderbilt and could be a tough sign.

BA's John Manuel weighs in on Beede.

Beede, who was No. 14 on our list of righthanded pitchers but who continued to move up draft boards as the draft approached. A Vanderbilt signee, Beede was considered a tough sign, and last year's top prep out of Massachusetts, lefthander Kevin Ziomek, wound up pitching for the Commodores. But Beede was too good for the Jays to pass up. He has a pitcher's body at 6-foot-4, 200 pounds, has touched 95 mph with his fastball and flashes three other good pitches with his slider, curveball and changeup, with the slider the least-developed of those picks.
The National Post speaks with Jays scouting director Andrew Tinnish about the selection of Beede.

I know what this kidís dreams and goals are, and thatís to pitch in the big leagues. And I feel like this is the best route for him, to sign with us and get his pro career started. I believe that he feels the same way, but we need go work through those details over the coming days and weeks.

NESN has video of a no-hitter by Beede last month.

---
Round 1 (Supplemental) - 35th overall - Jacob Anderson, 6-foot-4 190 lb. OF, Chino HS, California. Born November 22, 1992. Commitment - Pepperdine.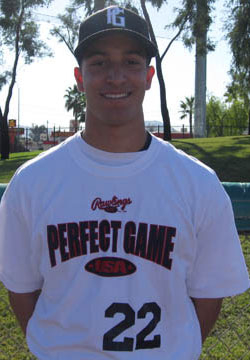 Here is video of Anderson courtesy of Baseball Factory.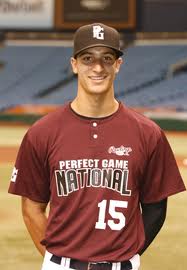 Perfect Game USA issued this scouting report on Anderson, who has a commitment to Pepperdine (Eric Thames' alma mater).

Jacob Anderson is a 2011 1B/OF with a 6-4 185 lb. frame from Chino, CA who attends Chino HS. Tall lean athletic build, projects strength. Good speed for size, 6.73 60, showed range in the outfield, very smooth and athletic at first base, soft hands, quick feet. Right handed hitter, simple effective load, stays tall and maintains leverage, line drive plane with gap power, good bat speed, more to come with added strength, ball carries well off the barrel, can improve his hand usage at contact. Quality all around player and athlete, should keep improving. Good student.



Baseball America tweets "Jacob Anderson, of, CA HS Ė A physical specimen with solid-average to plus raw power potential in his slightly uphill swing."

---
Round 1 (Supplemental) - 46th overall - Joe Musgrove 6-foot-5, 230 lb. RHP - Grossmont HS, California. Born December 4, 1992.
Commitment - San Diego State.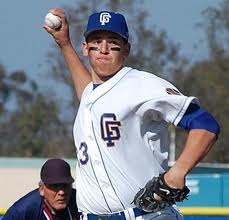 Baseball America tweets "Joe Musgrove, rhp, CA HS Ė Former football player is a tenacious competitor; his stock took a huge jump this spring."

Further BA analysis...

Musgrove has a physical, 6-foot-5, 225-pound frame and an easy delivery. For most of this spring his fastball has sat comfortably in the 90-92 mph range with heavy sink. He also throws a hammer curveball.




Of note, Grossmont HS alumni includes Jays utilityman Mike McCoy.

---
Round 1 (Supplemental) - 53rd overall - Dwight Smith Jr. 5-foot-11, 180 lb OF, McIntosh HS, Georgia. Bats - Left. Born October 26, 1992. Commitment - Georgia Tech.



BA Tweets "Dwight Smith, of, GA HS Ė Son of ex-big leaguer has similar tools to his dad, starting with a pure swing, hitting ability."

MLB.com breaks down Smith this way...

The son of the former Cubs outfielder of the same name, Smith clearly benefited from having a big league dad watching him hit. He has a professional approach at the plate and should hit for plenty of average at the next level. How high a team might consider the Georgia high school product might depend on how much power he'll have in the future. He'll have some, but it's not clear just how much. A minor leg issue hampered him this spring, but his speed is not one of his better tools. He plays center now, but the lack of that run tool could mean he'll have to slide over to a corner spot. His arm would be playable in right field but might be better suited for left long-term.

Dwight Smith Senior on Dwight Smith Junior from the Atlanta Journal-Constitution...

He has a beautiful swing and is going to have more power than me. I think with the speed, heís eventually going to be faster than me. He is very sound fundamentally with his offense and defense. More than that, he carries himself in a good manner. Iím more proud of that than his baseball accomplishments.

Baseball Factory has video of Smith.

---
Round 1 (Supplemental) -57th overall - 6-foot-3, 205 lb, Kevin Comer RHP., Seneca HS, New Jersey. Born August 1, 1992. Commitment - Vanderbilt.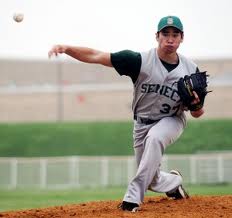 BA Tweet "Kevin Comer, rhp, NJ HS Ė At 6-foot-4, 210 pounds, Comer passes the eye test and has a low-90s fastball."

ESPN has a feature on Comer.

Comer has been clocked in the mid 90s with his fastball. But thatís just the beginning. Comerís deceptive windup hides the ball from hitters so they arenít able to see it as early as they are against most pitchers. So hitting his already difficult to catch up with fastball becomes a near impossibility. On top of that, Comer has a nice spike curveball and is developing a changeup that will keep batters further off balance.

---

https://www.battersbox.ca/article.php?story=20110606204033458