An Interview with Pete Walker - June 2011
Tuesday, June 28 2011 @ 04:49 AM EDT
Contributed by: Gerry
Pete Walker is the pitching coach for the New Hampshire Fisher Cats.  Walker pitched for the Blue Jays from 2002 through 2006, primarily in relief.  The Jays had claimed Walker on waivers from the New York Mets.  A couple of years ago one of Walker's daughter's had a a form of bone cancer in her leg at a young age.  Walker told me that the doctors initially recommended amputation but they eventually found a doctor who removed part of the leg bone and inserted an artifical bone that can extend as the child grows.  Eventually, when she is fully grown, the girl will need another operation to remove this artificial bone and replace it with a permanent one.  Walker hopes to raise awareness of this soon through a website. 
BB: You had the pleasure this week of telling Zack Stewart he was going to the big leagues.  Other than telling him not to change anything, what did you tell him?
PW: It's one of those things, you are called up to the big leagues, it's an overwhelming feeling, I could see it in his eyes when we told him.  You have to find a way to enjoy it and I think he did.  Obviously he threw really well so that makes it more special.  Your first outing up there it's very difficult to control the nerves, anyone who is there for the first time understands that.  It's difficult but he did a great job composing himself, he looked like a veteran out there on the mound.  But I did tell him the first time he gets up there, just before he steps on the rubber to take it all in for a second, understand where you are and enjoy it.  But once you get on the rubber it's the same old game.  That was really the only advice I had for him.  I remember my first time and I was like a deer in the headlights and I wanted him to avoid that.
BB: I know as a pitching coach you don't necessarily grade pitchers on results, you grade them based on how they throw.  So how did he throw yesterday?
PW: I think he threw very well, I think he can throw better.  I am sure anyone who watched him feels the same way.  He got away with a few pitches here and there but that's what you need in your first outing.  But I do think he made a lot of very good pitches, heattacked the strike zone, he was down in the strike zone and I thought he pitches in pretty well as well.  Overall, the results were good but I think he can get better.
BB: I know you have only seen him pitch a couple of times but what have you seen in Chad Jenkins?
PW: For Chad he has good experience and composure, he just needs to learn to command his stuff.  Chad keeps the ball down well but he needs to learn to expand the strike zone when he is ahead in the count.  If he can do that he can get more strikeouts and get guys to swing at more bad balls.  Sometimes he is around the plate a little too much and makes mistakes on the plate.  As you move up to the higher levels you don't get away with those pitches that are around the plate with two strikes anymore.  So I think he needs to expand the strike zone and change speeds more, especially early in the count.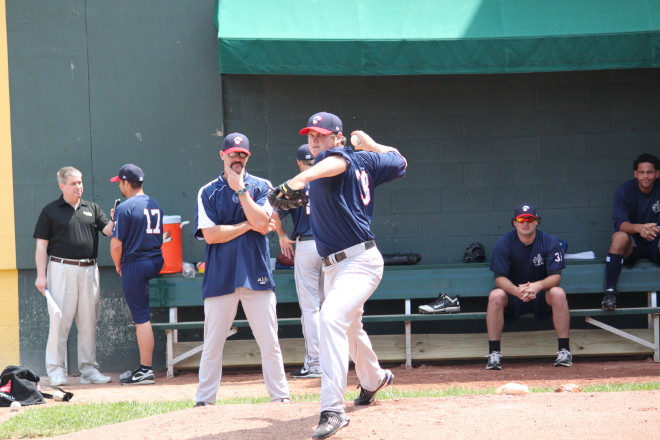 BB: Does his sinker move as much as Zack Stewart's?
PW: It's a different sink.  They have slightly different arm slots so the ball comes out of their hand differently.  Very different deliveries so aside from saying they are both sinker, slider guys there are not a lot of similarlties in the deliveries.  Thye have the same approach, Zack will be effective if he can use his curveball and change-up intermittently to keep the hitters off the slider and sinker and I think Chad is the same.  He is establishing a bit of a curveball now, that will help and his change-up is much improved.
BB: Henderson Alvarez is another guy you have seen in just a few starts.  He comes with a big reputation and has good stuff.  How does he go through a game and not strike anybody out?
PW: I think that's very unusual, it just did happen but I don't think it will happen very many times.  I know he hasn't had huge strikeout numbers yet, I think they are coming.  He has refined his mechanics and he is attacking the strike zone.  He has a tremendous fastball and he is using his fastball predominantly and I think once he gets more command and control of his breaking stuff you will see the punch outs go up.  He has a very good change-up and it's very unusual for a guy with kind of stuff not to have the strikeouts but I really do think it's coming and I think his sinker is so devestating he gets a lot of guys to look bad and mishit balls but once he estrablishes that breaking ball better the strikeouts will go up.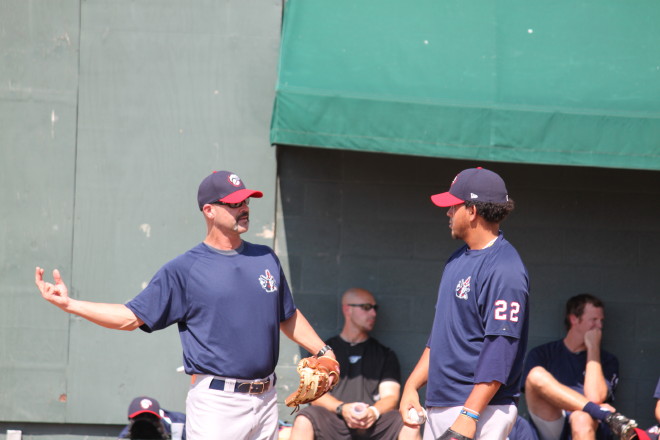 BB: One of the comments made about Alvarez in the past is that he is more of a thrower than a pitcher.  Given that the minors are about development do you have to say to Henderson you have to throw this many breaking balls in a start?
PW: We haven't had to do that, we talk about it, we discuss it.  He has only been here for five or six starts but they had been working hard with him through spring training and while he was in Florida on using certain pitches.  Obviously his fastball command is much better, his mound precense is much better, he is repeating his delivery, he is throwing more strikes, he is doing a lot of great things.  I think it just a matter of continuing to talk to him about using the breaking ball and refining it a little bit and trusting it.   I think the better he does with that, the more success he will have and I really see a bright future for him.
BB: Joel Carreno had a bad April but has been lights out in May and June.  what has been the difference?
PW: He started off slow, yes.  I think for some reason he lost a bit of his confidence early on and I think all he needed was a good start or two to get him rolling again.  His breaking ball wasn't as sharp early on in the season and his fastball command wasn't as great as I think it has been.  But he has really got into a nice rhythm, he is pounding the strike zone, even though his walks are up here and there, they are not putting the bat solidly on the ball very often.  His strikeouts are through the roof, he has some weak batted balls and for the most part he has done the things he needs to do to get back on track.  We made some slight adjustments with his delivery as far as his upper body not over rotating, keeping his direction towards home plate and using his change up as well.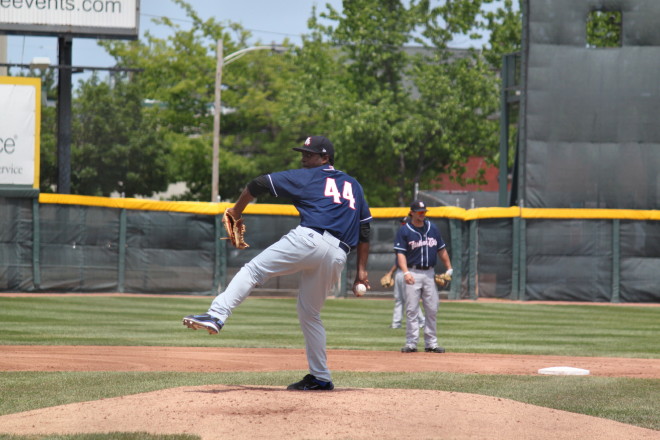 BB: So does that over-rotation lead to some of the walks or is he just pitching away from the batter?
PW: No, I think it's just typical of a young pitcher trying to do too much.  As they stride towards home plate they are still turning their upper body.  You get a little too rotational and the ball gets flat so I think keeping his shoulders more online creates a better angle for him and gets more late movement down in the zone.  Look at his home run numbers early in the season, they were way up.  He is a totally different pitcher right now.  I think his confidence is through the rook, his breaking ball is outstanding and I think he is learning that he needs to use his fastball more than he has and we continue to stress that.
BB: Finally Chad Beck who started the year in Dunedin and was called up here because of an injury.  I hear he has added a splitter or sinker this year.
PW: It's like a split change and it's still in the early stages, he needs to keep working on it and improving it.  I think it will get the guys off his heat because 80% or more of his stuff is hard.  He has the fastball, his has the small slider or cutter, one of the few in the organization.  He needs something to offset those pitches.  It's a work in progress, it's getting better, he has had some games where it has been lights out.  And his cutter can be really good and his fastball can be overpowering in the 95, 96 mph range.  He is a big strong kid with a lot of upside.  He is another guy who if he uses his off-speed stuff more, it will make his hard stuff even better and get the guys off his fastball a little bit.  If he can develop his soft stuff he has a bright future as well.
---------------------------------------------------------------------------------------
Batters Box thanks Pete Walker for his time.
---

https://www.battersbox.ca/article.php?story=20110622164910412