Tim Collins & The Dis-Cards
Tuesday, August 23 2011 @ 04:55 PM EDT
Contributed by: #2JBrumfield
Today's POTD looks at a Bauxite fan favourite and a couple of former Jays with St. Louis earlier this season.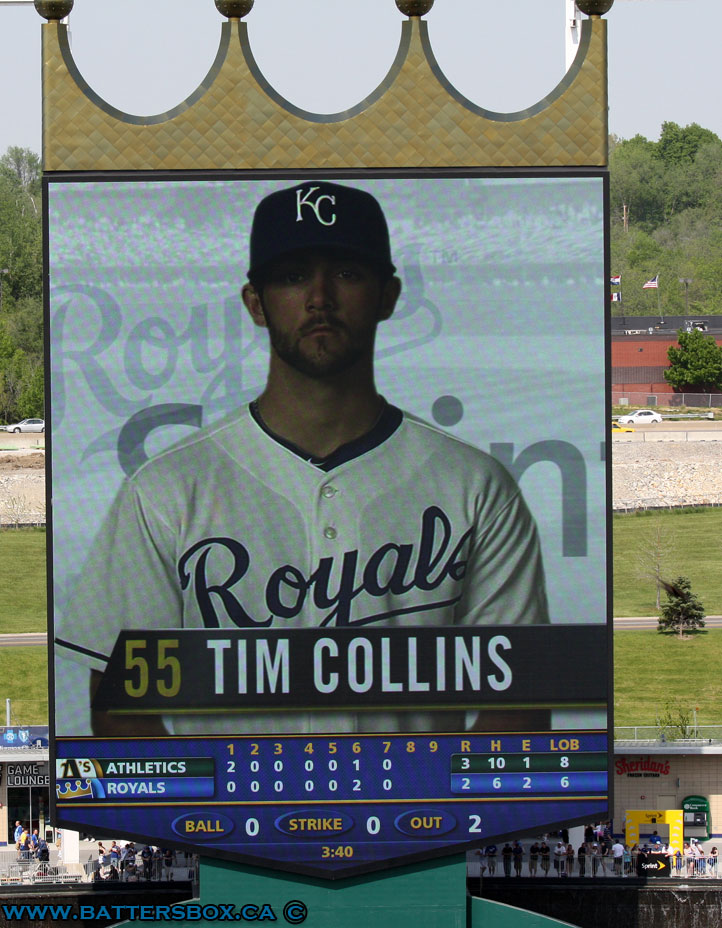 Royals reliever Tim Collins shown on Crown Vision prior to his entrance to the mound against Oakland May 8.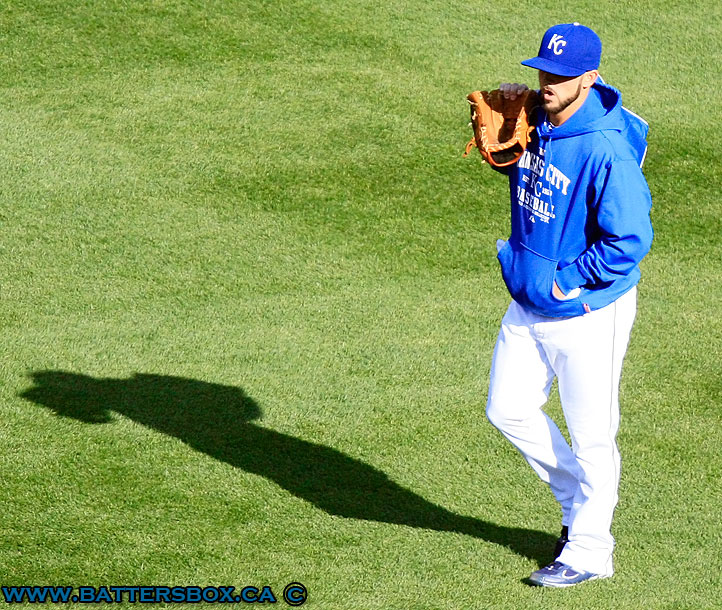 Tim Collins, who celebrated his 22nd birthday August 21, hangs around in the outfield prior to a May 7 game between the Royals and Athletics May 7.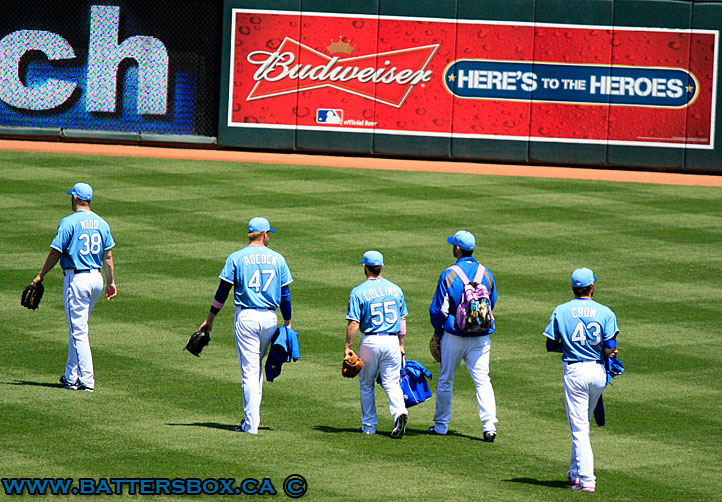 Collins, who signed with the Blue Jays as a free agent in 2007, heads out to the bullpen before May 8 action against Oakland. Blake Wood and Nathan Adcock are to Collins' left and Aaron Crow follows behind. Louis Coleman, I believe, has the Dora backpack, yeah! The 5-foot-7 Collins racked up 98 strikeouts and 14 saves over 68 1/3 innings with Lansing in 2008 and punched out 99 batters in 64 2/3 innings with Dunedin in 2009.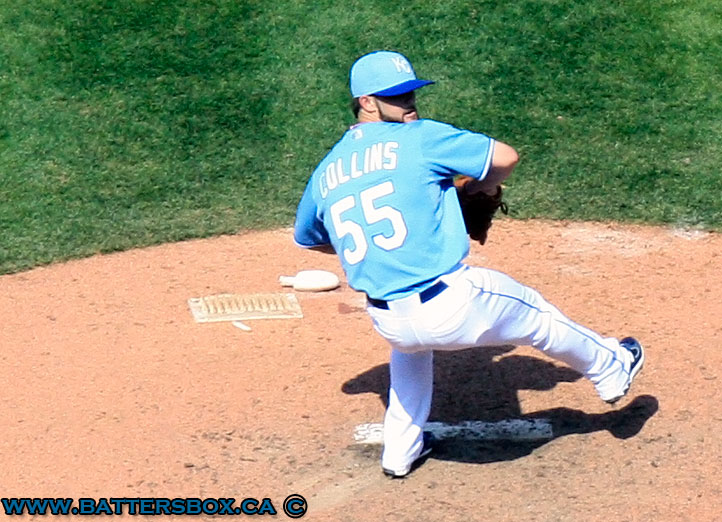 Collins continued to pile up the Ks with New Hampshire in his second tour of duty with the Fisher Cats by whiffing 73 hitters over 43 frames in 2010. He was packaged off to Atlanta with shortstop Alex Gonzalez and shortshop Tyler Pastornicky for shortstop Yunel Escobar and lefty Jo-Jo Reyes in mid-July. Collins' stay in the Braves organization lasted just 17 days as he was shipped off to Kansas City with outfielder Gregor Blanco and pitcher Jesse Chavez for outfielder Rick Ankiel and reliever Kyle Farnsworth.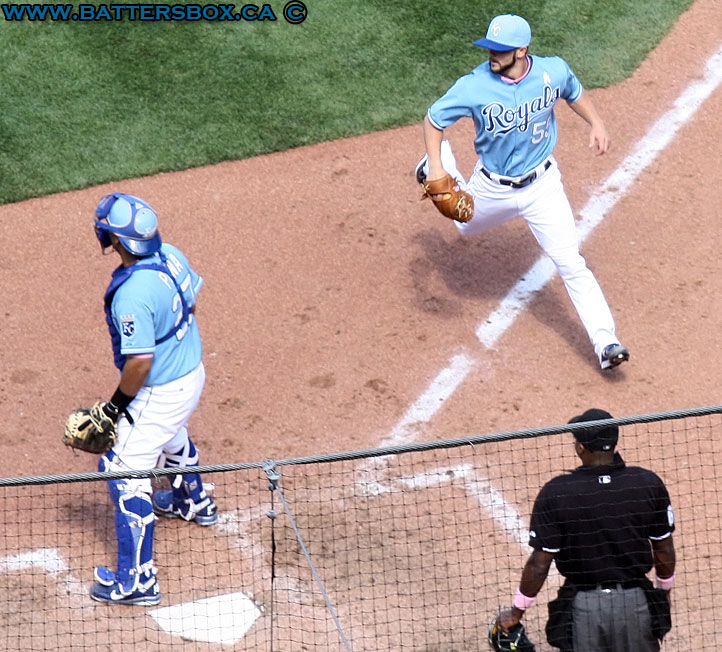 Collins backs up the plate behind catcher Brayan Pena after allowing a run-scoring single to Coco Crisp that scored Mark Ellis. He struck out Daric Barton to end the seventh inning in the Royals eventual 5-2 loss.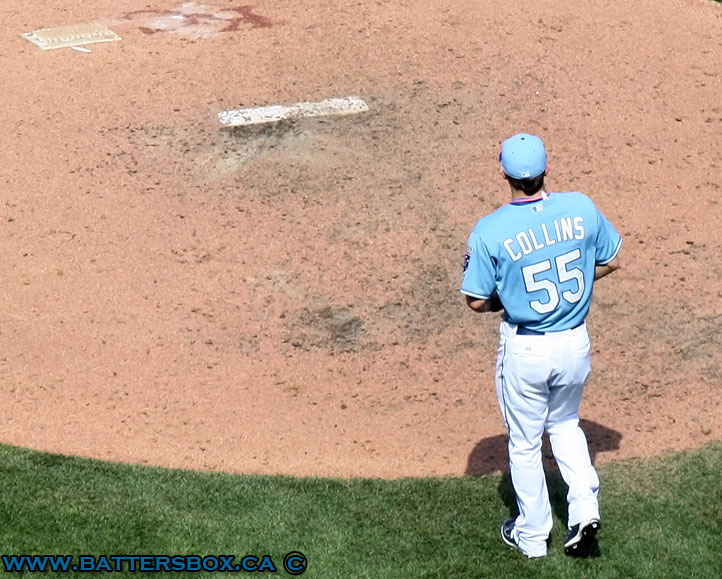 So far in 2011, Collins is 4-4 with a 3.51 earned run average with a K-BB total of 44-41 in 56 1/3 innings. His first major league win came April 3 when he struck out five over three shutout innings to help Kansas City beat the Los Angeles Angels 12-9 in 13 innings.
---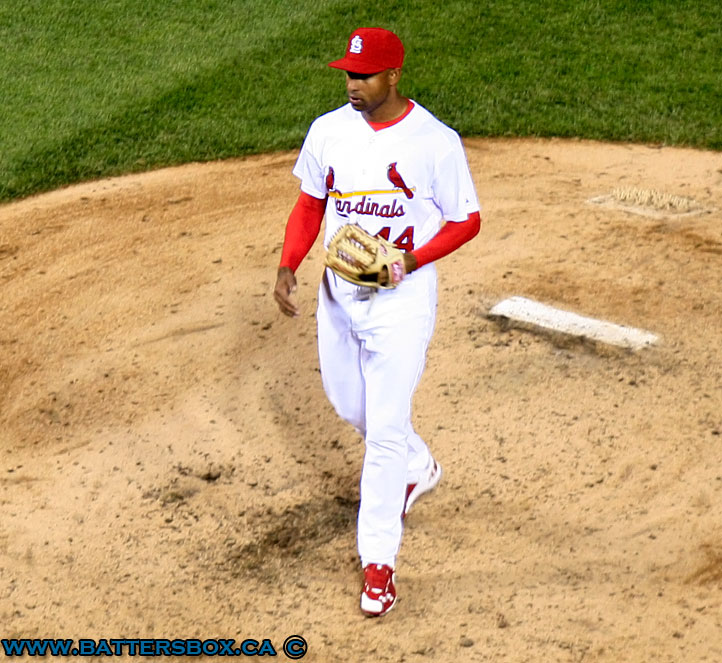 Miguel Batista on the mound at Busch Stadium for the St. Louis Cardinals May 4. A Blue Jay in 2004 and 2005 where he collected 15 wins and 36 saves, he gave up just one hit and struck out three over 1 1/3 scoreless innings in relief of former Jay Chris Carpenter. After a 3-2 record with a 4.60 ERA over 26 appearances, the 40 year-old Batista was released by the Cardinals June 22. He is now with the New York Mets organization.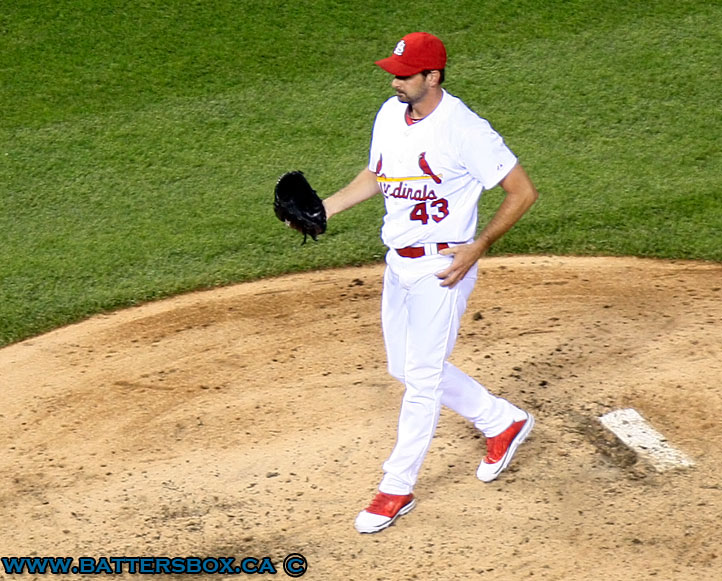 Trever Miller on the bump for the Cards May 4. The 38 year-old lefty stranded Batista's runner and lasted 2/3 of a scoreless inning but the Cardinals fell to the Florida Marlins 8-7. Miller, who went 2-2 with three saves and a 4.61 ERA in 2003 with Toronto, joined the Jays again in the Colby Rasmus mega deal before being released. His last pitch as a Jay was a homer by Seattle's Mike Carp which resulted in a blown save and an eventual 5-4 loss August 15. He had a 4.91 ERA in his six appearances in Toronto after going 0-1 with a 4.02 ERA in 39 contests with St. Louis.
---

https://www.battersbox.ca/article.php?story=20110823151054549