An Interview with Sal Fasano - September 2011
Tuesday, September 06 2011 @ 01:31 AM EDT
Contributed by: Gerry
I caught up with Sal Fasano over the phone on Friday last week as the Fisher Cats were on the vrge of qualifying for the playoffs. I asked Fasano about some of his players before the season ends. Fasano last joined us in Da Box in June.
BB: Anthony Gose is heading to the AFL. What would you tell him he needs to work on before he leaves at the end of the season?
SF: I would just tell him to maintain a consistent swing, to make sure the chases are fewer and fewer. His defense is good enough already, he is just a few at-bats from having consistent at-bats from day to day. If he is able to do that he will have achieved everything offensively we were looking to him to do.
BB: A few months ago when we met in Erie, I asked you about Travis d'Arnaud's defense and you said the one area he needed to work on was his throwing. Has that gotten better?
SF: It's definitely better, his release speed would probably work in the major leagues right now, the accuracy is still a work in progress. Its definitely better, we are working on it on a daily basis, and the league thought so too with his MVP award. It's nice for other people to recognize how hard he has been working.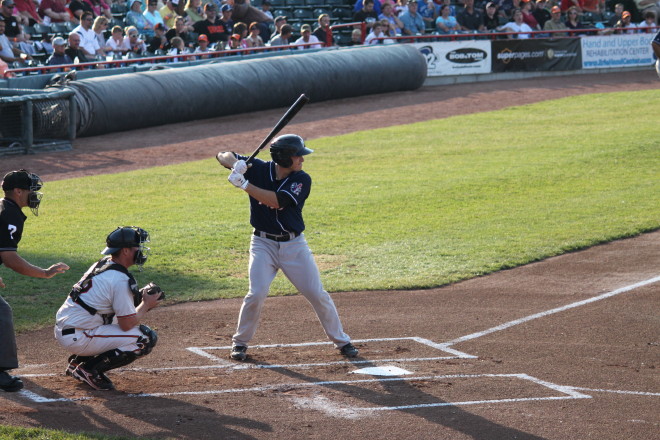 BB: Adeiny Hechavarria has been hitting well since he was promoted to Las Vegas. Is that a surprise to you or did you see it in there before he left you?
SF: I actually thought he would have success. Sometimes when he was here he would take an at-bat off or stuff like that. He put the work in every day, maybe it was just getting routine for him. But you get to a new place, its fresh and you can use the stuff Justin (Mashore) thought him the whole year, he pretty much doing it up there.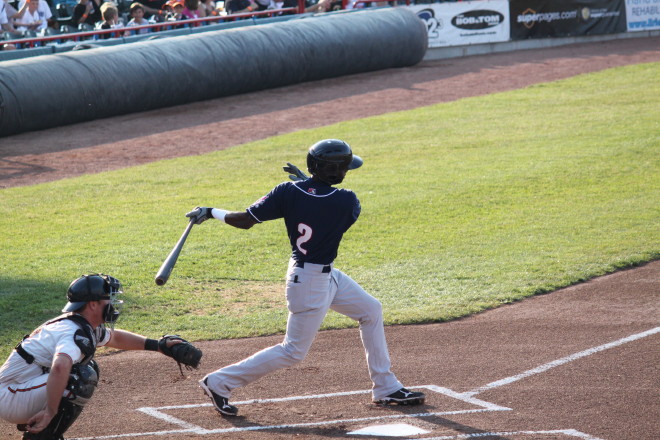 BB: Mike McDade had an excellent first half but has been struggling in the second half. What accounts for that?
SF: He hurt his knee, he has been battling and learning how to play while injured. It's nothing life threatening but he has a slight tear somewhere in there and he is trying to battle through it. It's more of a daily grind and learning how to play when you are not 100%. That's a tough lesson for a 22 year old.
BB: Will he have to get that taken care of in the off-season?
SF: Oh yeah, he will have it done as soon as the season is over.
BB: Moises Sierra's second half is somewhat similar to his first half except he is hitting with less power. Is there something specific he is doing or the pitchers are doing to him?
SF: I think his approach is the same, I think it's more of a wind issue, I think he is a little tired. I think not playing much last year, just getting a few at-bats, and now a 142 game season is a little bit taxing on him. Especially at this level, and leading the division, every game is important and he is learning what his body needs for a full season at this level. These are some of the problems we have in the minors, you can play 135 or 140 games in A ball and not have a lot of stress but here you are a broken finger away from the big leagues. So you have to play, you have to make sure you are ready, you can't take too many days off because we are trying to teach them to be everyday players so there is a grind factor that's involved and that's what we are trying to overcome right now.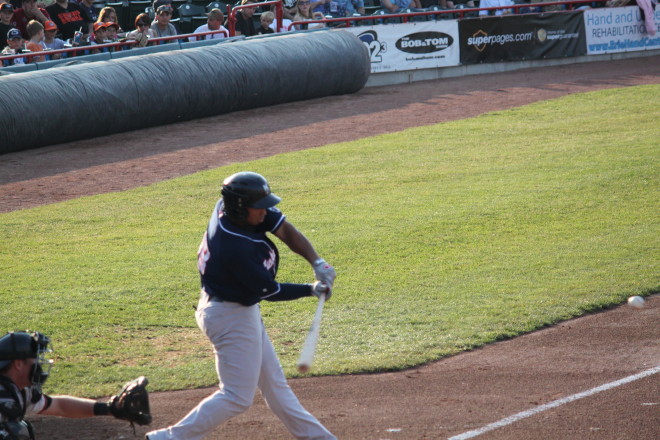 BB: On the pitching side you have a couple of new pitchers that you haven't seen much of yet, Drew Hutchison and Nestor Molina. What is your initial impression of those two guys.
SF: Fortunately I had both of those guys last year too. They are both aggressive, ready to compete at this level which is a testament to their coaches in Dunedin.
BB: Last year Nestor was a swing man for you in Lansing, did you see this in him last season?
SF: Actually with him I would say yes. Last year he could have pitched in AA when I had him but the organization needed to be patient, to build up his arm strength so he could be a starter. He can throw strikes, he has good command, he can control the running game, all his other attributes other than arm strength were ahead of the curve so we just had to build that up.
BB: In some ways Hutchison and Molina are similar type guys who have average velocity, great command and can put you away if they need to.
SF: Hutchison has more deception, he has an awkward delivery, not for him for the hitter, he throws across his body and makes a 91-92 fastball feel like 93-94.
BB: Are you going to activate Deck McGuire anytime soon?
SF: I think so, he had that oblique strain. he threw a side a few days ago and I think he might throw one tomorrow and we might have him ready for the playoffs.
BB: Will Dustin McGowan stay with you for the playoffs?
SF: We don't know, that's up to the front office and the trainers.
BB: Could Hechavarria come back to you for the playoffs?
SF: I think if he comes back down the league president has to give his OK. There is some date, August 17th I think, where he has to be on the roster without league approval, i am not fully sure though.

---------------------------------------------------------------
Batters Box thanks Sal Fasano and wishes the team good luck in the playoffs.
---

https://www.battersbox.ca/article.php?story=20110902143127758