2011 Webster Awards
Wednesday, September 21 2011 @ 04:33 AM EDT
Contributed by: Gerry
On Saturday the Blue Jays handed out the 2011 R Howard Webster Awards. In addition the Jays presented several other awards to their on-field and off-field staff.
I was at the Jay's game on Saturday and I have some pictures of the winners to share.
Three of the winners could not be present to receive their award. This year the last Saturday home game for the Blue Jays was September 17th. Historically this is a very early date and as a result two of the affiliates were still in playoff action. Had the Jays had a home game this weekend all the winners could have come to Toronto.
The missing were Travis d'Arnaud, Jake Marisnick, Justin Nicolino and Jairo Labourt. The first three were in the playoffs while the DSL winner doesn't usually make it to Toronto. In addition Anthony Gose, who won the community service award, was unable to attend.
The Blue Jays hosted the awards dinner on Saturday night and in addition to the award winners the minor league managers of the year were invited as well as the GM's of the affiliates.
With four players missing there were only four winners in the building, they were David Cooper; AJ Jimenez; Chris Hawkins; and Jorge Vega-Rosado. Here they are with Jays minor league bosses Charlie Wilson on the left and Doug Davis on the right of Cooper:
You are familiar with Cooper so I won't post his presentation picture, here is Jimenez getting his award.
Chris Hawkins who as you can see is a big lad.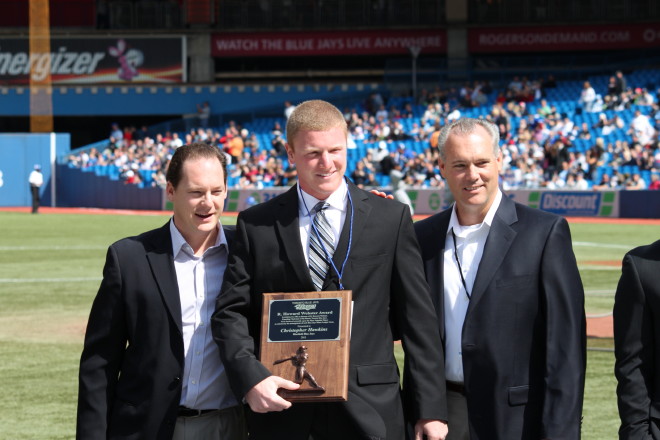 And finally Vega-Rosado who is not tall.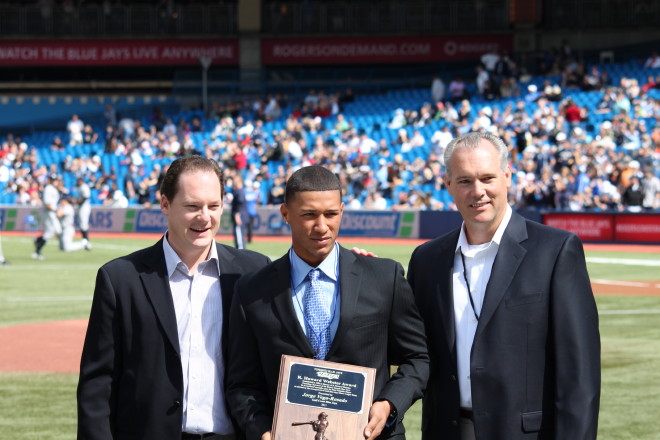 I had a few minutes to chat with Doug Davis and the transcript of that abbreviated conversation will be on Da Box tomorrow.
---

https://www.battersbox.ca/article.php?story=20110920163323675