Rocky Beginning But A Rock-Key End!
Wednesday, February 22 2012 @ 07:22 AM EST
Contributed by: #2JBrumfield
Mother Nature ruined the action on the field in Rochester, New York in late August but a chance encounter with a World Series hero from 1992 made sure Mother Nature wouldn't ruin the day off the field.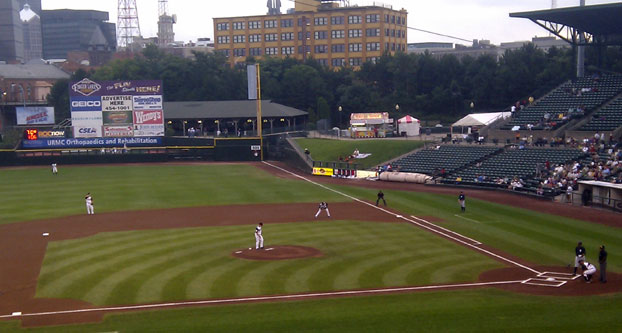 Beautiful Frontier Field in Rochester on a less than beautiful afternoon.
---
The missus and I were undecided about where to go for our last baseball trip of 2011. We thought long and hard about going to Pittsburgh as they were hosting Cincinnati but we opted for the shorter trip to Rochester.  With the forecast calling for a decent chance of rain in both areas, we figured Pittsburgh would be a long way to go for a rainout so we headed east on I-90 instead of west. It had been five years since our last visit to Frontier Field and we figured we might as well end the dry spell.
As it turns out, it was dry in Pittsburgh but not so much in Rochester. It rained for most of the morning in Rochester and the rain picked up again as we sat in our seats to watch the Red Wings and the Scranton Wilkes-Barre Yankees. Liam Hendriks was on the hill for the Wings and Adam Warren was on the bump for the Yanks. Despite the steady rain, we witnessed two great running catches in the outfield as Jesus Montero was robbed by Dustin Martin in right field and Jason Repko could have been hauled off the field in handcuffs after stealing a sure extra base hit from Jorge Vazquez on the warning track in center. 
Unfortunately, the rain would not let up and it was no day to pull out the scorebook.  I was also without my camera as it was on the Disabled List with a broken shutter so I used my cell phone instead for the photo above. The game was stopped in the top of the third inning with a runner on third and two outs in a 0-0 game.  To make matters worse, I left my cell phone beneath my seat when the missus and I bolted for shelter. When I realized I left it behind, I went back in the downpour to get my phone. Thankfully, it was still there and it still works to this day (thank you for the waterproof phone, HTC!).
After drying off, I discovered that none other than Jimmy Key was signing autographs near the third base side of the stadium.  I usually check for promotions when I look at the schedule but this was one of the rare times that I didn't.  Had I known, I might have brought something he could have signed.  As it turned out, there were two photos made available.  One was a picture of him with the Yankees and the other picture is the one below.  As much as it pained me to buy anything Yankee-related, I had to get something signed.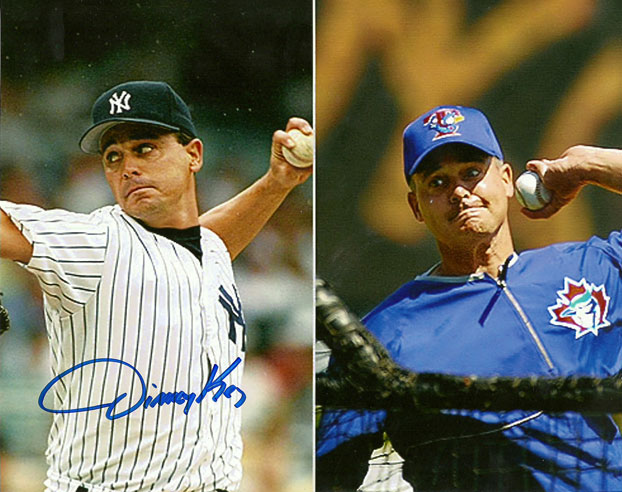 My signed photo of Jimmy Key.  I guess the split photo was a small price to pay for the man who won Games 4 and 6 of the 1992 World Series.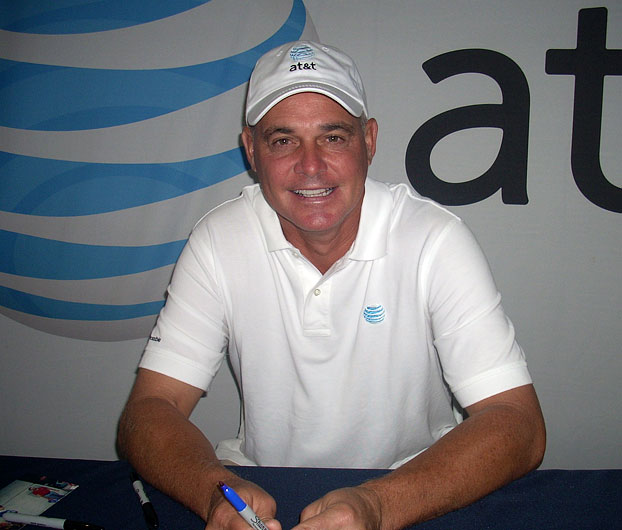 The man himself agreeing to a photo taken by the missus.
---
Despite being drenched, it gave me an excuse to buy a Red Wings t-shirt and getting to meet Jimmy Key was a nice way to salvage the afternoon as the game was called due to rain. Another perk was the fact we could redeem our tickets for a game in April or May this season save for Opening Day.  Plus, it's another chance to visit Dinosaur Bar-B-Que.  Road trip!
With that game being Scranton's last visit to Rochester, the game resumed the next day in Scranton.  As it turns out, Jesus Montero would belt two homers as the Yankees pounded the Red Wings 11-2.  Liam Hendrix took the loss even though he did not give up any run scoring hits while a rehabbing Freddy Garcia got the win.
Hopefully, the weather will cooperate on our return trip to Rochester and I hope to have much better photos the next time around.  I can't wait!!  I still hold out hope that Rochester will be the Jays new Triple-A affiliate in 2013.
---

https://www.battersbox.ca/article.php?story=20120215011728221