Matt Johnson - Man On A Mound Mission
Monday, September 03 2012 @ 02:08 AM EDT
Contributed by: #2JBrumfield
Last month, I received an invitation to a meeting of the Northwest Chapter of SABR (Society for American Baseball Research) at Nat Bailey Stadium and one of the guest speakers was Vancouver Canadians pitcher Matt Johnson. He shared some interesting stories about his baseball career.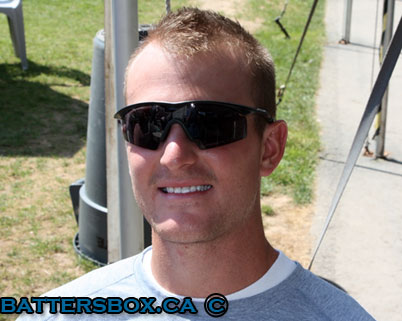 Vancouver Canadians righthander Matt Johnson taking a breather after speaking at the August 11 SABR meeting at Nat Bailey Stadium.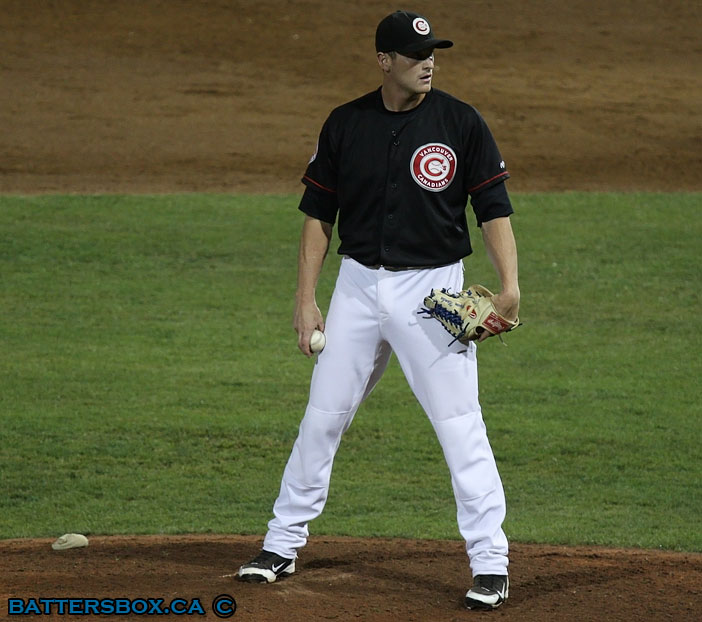 Matt Johnson impressed the SABR folks with his public speaking skills and later impressed the fans at Nat Bailey Stadium with his pitching skills a few hours later by pitching a scoreless inning against Yakima with one strikeout August 11.

Matt Johnson, a 24 year-old native of Orrville, Ohio, started his collegiate career at Princeton but he returned to his home state to attend The College of Wooster, a Division III program. Named an All-American second baseman in 2010, Johnson said he was told by a few scouts that he would be drafted that year but his name was never called. The young graduate called some scouts to get some advice on what to do next and he was told to attend some tryouts. Johnson did get the attention of Blue Jays scout Nick Manno and the next thing he knew, he was on a plane to Florida to get a physical and wound up signing with the Jays. He made his professional debut with the Auburn Doubledays. He played second base, shortstop and third base with the D-Days but batted just .205 with one home run in 90 plate appearances. He said the one positive of playing in the New York-Penn League was getting a chance to play in front of family and friends in Mahoning Valley, situated in his home state of Ohio.

The 2011 season saw him split time in Bluefield and Vancouver. He called Bowen Field in Bluefield a great venue with a good hitter's backdrop. However, that did not help his performance with the bat but he struggled to a .203 average with one homer in 79 trips to the plate. His most memorable moment came when he was called in from third base to the pitcher's mound, only to be told at that moment he was going to pitch. Johnson gave up a double to the first batter he faced but he managed to set down the next three hitters in order. He says his fastball was around 88-89 miles per hour in that outing. He really enjoyed last season with Vancouver, calling Nat Bailey Stadium a great minor league venue. He was happy to return to the C's this season.

Despite a 5-for-16 start to 2012 with Vancouver along with five stolen bases, Johnson was getting lost in the infield shuffle and was given another shot on the mound during a blowout loss in Everett June 25. Hoping not to walk anyone or embarrass himself, Johnson did anything but that as he went through the heart of the AquaSox order like a hot knife through butter. He struck out two of the three batters he faced and hit 95 miles per hour on the radar gun. He said his teammates were laughing at him as he came off the mound with a glazed look in his eyes. He said pitching teammate Ben White told him, "You just bought yourself an extra year or two with that performance!"

Johnson returned to Vancouver and threw a bullpen session. Afterwards, he was called into a meeting with Canadians manager Clayton McCullough, Blue Jays director of minor league operations Charlie Wilson and minor league pitching coordinator Dane Johnson - thinking he was going to be released. Instead, they told him they wanted him to pitch full-time. Enjoying early success by depending on his fastball and throwing from the stretch, Johnson hit a speed bump in Everett July 28. That was the night 17 year-old Roberto Osuna struck out 13 AquaSox in his Vancouver debut. Trying to salt away a 6-1 lead in the ninth, Johnson was victimized for four unearned runs over two-thirds of an inning. He felt he threw the ball well and had a decent change and curveball but some squib hits and an error was his undoing. The C's would go on to lose the game in extra innings. He called the setback a good experience in having to deal with a pressure situation. He says a loss as a pitcher is worse than a 0-for-4 night at the plate.

As is the tradition with most teams these days, the starting pitcher chooses which uniform the team wears for his start. Johnson relayed a funny story about Roberto Osuna, who insisted the team wear its road grey uniforms for an August 7 start in Tri-City. The team was up in arms because they enjoyed a seven-game winning streak by wearing its black alternates. However, Osuna wanted to wear the road greys because that was what he wore when he had his 13 strikeout performance. Though Osuna allowed just one unearned run in 3 2/3 innings, the C's went on to lose 8-1. The team took the drastic step of performing a seance with Osuna to try to break the curse.

Johnson says he is limited to a pitch count of 25 pitches an inning. He pointed out the organizational rule for a starter is no more than 35 pitches an inning. Johnson also says he has to get used to having a sore arm and learning the difference between pain and soreness. He is also adjusting to life in the bullpen in which his mates tell riddles and jokes as compared to being a position player in the dugout where players are more involved in the game. Johnson says he is still working on his secondary pitches - emphasizing that he is working on a slider and a changeup along with his curve. He said during one bullpen session, he was told to throw sliders in the dirt but he could not do it. Johnson says the organization likes having its players play in Vancouver because of the big crowds and atmosphere at Nat Bailey Stadium, something that players do not experience in the lower levels of the system.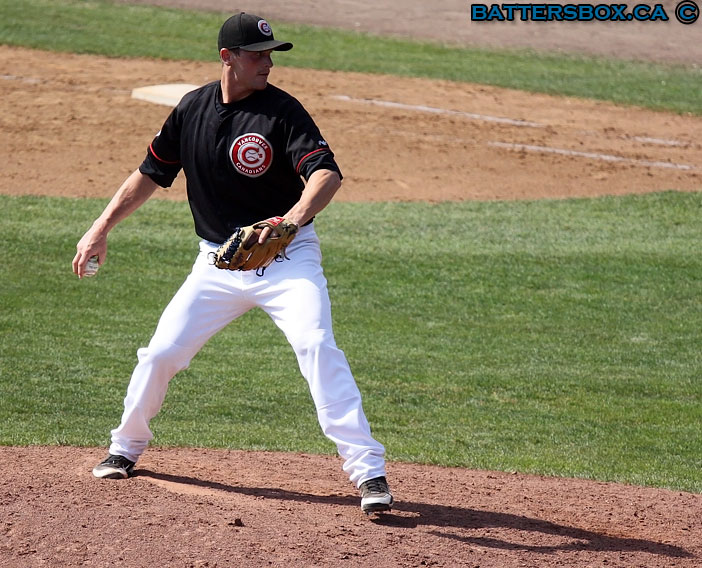 Matt Johnson pitches against Everett at Nat Bailey Stadium August 17. In two innings of relief, he limited the AquaSox to a run on four hits and struck out a batter.

A fan of Cal Ripken growing up, Johnson says that's why he wears #8 with Vancouver and it was also the number he wore in Auburn. He believes he will have to change it next season. Johnson finished the regular season with a 1-1 record and a 3.45 earned run average and posted a 17-5 K/BB total in 15.2 innings. He may be called upon to get some key outs out of the bullpen in the post-season as the C's look to repeat as Northwest League champions.

Special thanks to Matt Johnson for taking time out of his busy schedule to speak at the SABR gathering.

---

https://www.battersbox.ca/article.php?story=20120902164325729