How Sweeney Is!
Tuesday, September 04 2012 @ 02:22 AM EDT
Contributed by: #2JBrumfield
The playoffs have begun on one front while the regular season wrapped up on three others.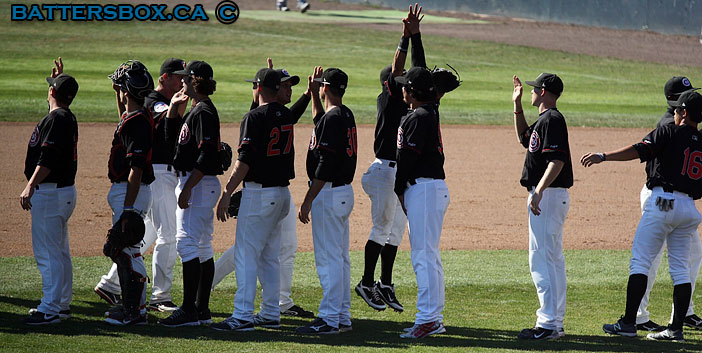 The Vancouver Canadians celebrate their playoff opening victory against Everett at Nat Bailey Stadium Monday afternoon.

Las Vegas 3 Colorado Springs 2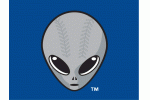 Colorado Springs, CO - The record books will show the Blue Jays four-year partnership with Las Vegas ending on a winning note.  That's if rumors out of Buffalo are true that the Bisons will become the Jays new Triple-A affiliate in 2013.  Ryan Eigsti singled home the first run of the game in the second inning.  Luke Hughes homered in the fourth to give him five on the year.  Danny Perales broke a 2-2 tie with an RBI single in the sixth.  Every player in the lineup had at least hit with Perales and Chris Woodward getting two apiece, including a double.  Woodward scampered home with the winning run.  Anthony Gose also had a double.

Lefty Bill Murphy (8-5) enjoyed one of his better starts by holding the Rockies affiliate down to a pair of runs over five frames.  He scattered four hits, a walk and a hit by pitch and collected eight groundball outs.  David Carpenter and Jerry Gil allowed just one hit apiece in their scoreless frames.  The only difference was Carpenter struck out a batter.  Lefty Nate Robertson gave up a hit in two-thirds of a scoreless inning but Chad Beck managed to strand that runner.  Beck gave up a double and he plunked a batter before getting his 18th save.  Of note, Troy Tulowitzki was 0-for-3 for the SkySox.


New Britain 8 New Hampshire 5

New Britain, CT -  The Fisher Cats wound up being swept in four straight by the Twins affiliate to end 2012.  Brian Van Kirk lifted a two-run shot out of the yard to give the Fisher Cats a 2-0 lead in the second inning, his seventh of the year.  Brian Jeroloman laid down a sacrifice bunt to score another in the fourth inning and that was followed by a Ryan Goins RBI single.  Jake Marisnick scored the final Fisher Cats run of 2012 by jacking one out of the park for his second of the year.  Van Kirk, Jeroloman, Marisnick and Gabe Jacobo all had two hits.  Marisnick drew a walk while Jeroloman and Ryan Schimpf took one for the team.  Mark Sobolewski singled and stole a base.

Yohan Pino (10-8) was beaten like a drum as the Rock Cats scored six times on 10 hits, one walk and one hit by pitch.  Pino gave up a homer but struck out five.  Chorye Spoone managed to work around a hit and two walk to post 2.1 scoreless innings in which he struck out a batter.  Trystan Magnuson surrendered a run on two hits and a walk in one inning while Sam Dyson also was scored upon once.  He allowed a hit, issued a walk and plunked a pair of batter in the eighth inning.


Lake County 15 Lansing 6

Lansing, MI - It's a good thing this game didn't count for anything!  The Lugnuts actually led 6-0 by scoring all of their runs in the third.  An Andy Fermin single scored the first run and K.C. Hobson brought home two more with a base hit.  Chris Hawkins, Gustavo Pierre and Chris Peters each followed with RBI singles of their own.  Hobson, Hawkins, Pierre and Jason Leblebijian all had two hits with Hobson earning a walk and Leblebijian getting hit by a pitch.  Peters had a single and a base on balls.

Kramer Champlin gave the Lugnuts three good innings as he shutout the Indians affiliate on two hits while striking out a pair.  Tim Brechbuehler endured an ugly 1.2 innings in which he surrendered six runs on four hits and three walks while whiffing just one.  Aleson Escalante (1-2) had a putrid pitching line as he could not strand three of Brechbuehler's runners.  He wound up allowing six runs of his own (five earned) on seven hits.  He struck out one and did not walk anyone.  Philip Brua was not much better over his 1.2 frames.  He could not strand two Escalante runners and was charged with three runs of his own on three hits and two walks.  He did strike out a pair.  Blake McFarland worked a shutout ninth that featured one K.


Vancouver 1 Everett 0 (Game 1 - NWL West Division Final)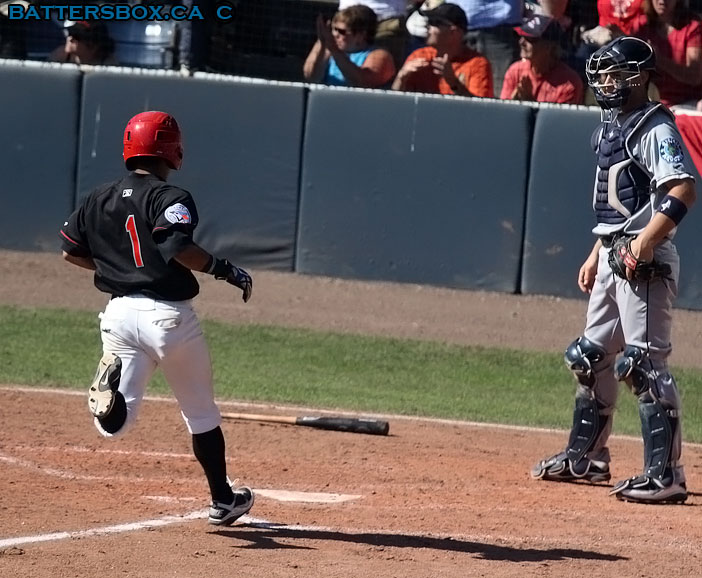 Jorge Flores scampers home with the only run of Game 1 of the NWL West Division Final at Nat Bailey Stadium Monday afternoon.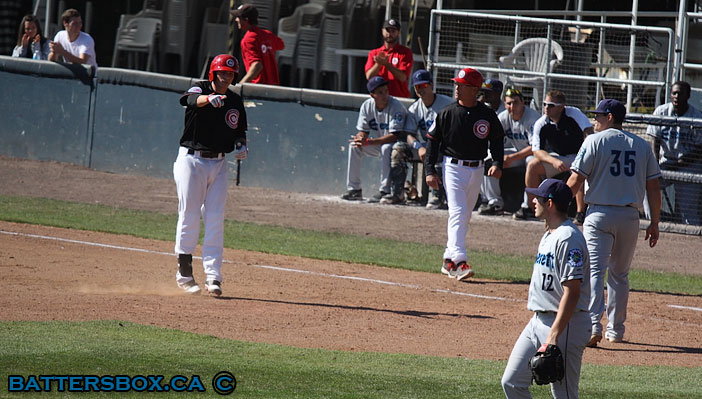 Kellen Sweeney points toward the Canadians dugout after his RBI single scored Jorge Flores in the eighth inning.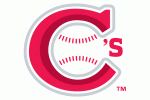 Vancouver, BC - It was a playoff atmosphere at Nat Bailey Stadium as over 4,600 fans showed up for a beautiful Monday afternoon of baseball under a cloudless sky. The only run of the game came in the eighth inning when Jorge Flores banged a double off the left field wall, moved to third on a passed ball and came in to score on a Kellen Sweeney single to right. Flores had the lone two-hit game for the C's, who also got doubles from Christian Lopes and Matt Newman.  Tucker Frawley had the other base hit. D.J. Davis was 0-for-3 but did lay down a sacrifice bunt.

Roberto Osuna pitched a no-hitter through three innings of no-hit baseball but the AquaSox made him work for it as they drew three walks in some lengthy at-bats.  Osuna also plunked a hitter but he wound up striking out six.  Jonathan Lucas kept the no-hitter going for two more innings.  He provided 2 1/3 innings of scoreless relief, allowing just one hit and one walk while striking out one.  Everett's first hit did not come until the sixth inning.  Lefty Colton Turner came into the game and was called for a highly questionable balk before throwing a pitch.  He overcame that by throwing 2.1 shutout innings, striking out three.  Wil Browning (1-0) retired the only hitter he faced to end the eighth.  Arik Sikula slammed the door shut by striking out two of the three hitters he faced to get the save.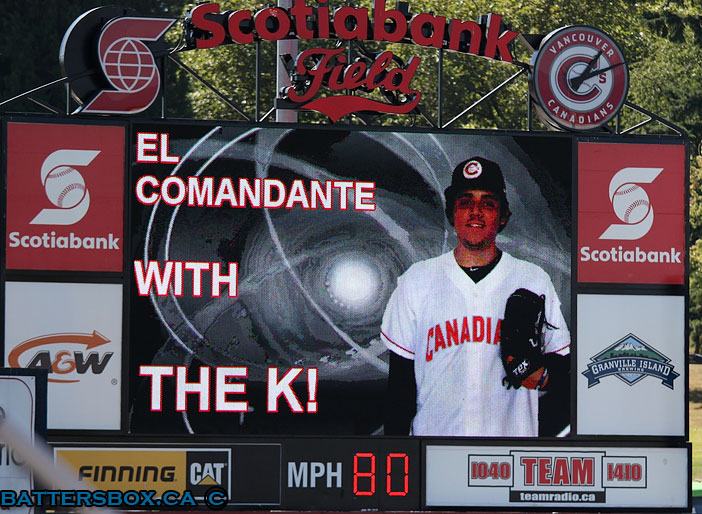 Roberto Osuna struck out six Everett AquaSox Monday, five of them swinging.

Observations - Osuna was settling in around 92 miles per hour fastball but he did reach as high as 95 for his second strikeout of the game and touched 97. He was around 80-82 MPH with his changeup and around 76 with his curveball.  Osuna really had to work to get out of that third inning after Frawley and Sweeney were unable to catch a foul ball between home and third. Sweeney did redeem himself by handling a tough groundball at third he had to come in on to strand two runners at the corners.  He has been outstanding at the hot corner all season long. Jonathan Lucas and Colton Turner were in the high 80s according to the radar gun.  Turner showed a lot of composure to overcome a terrible balk call.Arik Sikula managed to hit 92 and 94 on the radar gun for his two strikeouts that ended the game.  He got some help from D.J. Davis, who caught a ball in center field at the warning track.  Davis was 0-for-3 but did execute a sacrifice bunt, which he nearly beat out, to move runners into second and third with nobody out.  However, Sweeney struck out and Balbino Fuenmayor flied out to end the threat.  Art Charles looked to have a home run in the second but the ball died at the warning track in center.  Carlos Ramirez had the hat trick as he was caught looking three times and striking out twice with runners in scoring position.  He held back from spiking his batting helmet into the ground after one of his strikeouts.  Dwight Smith Jr. pinch-hit for Frawley to lead off the eighth and was robbed of a hit after a nice diving catch by Everett left fielder Alfredo Morales.  Everett starter Dylan Unsworth put in a valiant effort, taking a no-decision despite 6.1 scoreless frames and striking out eight.  He topped out around 86-89 MPH.  Finally, Miss BC Roll won the Sushi Race today!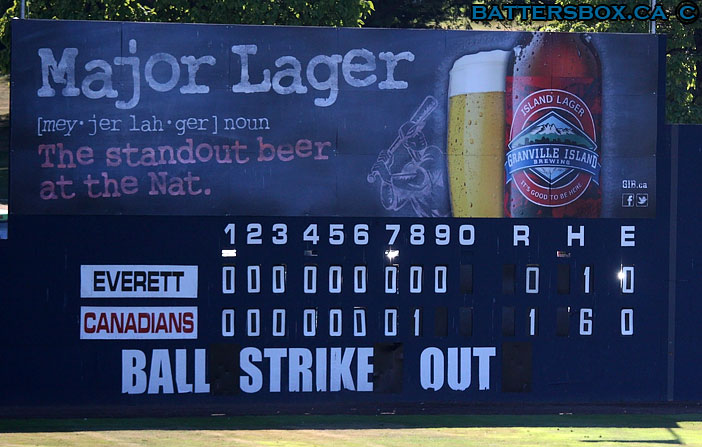 Manual scoreboards are awesome!



*** 3 Stars!!! ***




3. Danny Perales, Las Vegas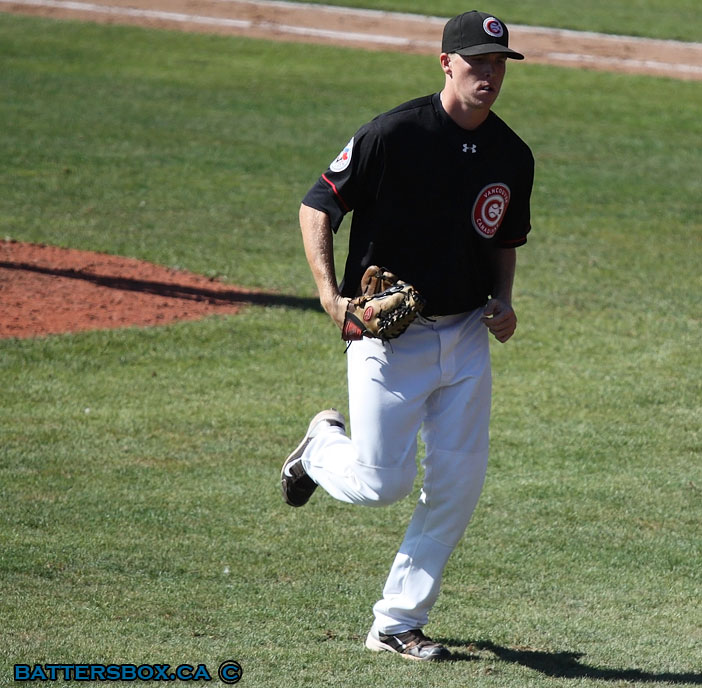 2. Colton Turner, Vancouver




1. Kellen Sweeney, Vancouver



Extra Innings...

The Las Vegas Review-Journal is already looking ahead to life after the Blue Jays with the 51s but also look back on 2012.  Plus, they have a chat with pitching coach Bob Stanley and catch up with outfielder Anthony Gose.

In case you missed it, here is audio of Jeff Sammut of Sportsnet 590 The Fan speaking with Mike Harrington of The Buffalo News about the potential Bisons-Blue Jays partnership.

The New Hampshire Union Leader reviews a rough 2012 for the Fisher Cats.

MLive.com gets comments from Midwest League manager of the year John Tamargo Jr. and Midwest League MVP Kevin Pillar on their latest honours.  Plus, Tamargo is the subject of the latest Lugnuts profile.

Canadians Clippings takes a closer look at pitcher Colton Turner.

The Vancouver Sun speculates on the future of C's president Andy Dunn.


---

https://www.battersbox.ca/article.php?story=20120903232614305