New York Yankees - September 19-20/2012
Wednesday, September 19 2012 @ 01:42 AM EDT
Contributed by: #2JBrumfield
The Blue Jays, after a rainout on Tuesday in New York, get ready to battle the Yankees in a doubleheader on Wednesday before the series finale on Thursday.  They will be without shortstop Yunel Escobar, who has been suspended for three games after having a homophobic slur on his eye black during this past Saturday's home game against Boston.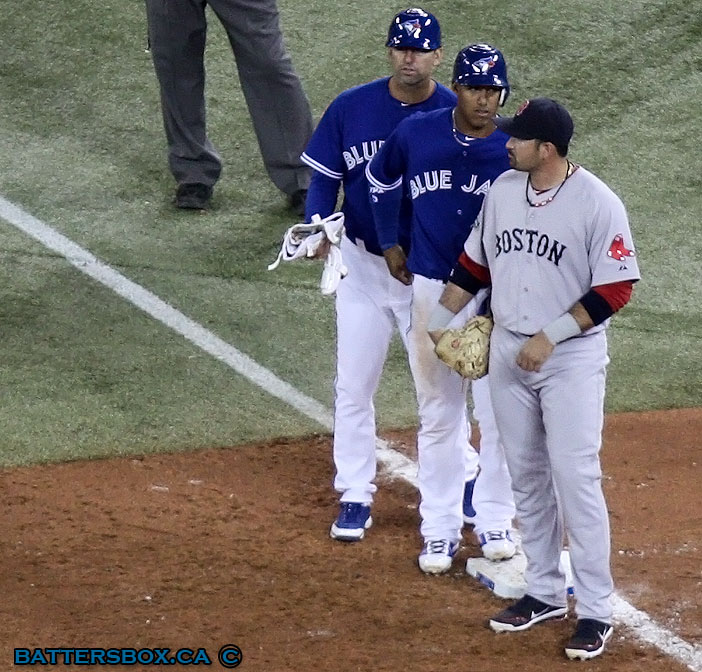 Yunel Escobar, between Blue Jays first base coach Torey Lovullo and Boston Red Sox first baseman Adrian Gonzalez, after an RBI single at the Dome April 11.  Will Escobar be back in Toronto next season after this recent controversy?

Wednesday at 1:05 p.m. -  RHP Henderson Alvarez (9-12, 4.91) vs. LHP Andy Pettitte (3-3, 3.22)

Pettitte will make his first start since suffering a broken leg during a start against Cleveland June 27.  The 40 year-old was taken out by a comebacker off the bat of Casey Kotchman.   In a handful of starts this season, Pettite has increased his strikeout rate by two from 7.1 to 9.1 from 2010 to 2012 after a 2011 sabbatical.  He has also shaved his walk rate from 2.8 to 2.3.  His batting average on balls in play of .275 this year suggests a bit of luck , down from a career BABIP of .308 but his FIP (fielding independent pitching ) is at 3.41.  Pettite has lost a tick off his fastball, which averages around 87-88 miles per hour.  He mixes in a cutter at 80-81, a curveball at 73-74 and a changeup around 79-80.  FanGraphs says he is throwing four-and-a-half percent more cutters and three percent fewer curveballs.  The Yankees will limit Pettitte's pitch count to 70.  Rajai Davis is 3-for-6, Jeff Mathis is 4-for-11, Yorvit Torrealba is 3-for-9 and Kelly Johnson is 1-for-4 over the last five years against Pettite.  On the flip side, Adam Lind is hitting just .158 against Pettitte in 19 at-bats.


Wednesday at 7:05 p.m. - LHP Ricky Romero (8-14, 5.87) vs. RHP David Phelps (4-4, 3.49)

The 25 year-old Phelps has rung up 85 batters in just as many innings and has walked 31 but has been prone to the long ball as he has yielded 13 home runs.  His FIP is 4.36 and his strand rate is nearly 84 percent so lady luck has been on his side. His fastball clocks in at 90-91 and also uses a cutter at 87 and a curveball around 80.  He even mixes in the odd changeup at 83-84.  Phelps gave up four runs over 6 1/3 innings with a 7-1 K/BB ratio in his first career appearance against the Jays at Yankee Stadium August 27.  He received a no-decision in a game the Yankees went on to lose 8-7.  Yorvit Torrealba and Adam Lind both took Phelps deep in that one and Torrealba added a single.  Adeiny Hechavarria and Colby Rasmus also had base hits off Phelps and Kelly Johnson drew a walk.


Thursday at 7:05 p.m. - LHP Aaron Laffey (3-5, 4.55) vs RHP Phil Hughes (15-12, 3.96)

Like Pettitte, the 26 year-old Hughes has significant boosted his K/9 rate from 5.6 to 7.6 from last year and has chopped down his BB/9 from 3.3 to 2.1.  Like Phelps, he has been victimized by the big fly as that has gone up from 1.1 to 1.7 per nine innings.  Hughes has been able to offset his gopher ball tendencies by stranding more runners as his rate has increased nearly 11 percent from last year to 76.2.  His FIP is 4.61 so he has been appeasing the baseball gods somewhat.  His repertoire features a heater around 92, a bender around 75 and a changeup clocking in around 84.  He throws a rare slider and a rare cutter around 87 and 80 respectively.  Edwin Encarnacion is 3-for-11 against Phelps and Adam Lind is 4-for-22 but does have a home run.  Jeff Mathis is 1-for-5 with three RBI.


With the Advance Scout out of the way, let's turn our attention to the suspended one - Yunel Escobar.  Gregg Zaun took him to task during Primetime Sports on Sportsnet 590 The Fan Tuesday afternoon and also doled out some criticism to Brett Lawrie and Moises Sierra among others.  Give it a listen and give us your take on whether you agree with the former Jays catcher.

---

https://www.battersbox.ca/article.php?story=20120919000442416